---
---
March 15 2001

---
Björk needs time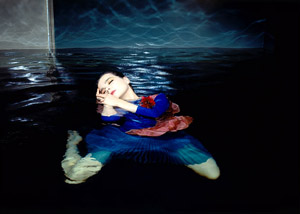 Photo by: Mari A and Marcus Piggot
• "Vespertine", Björk's upcoming album, has been pushed back to August instead of May. According to the official website, Björk needs more time for videos, press, photos etc. /Johan Carlsson
Front 242 goes into the studio
• Front 242 are entering the studio again, according to their mailing list. The recordings will start in May and end in November, and hopefully they will have something to release in January or February 2002. They are also searching for a label to release the new material on. /Johan Carlsson
Depeche Mode tour details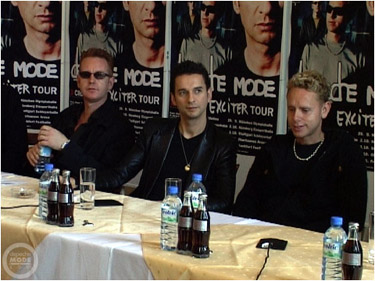 • On Tuesday, Depeche Mode told the world their future plans at a press conference in Hamburg. This is actually made available for everyone via a Real stream (40 minutes) at the official site. A QuickTime version and a transcript will follow at next week.
We told you about the tour dates immideately as they were made official. Here follows some more info about the "Exciter Tour".
The stage design is once again made by Anton Corbijn and of course promised to be innovative.
- Anton is someone who doesn't merely listen to our music, he gets inside it and interprets it in a way that always surprises us, David Gahan says.
Musicians who accompanied Depeche Mode on the 18 country "The Singles Tour"1998 is hired once again. Drummer Christian Eigner, keyboarder Peter Gordino and backing vocalists Janet Ramus and Jordan Bailey dedicate five months for the "Exciter Tour". This time, 24 countries will be visited. It is yet unclear if more will be added. However, Depeche Mode have once again made it clear they dislike the lack of intimacy at festivals so don't expect them to show up at such events.
The band is in the process of choosing songs for the new tour and has narrowed the list down to 25 songs. They will play a handful of new songs, which easily can be taken to the stage, and a lot of old material. The exact set list isn't set.
- We're actually wrestling with that decision right now, Andrew Fletcher reveals.
Finally, it can be noted that Depeche Mode will play three open-air gigs in Berlin, Hamburg and Leipzig on this tour.
In future News: record covers and singles. /Mikael Kahrle
Billy Corgan featured on New Order album
• New Order are still busy working on their forthcoming album. Moby was asked to help with the production, but had to decline due to his busy schedule. However, Billy Corgan of The Smashing Pumpkins has been working on a duet with the band. /Kristoffer Noheden
Dark Side Cowboys: album and extensive tour in Finland
• Swedish band Dark Side Cowboys is releasing their new album "Believe" on Nangijala Records in April. In connection to this, the band will play ten live dates in Finland, followed by two dates in Sweden. Dark Side Cowboys plays dark rock with electronic elements. /Johan Carlsson
Another project by ex-KMFDM members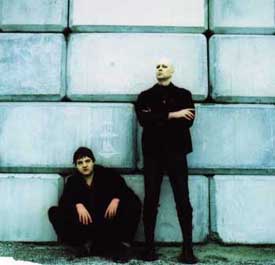 From the left: Günter Schulz and En Esch.

• Guitarist Günter Schulz and singer and multi-instrumentalist En Esch, both former core members of the now disbanded KMFDM, have formed a new band called Slick Idiot. Their debut album "DickNity" will be a web only release, and is available through their web site on March 21. /Kristoffer Noheden
---
March 13 2001

---
All Depeche Mode "Exciter" tour dates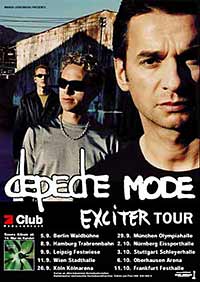 The German tour poster.
• As expected, we can give you the complete Depeche Mode "Exciter Tour" dates today. The extensive tour is now set, except for Scandinavia. However, we know that Sweden, Denmark, Norway and Finland will be visited somewhere between September 19 and 24.
The dates we published yesterday are now confirmed. Here are now all the dates, except for North America which can be found below. The tour will have around 70 gigs all in all and visit classic Depeche Mode territories like Germany and France as well as the three Baltic countries, Russia, Poland and Turkey.
August 28 Tallin (EE), 29 Riga (LV), 31 Vilnius (LT).
September 2 Warsaw (PL), 4 Prague (CZ), 5 Berlin (DE), 8 Hamburg (DE), 9 Leipzig (DE), 11 Vienna (AT), 14 Kiev (UKR), 16 Moscow (RU), 18 St Petersburg (RU), 25 Amneville (FR), 26 Cologne (DE), 29 Münich (DE).
October 2 Nürnberg (DE), 3 Stuttgart (DE), 4 Zürich (CH), 6 Oberhausen (DE), 7 Antwerp (BE), 9 Paris (FR), 11 Frankfurt (DE), 13 Barcelona (ES), 14 Madrid (ES), 17 London (UK), 20 Manchester (UK), 21 Birmingham (UK), 23 Lyon (FR), 24 Milan (IT), 25 Bologna (IT), 28 Athens (GR), 30 Istanbul (TK). /Mikael Kahrle
Kyndred spirit
• Kyndred Records is an Internet-based label that has been around since 1997, promoting and soliciting many different bands. Now they will release their first album, which will be "Purification" by German band Steril, who plays a blend of industrial, rock and electronica. The album will be released in April. Steril was signed to Off Beat in the past. /Johan Carlsson
Autechre goes on tour
• To support the release of "Confield" on April 16, Autechre goes on tour. They have confirmed 18 dates in Europe between April 4 and May 5. American dates will follow. /Johan Carlsson
Kraut Brits Appliance release new single and album
• Deconstructionist neo-krauts Appliance will release their new single "A Gentle Cycle Revolution" on May 28, to be followed by a new album, "Imperial Metric" on June 11. /Kristoffer Noheden

---
March 12 2001

---
Depeche Mode tour dates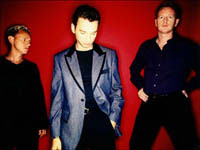 • Tomorrow, Depeche Mode are expected to reveal their tour plans in Hamburg. According to SonicNet, the North American tour will have 33 gigs between June 15 and August 14:
June 15 Montreal, 16 Toronto, 19 Minneapolis, 20 Milwaukee, 22 Chicago, 23 Detroit, 24 Cleveland, 27 New York, 30 Philadelphia, July 1 Boston, 5 Washington, 7 Fort Lauderdale, 8 Tampa, 9 Atlanta, 13 New Orleans, 14 Houston, 15 San Antonio, 17 Dallas, 19 Las Cruces, 20 Albuquerque, 21 Denver, 23 Salt Lake City, 27 Portland, 28 Vancouver, 29 Seattle, August 1 Sacramento, 3 San Francisco, 4 Concord, 5 Santa Barbara, 8 Las Vegas, 10 Phoenix, 11 San Diego, 14 Los Angeles.
We also have some (non-confirmed) European dates:
September 5 Berlin, 8 Hamburg, 9 Leipzig, 11 Vienna, 26 Cologne, 29 Münich, October 2 Nürnberg, 3 Stuttgart, 6 Oberhausen, 11 Frankfurt. /Mikael Kahrle
"New, but old" Camouflage single here soon
• Camouflage will release a new single on April 9 (not April 2, as reported in earlier News). It will be a re-work of their biggest hit, with the appropriate title "The Great Commandment 2.0". A small clip of the intro can be heard at their new site.
As previously reported, they also just recently released "Rewind", a compilation CD of 18 tracks as well as a DVD with all their videos and lots of other stuff. It's limited to 7 000 copies worldwide. /Niklas Forsberg
Reissues of Young Gods material in May
• The Young Gods current label will release three albums by the band on May 15: A reissue of the band's 1987 debut album "The Young Gods", a live album entitled "Live Nourmatrouff, 1997" (that was originally only given away to the audience at a 2000 France live show) and front man Franz Treichler's "Braindance". This is an album with material written for choreographer Gilles Jobin's works. /Kristoffer Noheden
The largest Depeche Mode party ever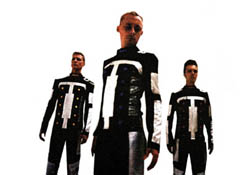 S.P.O.C.K is invited to 101.

• Between April 27 and May 1, the longest Depeche Mode party ever - 101 - takes place in Hamburg's Markthalle. The party is 101 hours non-stop and this makes way for an entry in the Guiness Book of Records. The organisers hope that one of the Depeche Mode men will drop by. S.P.O.C.K, De/Vision and Red Flag are three of the expected live acts. There will also be fireworks, fashion show, record market, exhibition, café, Emulator party, cinema, tombola and lots of more, obvious - and not so obvious ingredients. What about a photo trip to Lustgrotte, where Anton Corbijn shot "Songs of Faith and Devotion" photos, or a "Dave dancing" show? /Jens Krause, Mikael Kahrle
Daft re-releases Jeff and Jane Hudson
• Belgian Daft Records, run by Dirk Ivens (Dive, ex-Klinik), released a CD called "Flesh" on April 1 with Jeff and Jane Hudson. The two were two of three original members in The Rentals, a band formed 1977 in Boston. They were later signed to Beggars Banquet and had a hit in "I Got a Crush on You".
Jeff and Jane Hudson formed The Manhattan Project after The Rentals broke up in 1981. They didn't release any records, but played support act for Suicide in New York. Then they moved on to release records under their own names. 1982 and 83, the EP "World Trade", the album "Flesh" and the singles "Special World", "No Clubs" and "Los Alamos" were released. The new Daft Records CD includes the album, "Special World" and some tracks from the EP. /Mikael Kahrle

New Barry Adamson album in September
• Barry Adamson, former Bad Seed and king of noir jazz and devilish soundtrack excursions, will release his new album "Notting Hill" (probably not inspired by the Julia Roberts and Hugh Grant starring film) on September 3. /Kristoffer Noheden
---
March 8 2001

---
Best of Pigface with Reznor and Ogre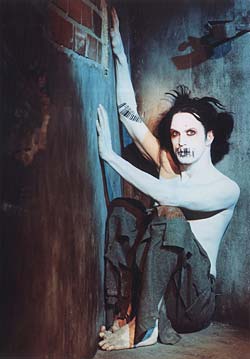 Nivek Ogre.

• Industrial super group Pigface is back with a "best of" album on Invisible Records. "Preaching to the Perverted" as it is called, will be a double disc release. The first disc contains tracks chosen by fans, and the second contains previously unreleased material. As usual a big number of guest artists contribute, such as Trent Reznor, Ogre, Flea and Mark Walk. /Johan Carlsson
Exclusive downloads on NIN web site
• The official Nine Inch Nails web site offers some exclusive downloads: a full live video of "Down in It" filmed at their European festival tour, and two new remixes of "The Fragile" tracks by Trent Reznor collaborator Keith Hillebrandt. The site also offers an "emix" of "The Big Come Down", that is supposed to let you create your own remix of the track, although Release have yet to try out how true that is. /Kristoffer Noheden
Different S.P.O.C.K singles in Germany and Scandinavia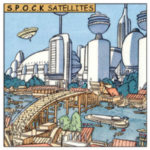 • S.P.O.C.K:s German label Bloodline has plans for a new single on March 26, "Satellites". It will include a single mix, an Olaf Wollschläger mix, a Covenant mix of "Queen of Space" and two bonus tracks. "Queen of Space" is the current single in Scandinavia.
S.P.O.C.K:s German tour in April is now set with a dozen dates. XPQ-21 will play support.
S.P.O.C.K didn't receive any Swedish Alternative Music Awards at the event last weekend, but the band only released a single last year. /Mikael Kahrle
Digital Hardcore and Invisible collaborate on compilation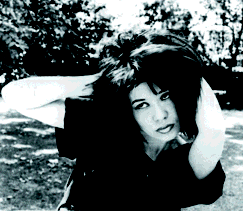 Meg Lee Chin.

• Underground labels Digital Hardcore and Invisible will release a joint compilation, "Clear and Present Danger Vol 1" in April. It will include tracks from among others Meg Lee Chin, Atari Teenage Riot, H3llb3nt, The Damage Manual, Pigface and Alec Empire. /Kristoffer Noheden
New Goldfrapp single out now


Alison Goldfrapp.
• Cinematic trip hop outfit Goldfrapp released their new single "Human" on February 26 (Mute). "Human" is taken from last year's debut album "Felt Mountain", and the single features remixes by Graham Massey of 808 State and American desert rockers Calexico. /Kristoffer Noheden
Add N to (X) release single with Jon Spencer contributions
• British robosexuals Add N to (X) release a new single, "The Poker Roll", on March 12. The single will be out in two different CD editions, as well as on 12". The releases will feature remixes and two new tracks that the Add N to (X) have recorded with Jon Spencer of the Blues Explosion. One of the CD:s will also include the erotic video for the band's last single, "Plug Me in". /Kristoffer Noheden
---
March 6 2001

---
More delays for Mobile Homes



• The new Mobile Homes album "The World Will Listen" (recently reviewed here) has been moved to March 26. Their label SSC says it has to do with portrait photos in the cover artwork, among other things. The complete product is finished, though (we have it). /Mikael Kahrle
Saft double compilation on its way
• Pop duo Saft is no longer, but their record company Eternity plan to release a double compilation, "Repris" on March 15. Disc one will contain selected album tracks, singles and single extra songs. Disc two will contain demo tracks, videos and live material. /Mikael Kahrle
Morrissey celebrated by celebrities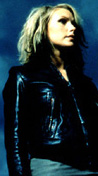 Nina Persson played live at the Morrisseyism spectacle.

• What do members from The Cardigans, Souls, Dipper, Weeping Willows, Sobsister, Mopeds, Eggstone and Ray Wonder have in common? They celebrated Morrissey last Friday on the stage of a sold-out Mejeriet venue in Lund, Sweden. The event was called Morrisseyism and featured surprise live shows, exhibition and disco. Directors and writers Lukas Moodyson and Peter Birro were DJ:s. Nina Persson could be seen playing synthesizer. Morrissey himself didn't show up.
People have asked for a tour with a similar concept, but the organiser Pange Öberg says this will not happen. /Mikael Kahrle

Depeche Mode tour will be revealed on March 13
• Yesterday, Depeche Mode announced a press conference in Hamburg on March 13. There, the upcoming tour dates will be revealed.
Since a few days back, the complete "Exciter" album can be found at Napster. /Mikael Kahrle
Aaron Sutcliffe's "Fever" on March 26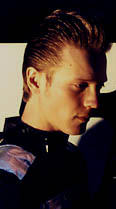 • Johan Malmgren (S.P.O.C.K) and Eskil Simonsson (Covenant) have been preparing new Aaron Sutcliffe material for some time. The album "Last Train to Salinas" release date is still not set, but on March 26 the single "Fever" is here. It will offer six versions, made by among others Joakim Cosmo. The Elvis Presley cover project Aaron Sutcliffe played for a large crowd at last weekend's SAMA event in Sweden. /Mikael Kahrle
New electro label
• Prototyp is the name of a new Swedish record label for electronic music. They are looking for artists with good music and attitude. Demos can be sent to Prototyp, Box 439, S-551 16 Jönköping, Sweden. /Mikael Kahrle

---
March 5 2001

---
Pet Shop Boys musical gets a venue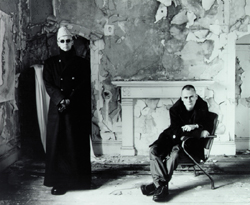 Photo by: Eric Watson

• We now have some information about the long awaited musical by Pet Shop Boys, called "Closer to Heaven". The venue is London Arts Theatre, and it will open at the end of May. The musical is based on Jonathan Harvey's book, and is choreographed by Peter Darling.
A soundtrack produced by Stephen Hague, containing the music from the show, will be released later this year, and as expected a completely new album will see the light of day at the end of this year, or early 2002. /Johan Carlsson
Vince Clarke and Martyn Ware collaborates again
• The two synth legends will release a new album called "Spectrum Pursuit Vehicle" on Mute in late April or early May. The record will contain six abstract, ambient, experimental tracks inspired by the different colours of the spectrum. Unlike their last effort, "Pretentious", this is a normal stereophonic release. /Johan Carlsson
Polish band Common Dream debuts
• Common Dream is a Polish synthpop band, and they have just signed a record contract with Black Flames Records, a Polish independent label. The as yet untitled debut album will hopefully be released this summer. /Johan Carlsson
---
March 4 2001

---
SAMA winners
• Last night the winners of Swedish Alternative Music Awards in Gothenburg were presented. Here's the list:
Newcomer 2000 Sadovaja.
Live artist 2000 Pluxus.
Song 2000 The April Tears: "Model, Actress, Whatever".
Album 2000 Covenant: "United States of Mind".
Artist 2000 Teddybears Sthlm. /Mikael Kahrle

---
March 2 2001

---
Clarke and Marlow work on EP and album



• English synthpop veteran Robert Marlow (pic) has made a comeback during the last few years with an album release and Scandinavian live shows. Now he and his friend Gary Durant simply calls themselves Marlow. They are working on an EP, to be released this summer, and an album.
Vince Clarke has engineered three of the EP tracks and agreed to work on the album. The EP will include a remake of the old B-side "No Heart" in one Clarke and one Marlow mix, as well as two new songs. Clarke is facing a decline in interest in his flagship Erasure and are now working with other projects.
Marlow has started a label called Purple Nastee. They are also discussing a possible license deal with SubSpace Communications.
- We are really excited by the whole Purple Nastee idea. It will give us the scope to extend our sound and develop our music. Who knows, we may branch into recording other artists as well as ourselves, Gary Durant says.
Maybe there are a few bands out there who would need a helping hand? /Mikael Kahrle
Bowie, Moby and Glass performed "Heroes" live

Moby.

• A rare event took place on New York's Carnegie Hall on February 26 during a "Tibet House Benefit Gig". David Bowie was joined by among others Moby on guitar and the event organiser Phillip Glass on piano in "Heroes" and "Silly Boy Blue". The latter is a song about Tibet from 1965, which hasn't been performed on stage since the sixties. It ended with chanting monks. Moby performed an acoustic version of "Porcelain". /Mikael Kahrle
Stephen Hawking on Depeche Mode
• The Recoil site Shunt, probably Alan Wilder himself, has interviewed Professor Stephen Hawking on, among other things, his live experiences with Depeche Mode.
- It was a great concert, they had real energy. I don't think many people would have expected to see me there but I'm very glad I went, even though I was sitting just in front of the speakers and my ears were ringing for the next 24 hours..., he says.
Hawking is one of our time's greatest scientific minds and is known for some, hmm, quite unconventional behaviour.
If you dare, you can hear the man rap at MC Hawking's Crib in songs like "E=mc Hawking" and "F*ck the Creationists". Expect lyrics like "I'm the Lord of Chaos, King of Entropy. You down with it? I motherfuckin' hope so, 'cause if you're not, I got a motherfuckin' rope yo!" In the brand new "QuakeMaster" he brags about his unbeatable skills in Quake. "I got a Phd in pain and a masters in disaster, the mighty Stephen Hawking is a fucking QuakeMaster". He has previously done stuff for an online label called Beatz for Geeks.
Hawking has also showed up in TV shows like in Star Trek: the Next Generation and The Simpsons.
Shunt also offers interviews with Gary Numan, David Gahan, Anton Corbijn and Johnny Marr.
Alan Wilder and his girlfriend Hepzibah got a son on February 21. It's their second child and he is named Stanley Duke Wilder. They say he is "bearing an uncanny resemblance to his old man in look and manner". /Mikael Kahrle

Estonian band mix synthpop, goth and metal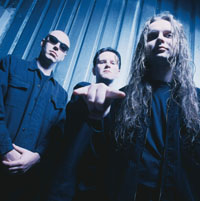 No Big Silence.

• Cyberware is a Finnish record label that recently signed two new bands. The first one is Americans Necromantik Sunshine, a band that blends together goth, death rock and electro to make catchy tunes. Their album "The Pain of Pleasure" will be released in Europe in April.
The next band is something of a rarity, as it is a band from Estonia. It's called No Big Silence. Their music seems like a bit like a contradiction in terms, described as a cross between eighties synthpop, goth and metal. Their album will also be released in April. /Johan Carlsson
Vote for the American Synthpop Awards
• The voting for the second American Synthpop Awards has started at www.lexiconmagazine.com/awards. The awards will be presented at the Synthcon 2001 event in Hollywood on May 27. /Mikael Kahrle
Actor Records loves the good old eighties
• Secret Sin is a German band consisting of Knut Peters, programming, and Farina Peters, vocals. They have just signed on for newly started Actor Records, a label specialising in eighties' influenced synthpop. Secret Sin seem to fit well, as their sound is described as a mixture of easy listening and pop.
The upcoming album "So Many Dreams" should be released in May. /Johan Carlsson
Details on the OMD cover album
• The since long planned OMD cover album will be named "Messages" and released by Oglio Records on May 1. White Town, Cosmicity and Color Theory are among the featured artists. /Mikael Kahrle
---