---
---
Sep 13 2002

---
New Fields... album is unauthorized by Carl McCoy
• The new Fields of the Nephilim album entitled "Fallen" is being released without main man Carl McCoy's permission, according to official edicts from the man himself. The artwork was not made by Sheer Faith as stated and the collection does not include all the material that McCoy has been working on. As if this was not enough, McCoy has gone to his lawyers to resolve the issue. When asked about the new single "From the Fire", McCoy asked with surprise what tracks were on it.
- I think that "Fallen" may be of interest to those who have money to throw away or are interested in collecting studio off-cuts.
No statement has yet been issued by Jungle Records, the band's label. /Peter Marks
Second tour for Tiamat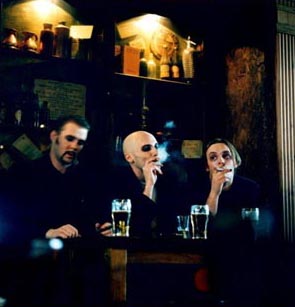 • A second European "Judas Christ" tour has been announced by Swedish goth-metal act Tiamat. The first gig is on September 20 in the Netherlands (Eindhoven) and the tour will close on October 12 in Helsinki. On all dates except for Helsinki, electro-metal act Pain will play support. /Peter Takizawa
Haujobb delayed
• The new Haujobb album, now re-named "Vertical Horizon" has been delayed until 2003. Does this sound familar - like the "ninetynine" era all over again - or what? Bring on the side projects, please. /Peter Marks
New Order's old favourites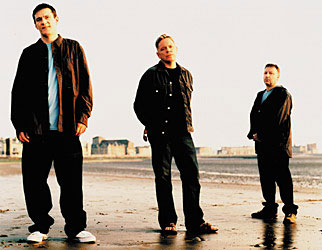 • The 11th volume of the "Back to Mine" compilation series feature songs selected by New Order. There are few "Release songs" on this CD, that's for sure. We have received a copy and it includes Primal Scream, Giorgio Vs Talla 2XLC, Donna Summer, Missy Elliot, Roxy Music, Doves and Captain Beefheart. The release date is set to September 30.
The concept of these volumes is to have well-known artist select their favourite songs. Previous albums have been compiled by artists such as Orbital and Faithless. /Peter Takizawa, Mikael Kahrle
Inbreeding among KMFDM and Pig
• The tradition of inbreeding in the KMFDM and Pig camps seems to continue. The line-up of the finished KMFDM "Sturm & Drang" tour has been announced as the new permanent line-up. Interestingly, the whole Pig team, including mastermind Raymond Watts, Steve White and others, are now official members of KMFDM. To further confuse things, Sascha K of KMFDM has been announced as co-producer and bassist of Pig. Swede Tim Skold is no longer a part of the permanent line-up of KMFDM.
A live CD from the "Sturm & Drang" tour have also been announced. The (US) release date is set to November 5 (on Metropolis Records). /Peter Takizawa
Electro bands play benefit concert
• To aid the victims of the recent flooding in Germany, a bunch of electronic bands are playing a benefit concert called "Gegen den Strom!" in Hamburg's famous Markthalle on September 21. The billing includes VNV Nation, Girls under Glass, Sono, Haujobb, Seabound, Kiew and more. There will also be different DJ:s and giveaways. To learn more, see the web site.
This kind of music charity is pretty unheard of in this genre. But who knows, maybe the trend is changing now when we ahev forgotten the many attempts during the eighties.
Recently, we reported of the benefit concert to aid the burnt down Musicwerks where bands like Assemblage 23 and Converter have played. That kind of support gigs are more common. /Johan Carlsson
---
Sep 11 2002

---
Release visited Jarre show which ended in mud chaos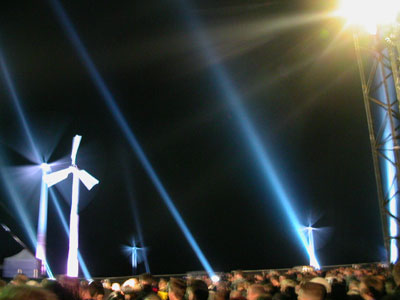 Photo by: Mikael Kahrle (Release)
• Jean Michel Jarre has performed his huge shows in Paris, Beijing, Shanghai, Houston, Lyon, London, Zermatt, Bophuthatswana, Hong Kong, Moscow, Gizah, Okinawa and Athens. And now in a field in the middle of nowhere in Denmark.
Last Saturday Jean Michel Jarre launched his massive "Aero" show in a windmill park at the Danish country side. It was his first outdoor show on Scandinavian soil and it was the largest concert production ever in Denmark. Release went there. We barely came back.
It was a risky concert project considering the lack of infrastructure to match 40 000 visitors and the risk of bad weather. A few days prior to the big event, we all knew rain might be coming. The organisers expected 4 mm rain, even close to the show. 22 mm fell and turned the event into a mud chaos. The concert site looked like a war zone.
Read our report and watch many exclusive photos from "Aero" here. /Mikael Kahrle
Turning point for copy protection of CD:s
• After protests and technical difficulties, some record companies have started to reconsider the copy protection of CD:s.
- Unfortunately, the protections are much more inefficient than we hoped for and we don't want the discussion to become too loud, a US BMG representative tells News.com.
BMG now stops their protection and other companies might follow.
We have seen all kinds of systems appear this year and since we run most CD:s in computers and recieve up to 20 CD:s per day, this issue has been painfully present for us. /Mikael Kahrle
Curve gears up for a radio session, single, possible tour and new album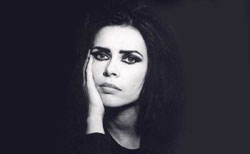 Toni Halliday.
• Toni Halliday and Dean Garcia will be releasing a double A side single in the UK through Artful Records. The track list "Perish", "Want More Need Less" and the new version of "Recovery", featured on their 2002 album "The New Adventures of Curve" (see reviews). The single should be out in early October with "Perish" and "Want More" going to UK national radio on September 1.
Curve will be recording a session for XFM radio which will be aired around the release of the single in October. They plan to record "Perish" and "Want More" with a third undetermined track to fill out the session.
With all of this going on, the band are also writing new tracks to be released some time early next year on their own Fatlip label.
A renewed interest in touring has made the band consider a tour for next year also. Keep your fingers crossed. /Peter Marks
XXX with Rammstein
• German pyrotechnicians - and musicians - Rammstein makes a short appearance in the new Hollywood movie "XXX" starring Vin Diesel. Their latest single "Feuer Frei" is also available on the movie's soundtrack. /Johan Carlsson
Funker Vogt's "Survivor" arrived yesterday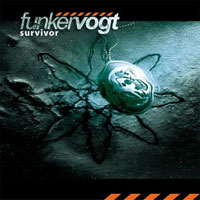 • The new album "Survivor" by the German EBM band Funker Vogt should be in stores on October 21. Look forward to buying three different versions if you are a collector. First we have the European version, which is the standard twelve-track release. Then there is the limited edition, containing a bonus CD with extra songs, and mixing software. Finally there is the US version, with a bonus track tucked to the end. All three have slightly different artwork.
We have the finished CD and first listen shows Funker Vogt stay true to their sound and old fans will not be disappointed. Funker Vogt have many fans but are seldom popular among critics. The band have been reviewed by several different Release writers throughout the years and in most cases they have been given a low grade. Remains to be seen what we say this time. /Johan Carlsson, Mikael Kahrle
---
Sep 9 2002

---
A new stunt by Yvonne
• Swedish rockers Yvonne have contributed three tracks from their latest album "Hit that City" to the soundtrack to the much praised new Playstation game "Stuntman". Playing a stuntman, you try to survive the most dangerous action scenes of of Indiana Jones- and James Bond-style movies.
"Hit That City" reviewed here. /Mattias Huss
Napster officially dead





• Napster's leftovers have been laid to rest. A Delaware (US) bankruptcy court decided on September 3 that the music internet service would not be sold off to Bertelsmann AG for $92 million. Napster.com is not showing a deathbed artwork. /Alex Veronac
Kent's touring plans
• The Scandinavian tour of Sweden's largest rock band Kent will start in Trondheim, Norway on October 17. After Norway, Finland and Denmark will be visited before the Swedes finally get their due.
Read a review of Kent's most recent album here. /Mattias Huss
---
Sep 3 2002

---
"Autobahn 66" next Primal Scream single in October
• Primal Scream will release the second single from their "Evil Heat" album on October 14. The track chosen is the very Neu!-ish "Autobahn 66", but the track listing has yet to be confirmed. /Kristoffer Noheden
Electroclash on tour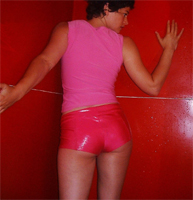 Peaches.
• With the recent music movement labeled electroclash and a 30 band festival last year in New York City, a talented group are taking part in a US tour this fall. Acts include Peaches (Canada), Chicks on Speed (Germany) , W.I.T. (Whatever It Takes from NYC), Tracy + The Plastics (USA) with some support of local bands at larger venues. New York City is the origin of the tour on October 11 as it hits the larger metropolitan centres in the US and Canada by month's end. Peaches and Chicks on Speed continue on for a few dates together after.
See earlier Peaches news at Release here. /Alex Veronac
New Nordic DJ charts presented by record company
• There is certainly a gap to fill when it comes to Scandinavian charts for our music. Now, the first monthly Nordic Alternative Charts (NAC) has seen the light of day.
It's not compiled by neither ordinary people nor music business and media representatives. No, the only persons who can vote for NAC are members from the DJ pool of one single record company, Memento Materia.
Covenant and Mesh have occupied the number one slots of the first single and album charts respectively. The September charts contain some old records. We find Front Line Assembly's "Everything Must Perish", released exactly one year ago, and delivered to selected DJ:s earlier than that. But the Scandinavian clubs are known for focusing on older tunes than that and new songs are rarely heard at all on several clubs. The chart will probably encourage more updated dancefloors. /Mikael Kahrle
Latest Pig album gets a US release
• Pig's last album, "Genuine American Monster", originally released in Japan in December 1999, will now finally get released elsewhere - in USA to be exact. Metropolis will reissue the album on October 22, apparently with one bonus track. /Kristoffer Noheden
---