1 100 possible Nightwish vocalists - so far
Dec 15 2006 | By: Mikael Kahrle (Gothenburg, Sweden)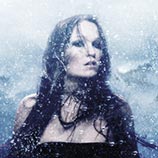 After Tarja Turunen's departure from Finnish gothic metal band Nightwish, the remaining members have searched for a new vocalist. So far, 1 100 girls feel they are the right one for the job. And it doesn't stop there because the application deadline is on January 15. The band writes:
"We need the obvious things: Looks, charisma, courage and, of course, a big voice. Good grasp of the English language is also very helpful. We don't necessarily need a classically trained vocalist like Tarja."
As a gothic front woman you can expect to be in every issue of the German gothic mags.
---
---
First US goth act to perform in China
Dec 15 2006 | By: Mikael Kahrle (Gothenburg, Sweden)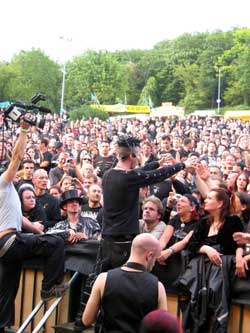 The Crüxshadows front man close to the audience at the Zillo fest in Germany.
Photo by: Karin Martinsson (Release)
Possibly somewhat tired of playing German festivals, The Crüxshadows can look forward to two or three concerts in Beijing, and maybe one more in another Chinese city in May. This is the first time an American gothic band performs in China. Western bands rarely play there at all, of course.
In January, The Crüxshadows will tour the US together with Ayria (all dates), Ego Likeness (West Coast) and Angelspit (East Coast). Later in the Spring it's Europe's turn again. The band has been playing here this autumn/winter.
The new single "Sophia" knocked Beyonce down to #2 when it debuted at #1 on the Billboard Dance Singles Sales Chart. The new album "DreamCypher" is expected on January 16 (USA) and 19 (Europe).
---
Six Grammis nominations for The Knife
Dec 6 2006 | By: Mikael Kahrle (Gothenburg, Sweden)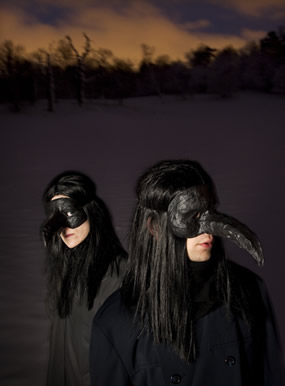 Independent electronic act The Knife has been nominated to six Grammis (Swedish Grammy): album, artist, composer, DVD, producer and pop group (!) of 2006.
The Grammis awards takes place in Stockholm on January 30 and is once again open to everyone.
---
---
New web-only album from Foetus
Dec 6 2006 | By: Peter Marks (Portland, Oregon, USA)
"Damp" (Ectopic Ents) is currently available from the Foetus website and features numerous unreleased tracks as well as some outtakes from Foetus' last studio album "Love". Additionally, some brand new work is also included, most notably a 16 minute instrumental entitled "Cold Shoulder".
A remix by Phylr rounds it all out. JG Thirlwell also has planned a third album from his Manorexia side-project for 2007. Two previous albums "Volvox Turbo" and "The Radiolarian Ooze" comprise this act's back catalogue.
---
And One headline electriXmas
Dec 6 2006 | By: Mikael Kahrle (Gothenburg, Sweden)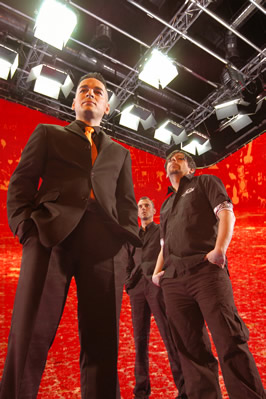 The electriXmas mini festival in Lund, Sweden, has announced its headliner And One ten days prior to the event on December 16. The previously announced live acts are Modcom, Cat Rapes Dog, Thermostatic and Hype. All visitors will be given a free compilation CD.
Steve Naghavi, Chris Ruiz and new member Gio van Oli delivered the latest And One product "Bodypop" on September 13. It has been quite successful, but in our review we only gave it a five mainly because of the frequent tired reuse of old sounds and ideas. However, the album stays true to the typical And One sound and is more or less free from annoying and cheesy songs and they are nowadays signed to a label known for its hard EBM, Out of Line. After And One, they have also signed another pop act - Client, though.
The And One singles "Military Fashion Show" and "So Klingt Liebe" were released this summer. Third single "Traumfrau", which is one of the stronger songs on "Bodypop", is on its way. The CD contains 1. "Traumfrau" (Video Version), 2. "Body Company" (Club Hit), 3. "Naghavigationssystem", 4. "Tonight", 5. "Traumfrau" (Mixmix), 6. "Traumfrau" (Video), 7. "So Klingt Liebe" (Video).
---
---
Front Line Assembly and Hocico to Arvika
Dec 5 2006 | By: Mikael Kahrle (Gothenburg, Sweden)
Front Line Assembly, Hocico, Portion Control, Strip Music and Melody Club have all been signed up for the Arvika Festival 2007 (July 12-14).
- We have tried to book both Front Line Assembly and Hocico during the whole 2000:s without succeeding. Now we have them both in December and of course it feels great, Olov Hallberg, head of booking says.
---
---
Kent back from US studio
Dec 5 2006 | By: Mikael Kahrle (Gothenburg, Sweden)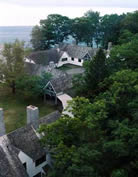 Kent's seventh album is being prepared and is now scheduled for a release sometime during the autumn of 2007.
Kent and producer Jon "Joshua" Schumann worked on new songs in Allaire Studios in Shokan, New York, in November. This 1920 era mountaintop estate has been used by David Bowie, The Strokes and Raveonettes and Heather Nova. Joshua has previously produced Mew, Carpark North and Kashmir.
Kent will carry on with the recordings in Stockholm during the Winter and Spring.
---
Progress signs three new EBM acts
Dec 5 2006 | By: Mikael Kahrle (Gothenburg, Sweden)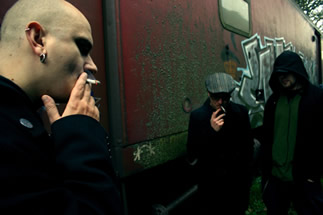 Swedish electronic music label Progress Productions has signed three new acts: Terror Punk Syndicate, Mommy Hurt My Head and Kopfer Kat.
Terror Punk Syndicate is Swede David Karlgren who is inspired by Vancouver and Chicago industrial.
Denmark's Mommy Hurt My Head (pic) deliver EBM in the Claus Larsen school. It's a three-piece headed by the singer of a band called Artz+Pfusch.
Powernoisers Kopfer Kat from Sweden will easily become the hardest act on Progress.
All three newcomers are to be featured on the "Born/Evolve/Progress Volume 2" compilation (January 24). The CD holds 15 exclusive tracks.
---
Erasure DVD with acoustic gig from Nashville
Dec 2 2006 | By: Johan Carlsson (Stockholm, Sweden)
"The Road to Nashville" is the title of a new DVD with synthpop legends Erasure. However, as on the latest "Union Street" album, the music is strictly acoustic this time around. Filmed in Nashville in May 2006, Vince Clarke and Andy Bell perform their biggest hits backed by a full band. A short film and a bonus audio CD are also included.
Europeans can buy the DVD on January 29, 2007, but North America has to wait until February 20.
---
New synthpop from Estrange
Dec 2 2006 | By: Johan Carlsson (Stockholm, Sweden)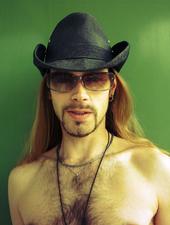 "Interim" is the new album from Swedish synthpop project Estrange. It features melancholic synthpop and is out now on Life Is Painful Records in Germany.
After being a duo, Anders Persson has now left, leaving Marcus Lilja to take care of everything. Marcus writes the music, lyrics and programs the synthesizers. He also plays the guitar, harmonica and piano. However, actually Anders is still around to help with some additional programming.
---
Mentallo and The Fixer back with new album
Dec 2 2006 | By: Johan Carlsson (Stockholm, Sweden)
Alfa Matrix will finally release Mentallo and The Fixer's new album "Enlightenment Through Chemical Catalys", which we mentioned here at News in February 2005 (!). After four years of silence, the band recently issued the EP "Commandments for the Molecular Age", and this is the continuation.
A deluxe package with postcards, a button and a sticker will also be available, including a 60 minute bonus disc. Out on January 19.