Skinny Puppy: M'era Luna and North American tour
Apr 28 2007 | By: Mikael Kahrle (Gothenburg, Sweden)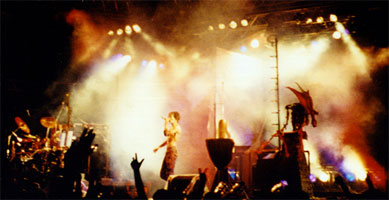 Live at Doomsday festival.
Germany's M'era Luna has just announced Skinny Puppy is going to headline this year's festival on August 11-12. They released Necro Facility in the same wave.
The first batch of North American Skinny Puppy live dates have also finally been released. The tour is called "Mythrus Tour 2007" and the schedule (so far) looks like this:
May 24 Santa Cruz CA, 25 Portland OR, 29 Salt Lake City UT, 30 Denver CO.
June 1 Chicago IL, 5 Toronto ON, 6 Montreal QC, 7 Boston MA, 8 Philadelphia PA, 9 New York NY, 14 Atlanta GA, 15 New Orleans LA, 16 Houston TX, 17 Dallas TX, 19 Tempe AZ, 21 San Francisco CA, 22-23 Los Angeles CA, 24 Anaheim CA.
More dates will follow.
---
Romo Night is buried
Apr 28 2007 | By: Mikael Kahrle (Gothenburg, Sweden)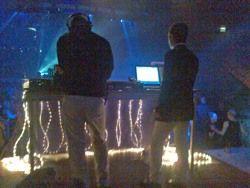 Romo Night 1:39 am. The clock is ticking but all good things must come to an end.
After eleven years, the biggest synthpop club in the world (?) Romo Night in Release hometown Gothenburg closed its doors for the last time around five am this morning.
Organisers and DJ:s Tobbe and Tobbe (on a podium on stage in front of a memory lane video loop) opened the dancefloor with Depeche Mode's "Black Celebration" and then played greatest hits from all the years. Maybe as much as 1 000 people showed up and danced like crazy for one last time. Guests included many of the people that have worked with and played at the club throughout the years, for instance Twice a Man and S.P.O.C.K. Some people even wore funeral clothing.
Main organiser Tobbe Eriksson will now focus on his very own funeral company. He plan to continue DJ:ing here and there (like at tonight's new wave fest with Twice a Man, Strasse and Ladomir).
Romo Night was something of a second home for Release where we met many of our colleagues and friends.
Thank you for everything.
---

---
Alan Wilder's new Recoil album set for July 2
Apr 25 2007 | By: Johan Carlsson (Stockholm, Sweden)
Finally we get some solid news about the upcoming Recoil album we told you about on March 21. It's called "subHuman" and is set for release on July 2.
"subHuman" will be available in three different formats: regular CD, limited gatefold vinyl and a special collectors DVD package with an enhanced stereo CD, 5.1 surround version, an exclusive ambient re-working of the album, as well as every released Recoil music video.
Collaborators on the album which has been described as "blues ambient" is blues artist Joe Richardon and singer Carla Trevaskis.
---
Busy year for Antje Schulz from In Strict Confidence
Apr 20 2007 | By: Peter Marks (Portland, Oregon, USA)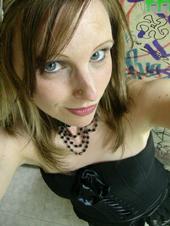 Originally called Sugarfist, La Floa Maldita's Guido LeFric and In Strict Confidence's Antje Schulz have re-named their project Spin Spin Sugar. They are billing themselves as an in your face female fronted electronica act and are a four piece currently in seach of a record label.
A quick perusal of their Myspace site shows their description to be right on the mark with all the flourishes you'd expect from Mr. LeFric.
In related news, Schulz and her long-time partner in crime Harold Lowy have decided to resurrect Chandeen and have plans for a new album sometime in 2007. We'll keep you posted as events unfold.
---
---
Festival updates for WGT, Arvika and M'era Luna
Apr 17 2007 | By: Mikael Kahrle (Gothenburg, Sweden)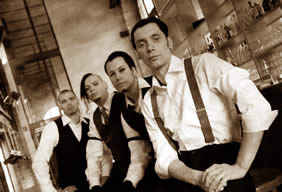 Terminal Choice play WGT.
It's time for a quick look at three summer festivals; they have all sent us major update announcements. See previous posts for dates and details.
Wave Gotik Treffen, with its seemingly endless line of mostly small and mid-sized acts, adds Rome, Ataraxia, De/Vision, The Levellers, Secret Discovery, Dive, Terminal Choice, First Law, Cyan aka Eternal Afflict, All My Faith Lost, Serious, Brighter Death Now, Rotersand, Jesus & the Gurus and Plastique Noir to their list.
Arvika announces one artist each day throughout April and we note down Necro Facility, Frozen Plasma, Familjen, Kloq and Slagsmålsklubben (they did one of the most celebrated Arvika concerts of 2006). The organisers report that tickets sales are going very well but we still miss a couple of good big headliners in the line of previous year's Kraftwerk, The Cure, Björk or Skinny Puppy. Some could return of course and Pet Shop Boys, Jesus and Mary Chain, Rammstein, Erasure, Einstürzende Neubauten, Laibach, Röyksopp and Smashing Pumpkins are all acts that could do the job.
M'era Luna has added And One, Covenant, Tool, 69 Eyes, The Crüxshadows, Assemblage 23, Jesus on Extasy and Lacrimas Profundere.