---
Eurorock Festival '99, Neerpelt, Belgium - August 6-8
During three days in August, the little Belgian village of Neerpelt became paradise itself. This year the Eurorock festival offered over 50 artists, almost everyone of them in the EBM, gothic or wave field. And at least half of them were highly interesting.
At most festivals you run around like mad between several stages over a vast area. You try to catch your music between lots of stuff you hardly care about. Most likely you miss a lot because of the distances or due to bands playing at the same time. The diversity and surprises can be appealing, but also extremely tiring.
At Eurorock you have some of the best bands in the same field of music playing at two nearby stages. Never far away, you have cheap beer, food and everything else you need. Now, you can concentrate on meeting people, some serious partying activities - and of course the live shows.
There were plenty of them.
Front 242 did another of their endless festival shows, this time "at home". I was really thrilled by the fact that they sounded more classic and really, really good. Among all their followers and colleagues they showed that they are still kings in their genre.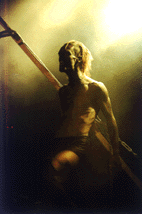 Das Ich live (at the Arvika Festival in July).
Photo by: Peter Åstedt (Release)
They surely have competition, however. Not only from predecessors like DAF (DAF/DOS) and Gary Numan, who played at Eurorock. But also from new bands like Das Ich. They are always something special. With their unique sound, moving synthesizers and the fascinating frontman Stefan Ackermann, they spell-bound the audience. One of the best live shows I've seen in a long time.
Covenant represented my home country well and have now reached a level of popularity, so that they can perform on a huge main stage. A blue-haired Eskil Simonsson and the two other Covenants played old hits and a couple of new, strong songs in the typical cold and hard Covenant tradition. I figure the extremely heavy bass sounds in the new single song almost sounded all the way home. At least everybody in Neerpelt now knows how they sound, whether they're interested or not.
A surprising highlight happened during Plastic Noise Experience's concert on the tent stage. The former Klinik man Dirk Ivens teamed up with their singer in an excellent version of the Klinik classic "Moving Hands". The audience went crazy and I, who definetely never have been impressed with Plastic Noise Experience before, changed opinion after this energetic gig.
I'm really looking forward to the fortcoming album of electrogoths Dreadful Shadows. They impress as tight musicians and the covers "Twist in My Sobriety" and "Blue Monday" sent shivers down my spine.
To say something negative as well: it hasn't helped And One that a girl - Annelie Bertilsson from Cat Rapes Dog - has joined the band. They are obviously still in puberty. Wolfsheim is probably the most boring band I know and I can't really understand why a lot of people praise The Creatures. I hold Siouxsie and the Banshees high, but The Creatures music were demanding and way too monotonous live, even though they are, without a doubt, competent.
Among other interesting artists that performed were Paradise Lost, Goldie, Apoptygma Berzerk, Project Pitchfork, Heather Nova, Hocico, Anathema, Cubanate, Girls under Glass, Roland Gift (ex-Fine Young Cannibals), Moonspell, Clan of Xymox and Funker Vogt.
We always got a good look, since the festival was far from sold-out with around 8 000 visitors at the most on the saturday and sunday. The mostly black and dressed-up audience was big and excited enough to keep the temperature up, though. Especially the outdoor main stage, with a max capacity of 25 000 people, kicked ass with its impressive sound and lighting systems.
All in all, one of my greatest festival experiences!
MIKAEL KAHRLE
---