---
All light on Chris Peterson


By: Johan Carlsson

We have interviewed both Bill Leeb and Rhys Fulber. But we think it is time someone takes a closer look at Chris Peterson. High time, it seems, since he talks about quitting Front Line Assembly. He will not be unemployed though. Peterson keeps himself busy elsewhere. Let us see what is up in Vancouver these days.
Everything must perish
Over the years, Canadian band Front Line Assembly has created a big name for itself in the realm of hard electronic music. Although criticised by some for having formulaic song writing and cheesy lyrics, they are respected for their mixture of high-tech soundscapes, catchy hook lines and devastating beats. The band consists of founding member Bill Leeb and programmer Chris Peterson, and they have worked together as a band since 1997, although Chris has been around before that.
I have had some contact with Peterson and some time after the new album "Epitaph" hit the streets in October 2001, he approached me and offered me an interview. He said that the record company only organised interviews with Bill Leeb, and he wanted an outlet to give his side of things too. Of course, I accepted his offer, since Release always have focused on Bill Leeb and Rhys Fulber. I also suspected that he had something important to say, and I was right.
The new album had been getting almost nothing but praise. The return to harsher soundscapes reminiscent of the early records, while keeping the more refined and electronic sound of the newer output, has been applauded. In the light of this, I asked Chris Peterson about the future of the band.
- I do not have any future plans for Front Line Assembly whatsoever. My experience with FLA has helped me grow both personally and as a programmer, but it also took a lot of time away from my own projects. After "Implode" and "Epitaph", I feel like I just don't have the time or energy to put into what is ultimately somebody else's band.
But nothing is definite.
- On the other hand, I've been doing music long enough to know that stranger things have happened than, say, me doing one more FLA record. But in my heart "Epitaph" really does feel like a good note to leave on. The time has come for me to focus on my own work, and diversify in terms of any other projects that I contribute to.
Before he leaves he would very much like to tour one last time, though. Especially in Europe, as it has been quite a while since they played there.
Big money
Chris Peterson is a 33 years old Vancouver boy and is the youngest of six kids. He started working with music when he was 17, and worked as a manual press silk screen printer before starting working with Bill Leeb full time.
Since he is on his own now, he has gone back to his previous profession in order to pay the bills and only works with his music on evenings and weekends. In his probably miniscule free time he plays hockey and video games, and he is also trying to teach himself electronics, which might come in handy in his kind of music.
When he grew up, he happened to know a lot of "right" people. He hang out with Bill Leeb and others for a long time and it went on from there. He has once had the band Will with Rhys Fulber and John McRae. He has worked with Cevin Key on some projects and mixes. Furthermore, he has helped Leeb in the studio a lot before. It all started with the mixing of the first album by Front Line Assembly side project Noise Unit, and he has also played live drums with FLA on several occasions.
He joined the band full time when former member Rhys Fulber left to try his hand at producing and making his own music. These days, he has a very noisy and experimental side project of his own called Decree, together with some friends. Maybe that is his main venture now.
Leeb and Peterson's first album together was "FLAvour of the Weak" (1997). It is an album that sees the two learning how to work together, and it is perhaps a bit disjointed. By the time of their next album, "Implode" (1999), it is noticeable they had learned a lot, and the result is also a much more coherent album. Now, they have a working relationship where heated arguments may arise, but they are always able to laugh it off at the end of the day.
Delerium has turned into Bill Leeb's main concern nowadays, for obvious reasons It is the best selling project he has ever launched. Chris Peterson was the programmer on the latest album "Poem". This project sports a soft, ambient and almost world music approach and features lots of acoustic instruments and female singers. The singles have done very well in the charts, especially "Silence" which was a number one hit in many countries, in a remixed shape. That success may also be attributed to the remixed trance versions of the tracks. "Poem" has a more traditional pop song writing style, as well as vocals from artists like Matthew Sweet, Rani, Aude and Leigh Nash.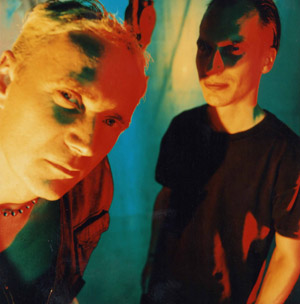 Modus operandi
The work on the Front Line Assembly full-length "Epitaph" was initiated even before "Poem". It was interrupted halfway through, in favour of "Poem", and the switch was made again a couple of times until both recordings were completed.
An early decision was made to make the new FLA songs more back to the roots. Chris Peterson wanted to make some songs suitable for clubs, as it has been a while since the band was played in such an environment. He enjoyed working on the harder material more, but also says that working on an album like "Poem" was a very good learning experience.
- I've never worked on anything else where so many elements are brought together. It was a massive amount of work, but the feeling of accomplishment was worth it. Pulling something like that off gave me a much-needed dose of confidence too. It is interesting how working on Delerium influenced FLA this time around. That's bound to happen when you're doing both projects at once.
"Epitaph" has a more stripped down sound, with less layers at once. The drum programming has also seen much improvement.
- My thinking was, that with the previous album "Implode", we had that soundtrack kind of feel going on, but it made it more of a home listening kind of album. With "Epitaph", I wanted it to be more of a crank it up kind of thing. The thing is, when you have too much layering, things start to sound like mud when you play it really loud. So I thought it would be better to have less layers, and pay special attention to making the sounds you do have really cool. As for the drum programming, I guess I learned a few new tricks in the last little while. My thing this time around was that I didn't want to have to use so many obvious samples and loops. And so Bill gave me more time to develop some original stuff. And when he did insist on a certain sample, I always made a point of trying to bend it into something different. It took more time but I think it was worth it, and I have more pride in it too!
Machine slave?
With a band as legendary as this, and headed by one of the most famous people in the genre, many people wonder what Chris Peterson's role is. Is he "just" the programmer, or does he have musical input as well, and can he try out his musical ideas?
- My hope is that over time people will recognise my "footprint" on whatever I work on. And that eventually I won't have to answer that question any more. Not that I mind your asking, but if you think about it, it is kind of funny asking a programmer in an electronic band if he has any input or influence on it. As for new ideas, with FLA, yes I can experiment at will. But with Delerium, Bill knows what he wants, and your task is to make it all come together with much less room for crazy ideas. When it comes to my more "over the top" ideas, those usually end up in a Decree song.
When Chris is designing sounds, he wants them to convey a certain feeling. He likes to first visualise them in his mind, and then he patch together the sound quickly, due to his experience with modular synthesizers. According to him, digital synthesizers are pure crap and have neither warmth nor character. He likes to take chaos into the equation as well, and you rarely get surprising sounds with digital equipment.
Numerous fans have expressed a want for a side project in the vein of the instrumental ambient bonus tracks available on all albums since "FLAvour of the Weak". Chris is loosely planning a whole album in this style, perhaps when he is finished with Decree. The one on "Epitaph" is called "Submerged" and uses sounds from submarines for its ambience.
- I was on a nautical kick that time. Jason Filipchuk co-wrote that one with me, as well as the song "Epitaph". The concept behind the bonus tracks was just for me to go into the studio myself at the end of working on the albums and see what I could do in a day or two just for fun. I like little extras like that.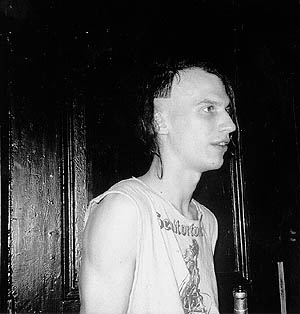 Chris Peterson live in Sweden 1991.
Photo by: Jonas Carlsson
Division of mind
In a surprising turn of events, Rhys Fulber has again been working with Bill Leeb on three new Delerium tracks. Nothing is certain with these tracks though, we don't know if they will be released to the public. When I suggested the possibility of Delerium becoming a trio, Chris snickers.
- No. I'm sitting on the fence with that one. I'm not sure I want to make that kind of commitment right now. I'm having too much fun doing the things I put off for so long.
One of those things he has neglected is a new Decree album. Now, he finally has time to finish it off, and hopefully it will be done this winter. He is very happy with the new sound, and has gathered a "new group of freaks", as he calls the band members.
He is also making industrial drum'n'bass tunes under the moniker Revelstoker (the name is an inside joke), but that will probably never see the light of day.
- It's a fun project that I do with my friends just for the hell of it. No plans for releasing it as of yet. It's just a good concept for jamming and making something that we like, and the drum'n'bass template keeps it from being too difficult to be fun.
Existence
We can only speculate what will happen with Front Line Assembly now that Chris is leaving. Bill Leeb has said in interviews that he will not be sad if this was the last album. He has also been working together with DJ K-Wreck on a more hip-hoppy and jazzy venture, in the vein of the French group Air. This project does not have a name yet, and may well stay unreleased. There are plans to make more Delerium tracks with Rhys Fulber, so we just have to wait and see what is in store. No future singles from "Epitaph" are planned as far as Chris Peterson knows; it is up to the label.
- As for where I want to go musically on my own, I guess the short answer is; further than the limits of my imagination. I think it's time to experiment and diversify right now. Also, I'm enjoying working on remixes too. It keeps the variety level interesting and it's really rewarding when you get people giving you a big shit-eating grin when they hear what you did to their song.
Chris mentioned that he was working on some remixes at the time of the interview, but didn't tell me what they were. When asked about any future collaborations, he is also a bit secretive.
- There are a few things going on but I like to keep it under wraps until it's done. All in good time.

Note: Articles with Front Line Assembly and the side projects can also be found in the printed Release editions 2/90, 2/91, 2/94 and 1/95.