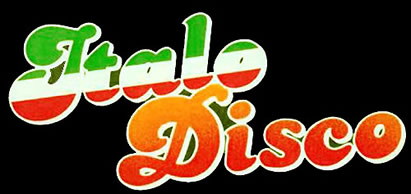 The classic logo from the "Best of Italo Disco" series.
I VENTI D'AZZURO
- making italo popular again
By: Niklas Forsberg
Published: January 13, 2010

The term italo disco seems to arouse emotion wherever one turns. There are those of us who love it and those who can't stand it, often based on the camp compositions that ruled some of the European charts in the mid-eighties. Melodic, synth-driven pop songs, often with nonsense lyrics and heavy Italian accents. Acts like Scotch, Miko Mission, Ken Laszlo, Fake and Fancy had big hits in a time when synthpop was still the mainstream - and common for all of them were great distribution and promotion backing around Europe. Here in Sweden we even had our own italo label, called Beat Box.
After 1987 or so, the popularity of the genre started to fade and while many labels were still producing and releasing italo, the audience had moved on to other genres. In general, one could argue that the nineties were a black hole for this niched type of music, but since the millenium shift, more and more artists produce new material, often influenced by the analogue warmth associated with italo disco, adding credibility and popularity.
Later years have even seen brand new labels concentrating solely on the genre, re-releasing old rarities and altogether new compositions. I decided to have a chat with the mastermind behind some of those labels, to try and reach the core of the italo phenomenon. Edward den Heijer is part of the team behind I Venti d'Azzurro Records and its different sub-labels.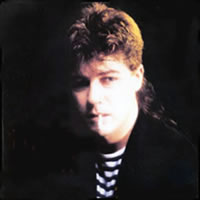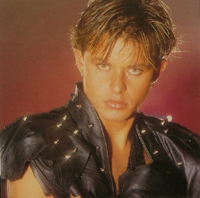 Ken Laszlo and Den Harrow, italo poster boys in the 80:s. Few people then discovered the "italo underground".
New and old
I start by asking Edward den Heijer to define italo disco.
– The most important ingredients are the synths, he begins. This music was different by using the synthesizer to create great riffs and leads, driven by pumpin' basses and phat beats. Some italo disco tracks had bad vocals with even worse pronunciation of English. This style of singing makes the music special and obscure. Some people like it because of these vocals and the vintage sound.
– Somebody from the music industry once said to me about italo disco, "they use such strange equipment". I think the equipment wasn't that strange, but the italo musicians were masters in getting the best out of a synthesizer, Edward adds.
Is there a difference between the "new italo" compared to the vintage "old sound"?
– We try to have the new records sound like records did in the old days. The quality of equipment to cut records is much better nowadays, so the music sounds fresher on the new pressings. For some people the limitations of the old equipment created the sound they liked. If it sounds too good, they like it less. For example, we did a reissue of Clay Pedrini's "New Dream" from the original masters and it sounded like it was recorded last week.
Music for the masses
Edward does not only work with the record companies, he also writes and produces new songs.
– In 2006 I started to make italo music with my computer under the name Eddy Mi Ami, after I heard some great stuff by Guiseppe Savino - a legend in the genre. My first releases were on Flashback Records (italo record company based in Finland, writer's note). Together with my friends Feratho, Marcello (I Venti d'Azzurro charts), Lex van Coeverden and Gino we started our own labels in 2007: I Venti d'Azzurro Records, Delivery Records, I.D. Limited and now Energy Level (a new label for classic hi nrg music), he says.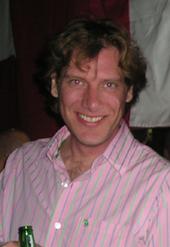 Edward den Heijer.

How did you get into italo disco in the beginning?
– In The Hague, where I grew up in the eighties, we had an illegal radio station called Radio Stad Den Haag. Every youngster listened to this great station and they played dance music and a lot of italo disco. Unfortunately this station died on the first day of 1988, but since 2002 they are back on the internet at www.radiostaddenhaag.com. Why this music became so popular, just in this part of Holland, is still unclear. What I do know is that many famous deejays and producers (Marcello d'Azzurro, Peter Slaghuis, Lex van Coverden, Michiel van der Kuy a.o.), involved in italo disco music back then, lived in that area.
What made you start up a new italo record company?
– While making records for Flashback, I discovered that I needed more freedom to do what I wanted on my records. In the meantime, my good friends Lex and Marcello already had some plans to release a licensed track. We thought "why not join forces?". We now have a dreamteam: Marcello and Feratho have many contacts in the italo disco world, Lex knows everyone in the record industry, we have Radio Stad and the I Venti d'Azzurro show on Fresh FM, and so on. Most importantly, we love the music and want to keep it alive. Not for money, but for passion, Edward enthusiastically tells me.
I have noticed that there are differences between the sublabels. What are the strategies and reasons behind the labels?
– Every label must have a clear profile, Edward explains. I Venti d'Azzurro Records releases melodic italo in 1986-1987 style. Delivery Records do vintage italo disco with heavier synths and a darker sound. I.D. Limited reissues previously unreleased or very hard to find tracks from the past and now we also have a new label for hi nrg-music. With these labels we want to keep this scene alive, den Heijer concludes.
Synthpop is a term I frequently use when I write about music here on the site and when getting into the differences between this genre and italo disco, Edward gives me a surprising answer:
– I think it is very difficult to categorize every song within a specific genre, he starts. We sometimes recognize this problem with our labels too. In the eighties we didn't use the term synthpop. We called everything synth driven italo; Spanish, German or Dutch productions; hi nrg and space synth, you name it. And why not? Most of this music caters to the same crowd anyway, Edward rightfully states.

Sensitive, one of the bands whose records are scarcely found, but frequently praised.

Revival?
In Great Britain and quite a few other areas, italo has begun to re-claim past glory with the music being played at clubs - and theme concerts are being arranged with old and new italo disco heroes. Will it ever reach the popluarity of the eighties, one might wonder.
– Many artists from the eighties have done other music during the last twenty years. After they have heard what we are doing, many of them become very enthusiastic again about this "retro" sound. Maybe this will result in new releases by old stars, den Heijer speculates. He continues:
– In some countries the crowd for this music is very big. For example, Mexico and Russia have big parties. Modern creators of dance music more often use retro sounds and synths and get influenced by italo disco. Let's see what it brings.
Is the current state of the music industry an obstacle?
– In my opinion music isn't as influential anymore as it was in the sixties, seventies and eighties. It is too easy to get music and you don't have to pay for it. If you go to a friend with your Ipod and copy 10 000 tracks at once, it's understandable that the individual songs don't have that impact on you. Record companies don't invest in risky projects. It will probably be a niche market forever, but I think that makes it nice to enjoy as well, ponders Edward.
The holy vinyls
To the fans, the genre of italo disco is also one of a never ending search for vinyl records. Not only were thousands of them released, the most praised (those pressed in Italy housing the famous SIAE stamp) are virtually impossible to find these days.
I have set a rather modest limit for myself in terms of how much money I allow myself to spend on these treasures, but the hardcore collectors spend hundreds and hundreds of dollars. A recent example is the maxi single for "Come Back" by Moskow, which landed at 2234 US dollars (!) on eBay the last time it was put up for auction. This is extreme, even in italo disco circles, but happens from time to time.
Why do you think the italo community, while quite small, manages to maintain such high prices for the old records?
– Italo disco music is great for record collectors. The sleeves are special, the music is special and the records are rare and hard to find. There were so many different labels and we discover unknown records from the past all the time. The songs usually were pressed in low quantities. I think the idea was, "if we make enough of records, at least some of them will become hits", laughs Edward. The records that didn't become hits are now popular for collectors. And rare stuff can be expensive, he adds.
Why do you think the italo fans are so devoted?
– There are so many great italo songs for all moods, it never gets boring. Besides, I think many people have great memories from their past with songs, and being part of a niche market also makes the devotion stronger.
Indeed. It was only around two years ago that I re-discovered the beauty and irresistable charm of this particular brand of electronic pop music. Only this time, the warm synths and ingenious melodies will stay with me forever.