Peter Tägtgren is an almost legendary profile in the death metal community, known from his work with Hypocrisy and producer of well over 100 records. Starting out as a hard boiled death metal man with drug propaganda tattooed on his testicles, he's now happy to live as a family man in his very own village in the deepest part of the Dalarna region in Sweden.
At the time of this interview, the new album "Dancing with the Dead" from his most successful project Pain will soon come out in Sweden.
No light at the end of the tunnel
Peter seems to be a really down to earth kind of guy with a lot of humour, and he's actually the one who comes to get me when I visit the label he's on, Stockholm Records. He's sporting a cool two-piece beard (look at the pictures to see what I'm talking about), long and dark hair, sneakers, loose pants and a metal T-shirt. We grab a cup of tea and sit down in a business conference room.
The new album from his commercially successful, yet quite extreme project Pain "Dancing with the Dead" deals with a scary episode in a pub in Borlänge, Sweden, a year ago when Peter suddenly fell to the floor, and his heart stopped for two minutes.
– Yeah, this album is influenced by that event. It's a little bit like therapy, and I need to write it off. It's just like when you experience a trauma in your life, and talk about it with your friends. You feel better afterwards. But to me it was just like falling asleep and then waking up. It didn't hurt at all. It was much worse for those around me; my wife just screamed. It was just like waking up in the morning and don't remember what you were dreaming. No light at the end of the tunnel, haha.
No one knows why it happened, but a theory is that it was stress related. Mr Pain won't change his lifestyle though.
– No, you can't go around worrying about dying. Living becomes so boring then!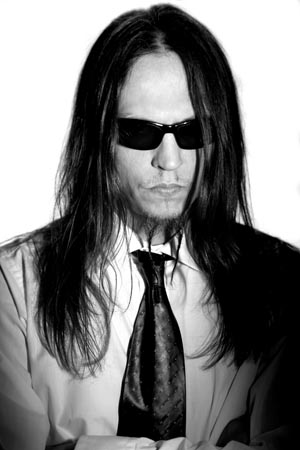 The village
Peter is a workaholic, who sometimes falls asleep over the mixing desk in his Abyss Studio, based in the small village he got for himself a couple of years ago. I heard a rumour about it by that time, so I just had to ask him if it was true that he owned an entire village.
– Yes it's true actually. But it's not as complicated as it sounds. It's a really small village, with about eight houses.
This is home for Peter.
– I grew up in the village next to it, so I know the area. I'm not really an urban person either. I enjoy going to a big city, but I really like coming home, putting it all aside and just be a father and spend time with my family. It's healthy to keep a distance to everything.
Peter's small village used to be a shelter for the poor until 1920 or so.
- Then it became a psychiatric ward for elderly until the eighties, when it became a fugitive shelter. After about two years they closed it down and it stood empty for a long time. So they started to rent it out to the public and I moved there. I soon found a house for my studio which I bought, and I also bought the house I rented. After that there were only about five or six houses left, so I got them too, he says laughing.

Booze and mopeds
Growing up in rural Dalarna was a good experience, he feels. Being an adolescent there, means lots of booze and mopeds as there wasn't much to do. Many young people wanted to get out of there, but not Peter.
– I think it was great. It's always easy when you're 14 to say you want out, but when I'm looking back now, it was fantastic. I've always lived out in the countryside. When I go on vacation, I go to a big city, he says with a quirky smile.
His Abyss Studio is home to a lot of musical productions, and Peter has produced well over 100 records. The bands that come there enjoy the countryside, as it means they can concentrate more on the music. The nightlife is not much a distraction in the middle of nowhere, but Peter hints that he's no stranger to partying in the studio though…


Depeche Mode fan
Something that came as a bit of a shock to me is the fact that Peter is a big Depeche Mode fan, and has listened to them for a very long time.
– I really got into them around "Black Celebration" and "Music for the Masses", when they started to make better songs. Before that there was a bit too many "bleeps" for me. I also grew up with Jean Michel Jarre, who my father was crazy about. My older brother listened to metal so I have always had "both sides".
– I don't really listen much to industrial though - mostly metal and stuff you hear on the radio. There's a lot of good stuff to be inspired by from The Chemical Brothers and other dance music. The rhythms and the cool techno sounds.
Peter would like to make a completely electronic album.
- But I'm afraid I need someone to create all the sounds for me. That's not my thing. I know what I want, but I can never find the right sound. That's also a reason for the drums and guitars in Pain, as I wanted to make more goa/techno/trance in the beginning, but couldn't produce any usable sounds. So I added guitars and other stuff, and suddenly Pain grew out of it.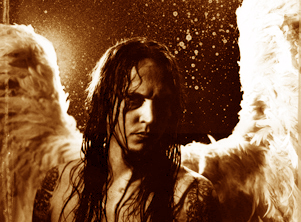 Piecing the puzzle together
The new album is a step away from previous efforts, in that it relies less on technology, and more on guitars. However, the songs are better and more worked through this time. Peter agrees.
– I'm very pleased with how it turned out, overall. I started out with writing five or six tracks, and was starting to wonder how I would puzzle it all together. I write different kinds of songs in different periods, so to make it all fit together, that's something I'm proud of. I also dare to give more vocally, and I'm much more confident with my voice now.
– I don't know why, but I focused more on guitar based rock, and then I added this techno/industrial production to it. This time there aren't as many electronic sounds fluttering about in the mix, it's more about rhythmical parts, like drum loops.
The first single from the album is the catchy "Same Old Song", dealing with the media climate where you constantly hear the same song over and over again on the radio, and see artists who are identical to each other. It's in short a big punch in the face to "all this" as Peter says, gesticulating the label office we're sitting in.
– It's about the entire music industry. I'm pretty sick and tired of all this, and then it's brilliant to have your own village to hide in, haha.
– The label just laughed, they know where I come from. When I write songs I do it from the heart and noone is going to tell me what type of song I should make. I don't do this for other people, I do it for myself. That way, you can always be content with the fact that you weren't pushed in a specific direction.

Crazy fans in South America
Right after Christmas, Pain went out on tour in Europe, to show the world Pain is still alive, and to build anticipation for the new album.
– It was really great for us, as I have a new band with me. I both played the guitar and sang for the first time, which I feared would be chaotic, but it worked. I do that with Hypocrisy, but there it's more about growling than singing. With Pain I have to focus a lot on the vocals compared to Hypocrisy, where I've been doing it for ten years and do go on routine. We're playing a bunch of dates in Nordic countries now, and will go out in Europe again when the album is released everywhere. It's out on March 22 outside Scandinavia.
Apparently, there's not that big of a difference playing in Sweden or elsewhere, except if you go to South America.
– Yeah, they're totally crazy over there! Very uncivilized, and we needed bodyguards. When you arrive with your plane, there are fans outside with banners, totally mad. You have to run off stage and you have to wait until security have cleared the building, push through a huge crowd outside, drive to your hotel where you're met by even more fans! I don't know how this happened, because we don't sell much records there, but they know a lot about music, and always go to concerts. I love it, although it's a bit scary because you never know what will happen.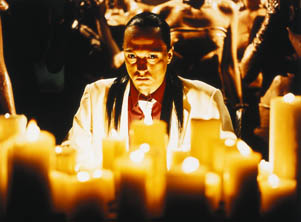 Busybee
As if Peter doesn't have enough on his plate right now he's recording a new album with Hypocrisy, due out in September. He describes it as more complex compared to earlier albums. The fast songs are really fast and the epic tracks are really epic. Before that he did vocals for the band Bloodbath and the album "Nightmares Made Flesh". Bloodbath is a project with amongst others Dan Swanö from legendary Swedish death metal band Edge of Sanity. Dan has made a remix for the upcoming Pain single "Bye/Die", which comes out soon. A possible third single is "Nothing".
Seems like Peter really is too busy living to worry about dying anyway.