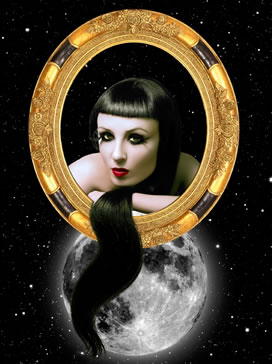 Amii.
Photo by: Hugo Harlot

PARRALOX
a winning synthpop sound from down under
By: Tobias Eliasson
Published: June 12, 2009

Release recently hosted a competition where the task was to remix the forthcoming single "Lips on Fire" from Swedish pop project Emmon. The first prize was to get your remix released on a limited 12", in digital stores and on a Russian edition of Emmon's latest album "Closet Wanderings" - and this Spotlight.
A total of 45 remixes were submitted and it was a tough job for Release, Emmon and Wonderland Records to agree on a winner. But in the end it was the remix from Parralox that stood out the most and won the competition. The remix was also praised by readers worldwide.
So we are all curious to find out more about this Australian synthpop band. We sent away some questions from summer Gothenburg all the way to Parralox' John von Ahlen in a winter Melbourne and found out that you can do a winning remix in one day.
You released your debut album "Electricity" in 2008. For those of us that don't know your work, tell me about Parralox.
– Parralox is a project I created last year as a result of me wanting to create electronic music with a pop edge. It consists of Amii (vocalist), Juan (engineer) and myself as producer and songwriter. Ian Burden from The Human League is also contributing some bass parts and Roxy is now providing occasional backing vocals.
I produce another band called The Tenth Stage that's more like an alternative band and although the music is partially electronic, the songs themselves are anti-pop. So I basically had an itch that I had to scratch. I wrote a song called "Factory Friends" for The Tenth Stage, but my band mate thought it was too commercial sounding for that band. I put on my thinking cap, and wrote a song called "I Fell in Love with a Drum Machine" and got my good friend Roxy to do the vocals for it. I then asked her to record the vox for "Factory Friends" and knew straight away that there was magic in the air. We leaked a few songs to the Electronically Yours website and the rest is history in the making.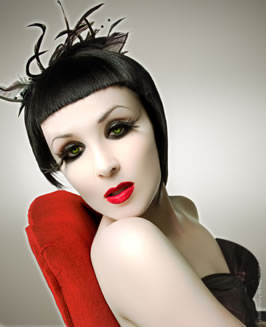 Amii.
Photo by: Hugo Harlot

How did you find out about the competition?
– Rob from Electronically Yours suggested that I do a remix for the Emmon competition and I jumped at the chance. Lucky for me, the deadline was moved forward over the weekend; that gave me two days to finish the remix.
Did you know about Emmon before the contest?
– Oh yes. Incidentally I did some sleeve notes for the compilation "Electropop 2" from Conzoom Records which included her track "Secrets and Lies" and that was always a track that stood out to me. I have it on my MP3 player and listen to it all the time. There's something about that track that I can't put my finger on, it's very catchy.
What did you think about the song "Lips on Fire" and how did you work remixing it start? You remixers were just given the vocals. Did you think the song lacked something or how did you approach it?
– To be honest, I had never heard the original song. Whenever I approach a remix I only use the vocals and always create a new music bed. I had access to the original song but didn't listen to it until I had completed the remix, as I didn't want to be influenced by what already existed. I think it's best to just listen to the vocal performance and then let your inner feelings guide the direction for the remix. I made a few changes to the structure of the chorus to keep the flow.
I actually only had one effective day to do the remix, but I'm usually working to deadlines so it wasn't an issue. Luckily I was feeling inspired which always helps when you are racing against the clock. I don't think that the song was lacking something, but remixes do give you the opportunity to create an alternative vision of a song and that's what excites me about remixing. I love listening to other people's remixes and seeing how they have taken a song in a new direction, or brought out something from the song that never existed previously. That's always a goal when I do a remix: to bring something new to the song and create a different vision and realisation.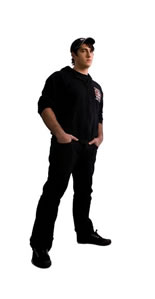 What's going on with Parralox, what are your plans for the future?
– Well, Amii, Juan and I are currently working hard on our second album. We are recording an average of one new song per week, so we have lots of material to choose from. I often laugh and say that I'd love to release two albums in the same year, and 2009 could be that year. We plan on releasing the second album later in the year and will launch it in London at an Electronically Yours event, and we will also organise a few shows in Europe, including Sweden.
We are holding a remix competition for the entire second album and have some interesting submissions so far. We will start shooting a film clip in three weeks and have just returned from Sydney where we had another photo shoot with an amazing photographer called Hugo Harlot. I think we will raise a few eyebrows with our next album, but you will have to wait until it's released to see why! I am bursting with ideas for Parralox and our plan is to just continue to release music to the world in the hopes that more people can appreciate our craft. Since Perez Hilton wrote about us things have been going crazy…
Listen to the Emmon remixes, including Parralox', in our Competition section here.