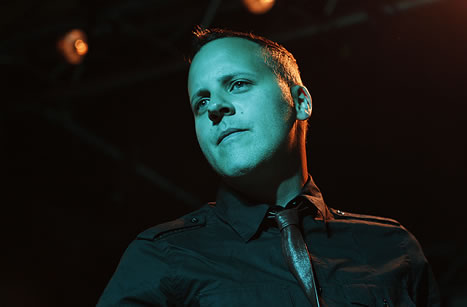 Photo by: Fredrik "Schlatta" Svensson (Release)
ARVID
– award-winning synthpop
By: Tobias Eliasson
Published: February 8, 2010

In December 2007 I went to the winter party of Wonderland Records in Gothenburg. Some artists from the label played live and a new act was to be presented live. That act turned out to be the musician Arvid and I instantly felt that his music had a future. This was catchy, honest synthpop about broken hearts and solitude. Arvid did well on stage and I couldn't wait to hear the debut album. After the two singles "I dina ögon" and "Hur kunde jag låta det ske", the album "Andetag" was released in May 2009. This was the synthpop album in Swedish that I had waited for, daring to take up competition with classic acts like Ratata.
It has been rather quiet around Arvid so far, but in January 2010 he won the 2009 "synth" award at the Swedish indie awards Manifest. He's motivated to record new material and reveal plans for a new single in the spring.
We talked to Arvid Nyberg 2009 and got hold of him again in February 2010, and wanted to shed some light on his project and the journey that led up to his awarded album.

What are your future plans?
– I'm working on new songs and will present a new single in the spring of 2010. I can't reveal a title but you will recognise the sound. I (like most artists in Sweden) don't have my music as a living and for some time now, I've concentrated on my day job as sound engineer at UR (Swedish Educational Broadcasting Company). I have also recorded music for a children's program for kindergarten kids that will air on Swedish TV in March. But now, a period begins when music and music creation will be a priority. So have patience, soon new songs will show up.
How did it feel to win the Manifest award?
– Really fun, of course. I'm very honoured. I would also have been happy if Emmon had won; she's a fantastic musician and artist. Perhaps I can cut the award and give her one half…
What does your musical background look like? I understand that it wasn't always electronic music?
– Well, if you want my whole background we have to go all the way back to early high school when I started to play guitar in a grunge band. This seems really strange now when I think about it, but at the time we had a lot of fun. After trying out some various stuff I started a happy pop band, influenced by, for instance, The Housemartins. And of course we were like twelve or thirteen members with strings, horns and everything. We were active for some years and we won some local music contests in Eskilstuna, but in the end it was too difficult to bring everyone together since we where so many people in the band. After that I moved to Stockholm and started to study music production. Since I always have listened to a lot of electronic music that was what I started to write. I quickly found out that this worked perfect for me since I could do everything by myself. This was about ten years ago and I have worked like that every since.
Tell me about your creative process.
– I always start with the music, the lyrics come afterwards. And I always start with the chorus, trying to find a hook. I work directly in the computer, tweaking sounds and such. My setup is computer based, only software synths.
I feel that your lyrics are quite personal and self exposing. Do you write about yourself?
– Sure, some of the songs are about me, but not all of them. Some are about other people and some purely fiction; it's a blend. It feels more personal also since I write in Swedish, I can't hide behind a foreign language, and it feels more honest this way. At first I wrote in English but when I switched to Swedish everything just seemed much more interesting. By now it feels natural for me.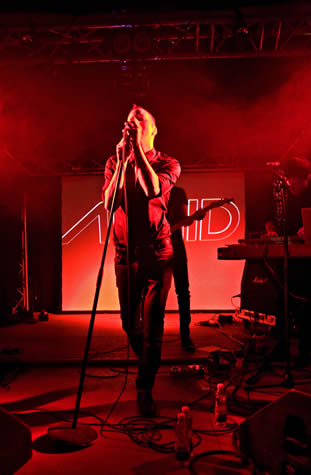 Photo by: Evelina Gustavsson
I've seen you play with just one keyboardist and you played with a band at the Arvika Festival last summer. Can you tell me something about your line-up live?
– At Arvika I had two keyboard players and a guitar player. It's a bit more work getting four people together, but I really felt that it worked much better, so I hope to play more like that in the future.
You are signed to Wonderland Records. How did you find each other?
– I found out that the artists on Wonderland seemed to be about the same kind of music that I did, so I sent them a link to my MySpace. After that Sebastian Hess, owner of Wonderland, contacted me and wanted to hear more songs, and here we are.
On your album you have both intro and outro, which is quite rare when it comes to synthpop – where did that idea come from?
– It was actually an idea from Sebastian at Wonderland, he suggested that solution and I felt that it was a good way to start and stop the album, bringing everything together. Making it feel like an album more than a collection of songs.
I saw your first live show almost two years ago and heard a lot of the songs from the album, how come that it took so long to release the album?
– Well, I wasn't completely satisfied with all the songs, and therefore had to write more new material and throw out some of the older stuff. Some of those tracks had been around for a couple of years and I felt that I could do better now as a songwriter.

Read more
"Andetag" review.