Kraftwerk run the show
The Sisters of Mercy, The Cure, Björk, Ministry, Einstürzende Neubauten, Front 242, Moby, Soft Cell, PJ Harvey, Orbital... It has been unbelievable each and every time, these stars have been performing on the gravel pitch that is the main stage area at the Arvika Festival – in the forests of Värmland – in the middle of nowhere in Sweden.
Once underdog, the Arvika Festival, has managed to attract most of their dream artists, one by one, year after year.
Now, the twelve year long career reaches an all-time-high with the most significant booking so far. It's as big as it gets for this very festival. The organisers can hardly believe it. I talked to the marketing manager and one of the festival founders, Fredrick Berntsson, immediately after Kraftwerk was confirmed on May 25. Fredrick is laughing, stuttering as he tries to explain.
– I've been catching my breath for five hours now and it feels surreal. Now, we could stop doing more festivals and live a normal life, he jokes.
He and some other Arvika organisers watched Kraftwerk when they played three celebrated gigs in Stockholm on February 8-10 last winter.
– It was so beautiful! Fredrick remembers, although he admits Kraftwerk isn't your average festival band. Mud, dust, beer and the rock'n'roll lifestyle in full bloom just aren't their cup of tea, is it? But Arvika is a rather clean festival, if there is one, with excellent sound and light. Kraftwerk as final entertainers on the main outdoor stage on the very last festival day might just be that magical concert moment. Something to tell the grand kids about one day.
– We think we got Kraftwerk because they felt this festival could be special to them. We made sure they know what Arvika is about, Lars Johansson says. He is in charge of international bookings.
– I hope we can do something cool for Kraftwerk when they come here, Fredrick Berntsson says.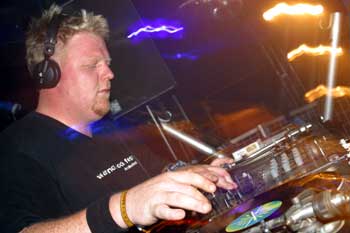 Fredrick Berntsson is DJ Kvasi.
Ex-Kraftwerker Karl Bartos was scheduled to perform at Arvika with his successful hit list of mostly Kraftwerk tunes (after all, he has co-written most of the Kraftwerk hits). It would have been a bit strange with two Kraftwerk sets, wouldn't it? Shortly before Arvika announced Kraftwerk, they said Bartos was cancelled. I have not heard a proper explanation yet.
For many of the Arvika visitors, Skinny Puppy's trip to Arvika this year is a dream come true. Puppy haven't played on Scandinavian soil since the eighties. Tours have been cancelled on short notice. At one occasion, I remember Release being asked by the organisers to send out an advertisement leaflet to the subscribers close to the gig, which wasn't cancelled in time for the leaflet to be stopped. And Puppy side project Ohgr has cancelled Arvika in the past. Arvika are somewhat nervous now, but not afraid. They stress Skinny Puppy are booked via a big, solid promotor.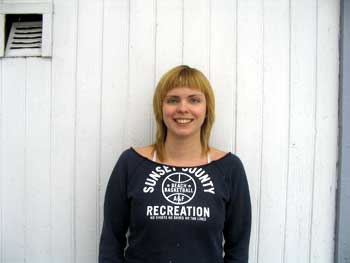 Anna Mossberg.
Success against the odds
Arvika has been labelled a goth, synth and techno festival, and yes, you can keep yourself busy within these genres. But Arvika is so much more, although most artists are alternative or independent.
I know some readers wonder why Arvika hasn't focused solely on "dark music", like Wave Gotik Treffen, Zillo or M'era Luna.
– We haven't considered it. It's not interesting, because then we wouldn't have our special mix of styles which is very important to us, Lars Johanson says.
Festivals in Sweden come and go. Dalarock, Raj Raj, Lollipop and a number of small, local fests are gone. Anna Mossberg, one of two festival presidents:
– For a couple of years, there were too many festivals but we survived those hard years. There's still too many though, and it will be interesting to see this year play out.
Now, we all accept Arvika's success, popularity and growth as something natural, but the future of the festival was rather foggy in the early days. Nothing was certain. Why has Arvika succeeded?
– We have a solid ground and a clear objective and profile, Anna Mossberg thinks.
The Arvika headliners could with few exceptions join other festivals like Roskilde, Hultsfred and Quart – and sometimes they do. But there, these bands are more one of a kind.
At Arvika, they are stars and they come in plenty. Arvika lines up an extensive list of Release-styled bands, from the tiniest demo acts to the giant pioneers from the days of old. The idea is to offer a complete, quite well-balanced and enormous band package; from small to big, from unknown to well-known, local and international, soft and hard and so on. And then we have the genre balance, with synthpop, EBM, trance, indiepop and so forth. The mix is treated carefully and is more or less the same from year to year.
Arvika books a number of bands that are considered quite far from "right"; they do it with their heart and gut feeling. They book those that other organisers or media hardly look at. And the festival crowd loves them for this. It's a big crowd indeed. As we know from our work with Release, the artists ignored or ridiculed by the mainstream aren't necessarily unpopular. Or ridiculous for that matter.
– There are those who don't understand what we do here. People in the music business are not too excited about, for instance, synth, Lars Johansson says.
Arvika has a healthy distance to the music industries in Stockholm and Oslo.
– We're more or less outsiders. And we're perfectly fine with that.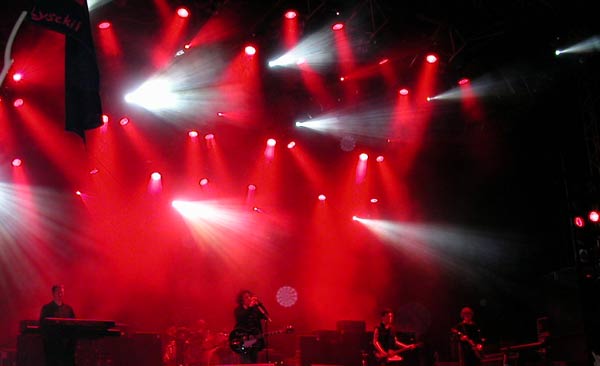 The Cure at Arvika.
Photo by: MIkael Kahrle
The art of booking
Most people say Arvika always delivers. Some disagree. It doesn't matter if Arvika hires bands like Kraftwerk and Skinny Puppy, people complain about the program anyway. I know the drill – I have organised a number of gigs myself. People nag about certain bands, but when you actually book those particular bands, they care less and start nagging about the bands that don't come. It's more obvious with smaller bands.
Of course, Arvika listens to people's suggestions. But they also want to bring in some more unknown interesting artists people don't know they like yet, so to speak. Festivals like Arvika can do just that. They can take chances from time to time. People will hopefully buy tickets anyway. A smaller organiser of mini festivals or concerts wants to make sure he breaks even in advance and he can achieve that by playing it safe.
It's something of a problem in Scandinavia these days though; that most artists play shorter sets at festivals or clubs (Arvika, SAMA, Tinitus, Romo Night, Tech Noir and so on), often without their full stage shows. "It's just a festival gig". The audience know that maybe they're not given the real deal, or at least they are not sure. Normal tours for normal venues are almost rare for our kind of bands. On the other hand, it's more of a risky business organising a standard gig with just, say, Clan of Xymox or Suicide Commando, than including them in a big package.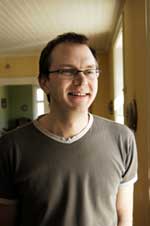 Lars Johansson has worked with the Arvika fest since the start, with different area, stage, artist and
booking assignments. He has also worked as area manager for the Pampas stage at Hultsfred for three years.
Unique shows
Lars cares more for artists that haven't been to Arvika before and those that have a new release.
– And it's all about booking bands we feel excited about, that sound great and can produce a good show. Then all the bands should fit together and we must break even.
Like most organisers, Arvika looks for exclusiveness. They don't want their acts to appear elsewhere before and after the festival. When I ask Lars if they use their power to block bands for other organisers, he says that it's not a problem.
One could think that it's important for bands to do Arvika and that in respect for the festival's non-profit angle, they would be less costly than otherwise.
– No, it's rather the opposite, Lars claims. They have to go here for one single show.
Acts of lesser fame sometimes play for very little though. It's obviously a great opportunity for them to show themselves to the most dedicated. The big names eat the majority of the budget. One of Arvika's biggest headaches is not if they want a certain band, but how much they can afford.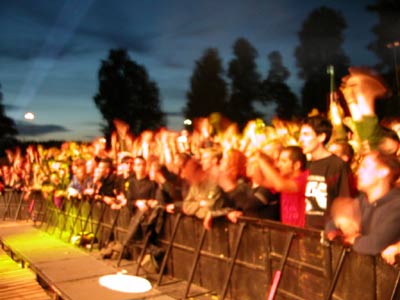 Photo by: Mikael Kahrle
Non-profit money machine
The 30 persons in the festival management, and 4-5 in in the active circle of the booking team, suggest artists and shape the program.
Lars Johansson and Fredrick Berntsson are the only festival founders left since the start.
– People come and go, Lars says.
Since no salaries are paid, other priorities eventually take over in most cases.
– Only my colleague Rasmus and me are paid full-time and almost the full year. Of course, we hire some external professionals as well, but the 1 700-2 000 workers are unpaid, Anna Mossberg says.
The motivation is the love for music, the fun and the wish to put their own perfect festival together in Arvika.
The non-profit profile is the key to most events like Arvika and this is something that is difficult to grasp for Americans, for instance.
The Arvika Festival is independent, has no political agenda and works with a number of sponsors and three Swedish offices (EMA Telstar, Motor and Luger) of US mega company Clear Channel Entertainment.
The festival has the blessing of the local authorities and the police, which is of course fundamental. And (the majority of) the local population.
– It was a bit tough to convince all during the early years, but never really hard. They trust us, Lars Johansson says and he feels lucky.
Arvika has a long musical tradition and a music school that educates music teachers. The town only counts 14 000 inhabitants. The festival is visited by 15 000 plus workforce, band etc.

Substantial changes this year
The organisers have to take care of the 120 bands and their crews, but of course not all of them acquire accommodation, Lars Johansson tells me.
– Many of the big stars don't stay here the night after the gig.
There is an artist and press camping close to the festival area (moved this year), where I have camped myself, alongside other individuals from the dreaded press and smaller bands like Alice in Videoland, Colony 5 and Post.
The main camping farther away from the festival area is the focus of many visitors' criticism as it gradually reduces normal decent citizens to some kind of filthy festival apes covered in mud. Prior to this year's fest, rain has poured down on and off for many days, so fear is in the air...
– We're trying to improve the camping each year and we're looking at an additional camping area. Then people can live less crowded, Anna Mossberg, who has worked directly with the camping before, says.
– Actually, we have always had plans for moving the whole festival, Lars laughs.
But now, they are busy with this year's radical changes, some of which are realised just days before the festival. The inner area is face-lifted, made 21% larger and the Pluto and Orion stages are moved. There will be a flea market and more places to sit. Those with caravans can look forward to an improved situation and a reserve camping is built.
Under the new "festival in the festival" flag, people can meet the booking managers and others from the crew, listen to demos handed over to Arvika, look at photos, particpate in contests and more.
Arvika is prepared for another twelve years?

Excerpts from Arvika's 2004 program
The majority can be found at On Record,
Spotlight and/or News. Arvika web page.

Alice in Videoland
Allied Vision
Auf der Maur
Broder Daniel
Daily Echo
Echo & the Bunnymen
Ellen Allien
Eskobar
Faithless
Fixmer/McCarthy
Future Sound of London: Amorphous Androgynous
In Strict Confidence
Iris
Keane
Kraftwerk
Gabriel Le Mar
Lustans Lakejer
Male or Female
My Dying Bride
Sara Noxx
Shiva Chandra
Skinny Puppy
Sophie Rimheden
Soundtrack of our Lives
Space Tribe
Spektralized
Sturm Café
Sub 6
Sun Control Spieces
This Fish Needs a Bike
Universal Poplab
Weeping Willows
Wizzy Noise
Wolfsheim
Yahel