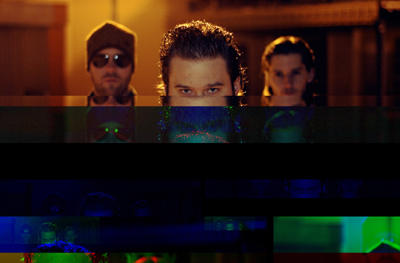 BACKLASH - skilled machinists
By: Tobias Eliasson
Published: October 9, 2007
The first Backlash demo was so good that one of the major labels in Sweden released it on the spot, without any additional production or vocals. Three strong albums followed on indie label Memento Materia. The latest effort is "Shape of Things to Come" from March 2007, as technically advanced and impressive as ever.
But even if Backlash is a band that are used to good reviews and is appreciated by listeners, they have never reached a bigger audience or played much live. Release sat down backstage with the band at this year's Arvika Festival to find out why. And learned that a new, different album is already in the making.

Technical wizards
Everything started in the Swedish town Lidköping back in 1998 when Niklas Lundquist, Oskar Lygner and Erik Torstensson decided to form a new band together.

Only a year later, Erik quit the band and was replaced by Malin Andersson that did the vocals on the first album "Impetus" from 2001. For this they got two nominations at the Scandinavian Alternative Music Awards (SAMA) in the newcomer and album categories. Malin quit the band in 2002 and Erik returned behind the microphone. The result was the 2004 album "Heliotrope" with its small hit "Lodestar".
Their new album "Shape of Things to Come" from March 2007, continues in the same tradition as their previous albums; it's all about good electronic pop songs and a tremendous production by this technically skilled group.
– But it's hard to get good reviews today, Niklas Lundquist says. Most writers think that the first album is the best, after that it gets harder and harder to get a good review.
Erik Torstensson continues.
– The reactions have been very mixed. We have so many songs on this album that they tend to steal energy from each other.
– As a listener you probably should divide the album into two parts Niklas continues. The first nine tracks as a whole, and the others later.
Backlash has never been a band that does a lot of live shows but when they do it's often at festivals like Arvika, SAMA and Electrixmas. So how is it to be back at the Arvika Festival?
– It's just a great atmosphere here; very different from other festivals. I don't know why, perhaps because it has an edge towards electronic and alternative music Erik thinks. It was fun to see such a big crowd, even though we played so early.
– And they seemed to enjoy the show, which was extremely fun, says Oskar that adds to the show by leaving his synthesizer at home, standing behind some classic drum pads instead.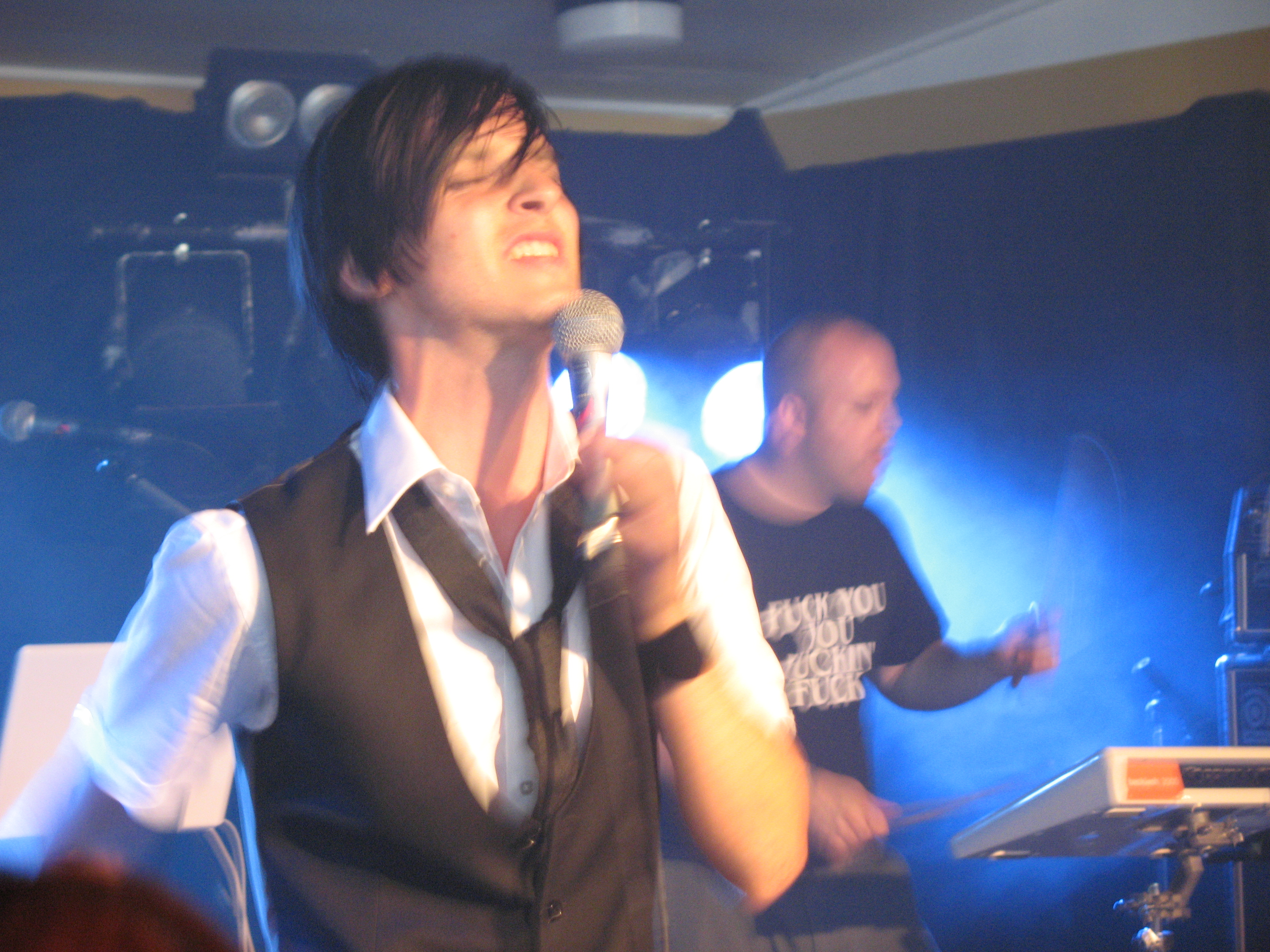 Live at Arvika 07.
Photo by: Isabella Westblad
– The synth audience seems to be afraid to stand in front of the stage, always keeping a safe distance, but not today. It almost feels like revenge since our last show at Arvika six years ago was very chaotic, says Niklas.
Oskar explains.
– We had a lot of technical malfunctions, no monitor sound on stage, keyboards that died, backtrack that died and just awful sound.
New harder album already in the works
My impression of Backlash is that you never really have been able to break through as a live act; you always deliver strong albums, but never played much live. Is it tough to get gigs today?
– Well I live in Lidköping, Oskar lives in Gothenburg and Erik in Linköping so it's difficult to meet on a regularly basis, Niklas tells me.
Erik elaborates.
– I think the main reason is that we aren't very good at selling ourselves as a live act.
– We really need a person that works with that, apart from the record company, Oskar continues. But we have a few things coming up in the future.
– We can also work a lot more with how we present our songs live; while working with our next album we think a lot on how it's going to be performed on stage, says Erik.
A new album already?
– We are already working on it, but it's not finished yet, Niklas reveals.
– The track list is finished, Oskar adds.
– Hopefully we can record everything this autumn so the listeners don't have to wait three years again. I also think that the next album will come as a surprise to many; it won't be "Shape of Things to Come 2". You will get a whole new kind of sound this time. There are eleven songs, quite dark but not sad and a bit harder than before. Not so much pop this time.
– We have always listened to all kinds of electronic music, from Yazoo and Ultravox to harder stuff like Skinny Puppy, Nine Inch Nails and Ministry, says Oskar. However I don't think that you can hear any of the harder influences in Backlash today – so far.
– We first thought about starting another band with this harder sound and bring more of those sounds into the songs, reveals Erik.
– A lot of bands never change and the listeners expect to get the same things over and over, Oskar continues.
At the same time it's not so far away from the things we have done before but it's definitely different, Erik says. I can sing many types of vocals but we don't really use that today.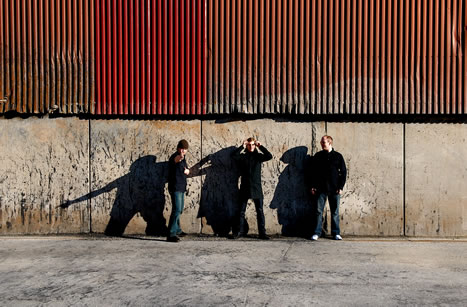 Stay away from the music industry
You have been around for some years now, you started in 1998; how do you think that the music industry has changed during this time?
– Has it changed? Oskar replies and the band laughs. Erik explains:
– We tend to stay out of the whole industry a bit since we just want to make music and don't care much for the other stuff. But there is a lot of exciting things happening right now, new ways for bands to release their music. I think that CD:s will die soon since the other distribution channels are better and connects the listeners to the bands in a whole new way.
– We get e-mails from listeners all over the world; Mexico, Africa, Indonesia, Niklas tells me. We know that they haven't bought the album. But it doesn't matter; the music is being distributed anyway. Money isn't everything, but we need some to survive as a band. At the same time, you can't beat the feeling of holding your own album for the first time. You can't have that with downloads.
How has the response been on Backlash outside Sweden? From Germany for instance where a lot of Swedish electronic bands have found a new crowd?
– We released "Heliotrope" in Germany but when we tried to sell them our new album they thought that it was "too electronic", Niklas tells me.
– We really should do a T-shirt on that; "Too electronic for Deutschland", Oskar laughs. Anyhow, in the US we got great response, they really love the new album.
– We have a lot of listeners on iTunes and Lastfm which is really fun. Most of all the song "Escalator People" gets many listeners, adds Erik.
Speaking of songs, you have a cover on the album, Devo's "Out of Sync" and you have also released "Operating Tracks" by Front 242 as a B-side to "Blind" in 2002.
– We do covers to give a salute to your heroes, says Niklas.
– And "Out of Sync" is a great song, really fun to do, Erik continues. We first planned it as a B-side, but we thought that it was good enough to be an album track.

Signed by Warner
You got some fame since you released your first EP in 1999, "EP1" on major label Telegram/Warner, but after that you have stayed with small independent label Memento Materia. Niklas, do you enjoy staying on this level, or do you sometimes want to step up to the "higher level" again?
– It was big to be on Telegram, but at the same time we felt that they wanted to be in control of us a bit too much. How we ended up there is really just a big coincidence. "EP1" is basically our first demo, we were supposed to add more song to it, but Telegram really liked it as it was.
Mr Ozio's "Flat Beat" was big back then and I think that they wanted us to be their "commercial techno" band. Then our A&R contact at the company quit. We sent two songs to Memento Materia since we liked their other bands and we hit it off instantly. By then we also had found a singer, Malin Andersson, since Erik had left the band right after we released "EP1". We like Memento Materia since they trust us and don't want to control us and force us into any specific direction.
– And if they let us handle the music they can spend more energy on the whole industry-bit that we aren't interested in, says Erik.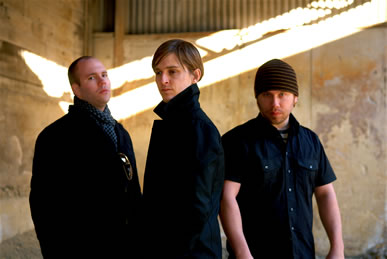 After Erik quit the band early on he returned again in 2002. What had changed?
– Back then we all wanted different things with Backlash. I wanted to work in a fast tempo but all that changed when Telegram got into the picture. I also thought that I would have all time in the world since I was studying at the time, but that didn't turn out to be true… But I kept on singing in various constellations just to keep things going. Now, I think that we work more equally than before, everybody is involved in everything and we send the songs back and forth to each other.
So what are your plans for the future? Back into the studio or out on the road to do more shows?
– Hopefully a combination. A lot of our equipment is mobile so we can record when we are on tour. We also need more gigs, more experience on stage, Erik says.
Oskar is also a productive remix artist, he has worked with artists like Haujobb, De/Vision, Michigan and Project-X, so he'll probably continue with remixing from time to time.
After the interview Oskar treated me to some demo versions of the new Backlash songs when we me met at a club in Gothenburg and I must say that it sounds promising. It's a bit harder than before as promised, but very well produced as always. Will this be the start of a new era for Backlash?