Meet The Birthday Massacre
By: Peter Marchione
Published: September 25, 2007
Imagine catchy pop tunes, heavily influenced by the harmonies and electronic sounds of the eighties. Add heavy dark rock percussion and stabbing guitar riffs in a gothic, but at the same time cute, environment. Confused? Meet The Birthday Massacre!
Release favourites
Originating from Canada and using the same producer as industrial legends Skinny Puppy - Mr Dave "Rave" Ogilvie - certainly draws the attention to this Toronto six-piece act. The Birthday Massacre started out as Imagica back in 1999 but changed their name in 2002. While other bands sought the help of labels to build up a fan base, this pack built their fame by using the internet and releasing their own limited CD:s.
Their last album "Violet" has been spinning frequently for many in the Release staff since it was released by Repo and Metropolis in 2005. The variation, contrasts and energy in the music knocked us down.
With the more homogenic and rockier third album "Walking with Strangers" out, this female-fronted band has embarked on a massive tour. It was time for Release to call this interesting band consisting of Rainbow (guitars and programming), Michael Falcore (guitars), Chibi (vocals), O.E. (bass), Rhim (drums) and Owen (keyboards).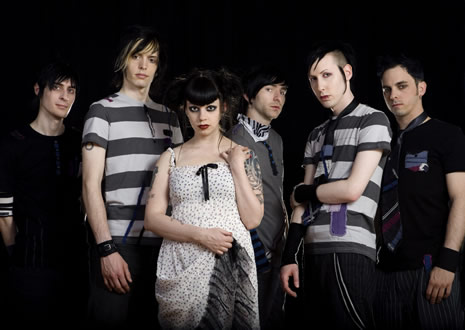 Grew up to Ministry and Nine Inch Nails
Image is, obviously, pretty important for this band. Did you choose this image long ago, when forming the band, or was it developed along the way?
– This image sure wasn't chosen consciously, but the whole thing, including the artwork and the feel of our music, certainly carries traces of things that we've been influenced by, Rainbow explains.
While having this rather dark image, your music is still catchy and poppy enough to be enjoyed by quite a lot of people. What does a typical Birthday Massacre fan look like?
– I like the fact that there really is no typical fan of ours. Our music is pretty cross-genre and carries more than one dimension and that is probably the reason why our fan base is rather mixed.
– We all grew up listening to heavier stuff like e.g. Ministry, Nine Inch Nails and Marilyn Manson, Michael Falcore continues. At the end of our high-school days there was a massive eighties revival and that's when we discovered artists like David Bowie, Gary Numan and The Cure.
– Since we actually grew up in the eighties our music also reflects a certain nostalgic view of this era, Rainbow adds.
Speaking about your fans – are there any overall differences between the American Birthday Massacre fans and the European ones?
– It seems like the goth scene is stronger and purer in Europe than it is in the US. In the States this genre has been mutated and merged with other styles. An interesting thing is that when we play our own shows the crowd is usually pretty varied with different types of people. But when playing festivals, like e.g. the M'era Luna, obviously the style of the visitors is generally pretty homogenic.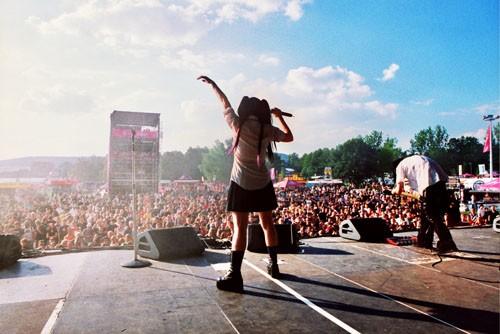 Live at M'era Luna 2005.
Photo by: Bernd Zahn
Dave "Rave" Ogilvie in the producer's chair
You've been working with Dave Ogilvie. This fact, along with being Canadian, certainly brings up comparisons with Skinny Puppy and also might have the effect that Skinny Puppy fans check your music out. What do you feel about this? Is this something positive or something negative?
– Well, it doesn't worry us too much since our music sounds nothing like Skinny Puppy, Rainbow says. I think it is nothing but positive if anyone checks us out.
How much effect did Ogilvie have on your actual sound on this album?
– He brought a fresh perspective to the songs regarding structure and subtle stuff. He also suggested minor changes to the arrangement of some tunes and brought in new synths to play around with.
I read that you consistently wrote the new songs with the live show in mind. What were the differences – both in writing and producing?
– We started writing the songs directly after the last tour and with the live show in perspective. Some songs from the older releases were rather tricky to transform into live versions.
So, if you were being able to choose - would you rather only be playing live or being in the studio?
– Neither, actually. Both things are intense in different ways. Being on tour is physically challenging but also brings a feeling of physical relief. Songwriting, on the other hand, is mentally challenging and hard work.
– I personally prefer writing, Michael continues. Writing music is a creative process while touring is not. When writing and recording you're also at home and you may live your real life in the meantime. Touring can be rather monotonous, but still enjoyable.
Laugh at everything
Being a band always brings elements of both joy and frustration. What do you laugh about and what is the reason for a typical Birthday Massacre band fight?
– (Laughters) We laugh at everything and at each other. We definitely take our music seriously but not necessarily each other seriously – especially when we're touring.
Just to be a little techno-geek for a while; do you use software synthesizers or do you stick to the old hardware ones?
– We use a combination of both software and hardware. Generally we prefer hardware but there are some really cool softsynths out there. When writing songs we tend to stick with instruments we're really familiar with instead of toying around too much.
The Birthday Massacre built their own hype by using the internet and word of mouth, with no record company involved. Was this a chosen strategy or simply because of the fact that you weren't signed?
– This internet thing wasn't anything we planned, but more of a natural way for us to try and reach as many people as possible. Over time the spreading evolved naturally this way.
www.myspace.com/thebirthdaymassacre
www.nothingandnowhere.com beautiful old site
New Release writer Peter Marchione is ex-editor-in-chief of Swedish music technology magazine Musikermagasinet (MM) and member of the bands Thermostatic, Love Is Not My Only Crime and Helm.

Photo by: Michael Strandtoft