---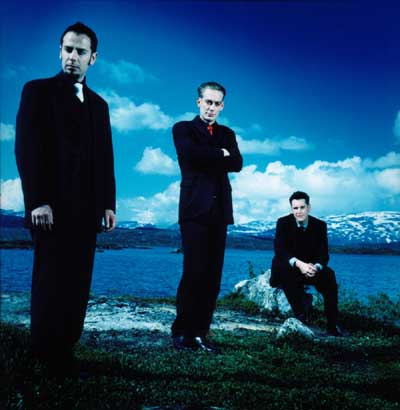 Photo by: Kasskara
COVENANT walk into the light

By: Johan Carlsson
The year is 2002, and the Swedish trio Covenant has released a new album called "Northern Light". These ambitious blokes have worked with the album for quite some time now, and I wanted to find out more about the proceedings around the recording. Said and done, I had a very nice chat with member Joakim Montelius who is taking care of the promotion duties instead of Eskil Simonsson and Clas Nachmansson. We have covered Covenant since their first steps but it has no doubt been a while since our Covenant front page story in printed Release 2/97.
"No, Rammstein sucks!"
The new album marks a huge leap forward for Covenant with the move to Sony's KA2 label with all that it brings. In an unprecedented move, an external producer was used this time, and Jacob Hellner was picked. Hellner has previously worked with bands like Rammstein and Clawfinger. The idea of using an external producer was brought forward when Covenant recorded "United States of Mind", but they didn't have the money at the time.
- Now when we changed label they asked us if we wanted to use a producer. We said yes and made a long list with lots of famous names, including Brian Eno, laughs Joakim. The record company thought that might be a bit over the top, and said, "Well, Jacob Hellner is pretty good". Eskil thought it was a good idea, but I said "No, Rammstein sucks!".
It later became evident that Jacob Hellner was very good to work with for the band. Not only because he was a fellow Swede, thus making communication a lot easier, but also because they had some common background in music.
- When we said we wanted to sound like Devo, he instantly understood. One thing he excelled at was bringing out the best in all of us. He made Eskil push himself more with the vocals, and Eskil really gave it all on this record.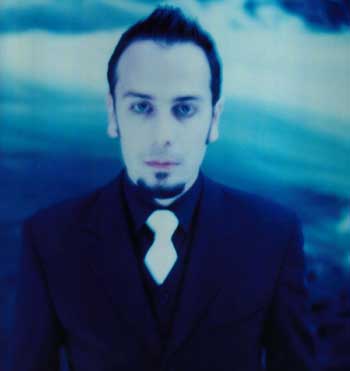 Joakim Montelius.
Photo by: Kasskara
A track for every mood
"Northern Light" didn't quite turn out as they thought it would, but that was because this time they did not have any specific plans when they started.
- We just moved along. You work with an album so long, and you change as a person over time. Of course that affects the end result. We wrote the first tracks about two and a half years ago, but we have worked actively for about nine months.
Joakim finds it hard to pick a favourite song from the album, instead stating that it depends on his feelings at the time.
- That's the good thing about this album. There's a track for every mood.
The music on "Northern Light" is more mature, and contains slower and more introspective moments than before. It still sounds a lot like Covenant though.
- I think this album is more open, so maybe we will get some new listeners. Even my girlfriend likes this one, and that has never happened before, Joakim chuckles. People who have heard it like it a lot, and we believe in it one hundred percent. We could never do something we don't believe in.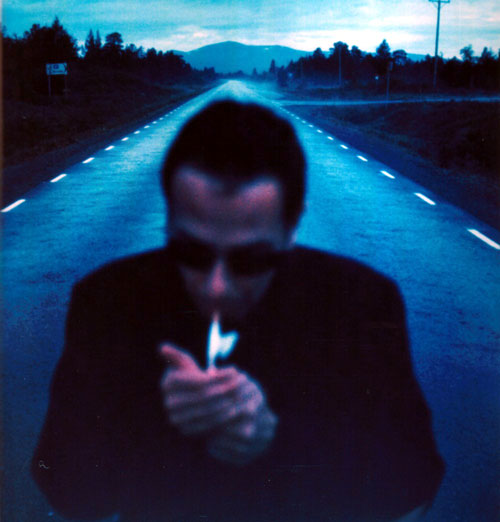 The road to nowhere.
Photo by: Kasskara
The beauty of perfection
This brings us to an important aspect of this band. It has reached success far beyond most other bands in this genre. Why? Joakim elaborates.
- I think the main thing that separates us from other bands might be that we don't limit ourselves. We do not lock ourselves into a specific genre or environment. We don't have a set goal. It still becomes Covenant in the end. Perhaps our blend of different tastes helps us too. We never give up, and we are perfectionists, almost absurdly so! Eskil is strange, he is an unbelievable perfectionist. Even his coffee must be in a certain way. He is exploring different ways to brew it, with different accessories, beans etc. Maybe we take it too far sometimes, but I think this is a good quality in us.
Their method of working in the studio is that Eskil writes most of the music, pushing buttons and twisting knobs. Joakim then writes most of the lyrics and participates in the music creation. They discuss a lot, and try to decide what's best. Then Clas comes in and tells them if it's good or if they finally have gone completely mad.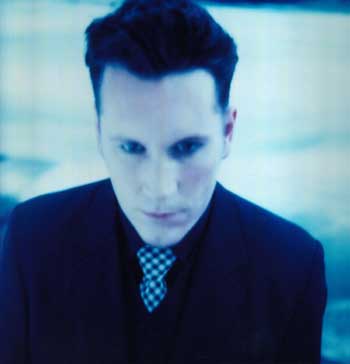 Clas Nachmansson.
Photo by: Kasskara
Somebody else's experience
While many bands listen to music similar to their own, Covenant has influences from other genres. Such as r'n'b, for example.
- Well, I don't listen to that as much anymore, but I used to a couple of years ago. I discovered that if you take away all the screaming singers, the music is awesome. Especially the drum programming is very cool. I even tried running the music through a special device to remove the voices, but it didn't work that good. After that I listened a lot to electroclash, but it's not as exciting anymore. Some minimalist German techno is OK. Now I like clicks'n'cuts, like Autechre, but I have discovered other bands that are even more extreme.
Since Joakim is responsible for most of the lyrics, I ask him if he gets inspiration from anywhere in particular.
- I read a lot, not just for inspiration, but also to get some experiences for free. Other than that, I write about things that have happened to me. And perhaps about things I want to happen. To write is to make hard things more tangible, a kind of cleansing process. When you see it written on paper, it's seems more real, and you have gotten it out of your system.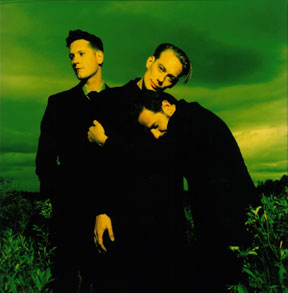 Band mates.
Photo by: Kasskara
Tango and castanets
Eskil and Joakim have recently relocated to Berlin and Barcelona respectively. For very different reasons. Clas still lives in Sweden, in the old Covenant home town Helsingborg, and continues to work as a computer consultant.
- I think in Eskil's case it was a matter of his contract for his flat running out. He had to have a place to live in, and why not Berlin? The good thing about music is that you can make it everywhere. It was a bit harder for me, as I live with my girlfriend since ten years. But then she suddenly quit her job one day, and so we decided to move to Barcelona. We have lived there for six months now, and feel right at home.
Barcelona fuels Joakim with new influences.
- They have a bucketload of weird music there. I was at a concert last week with a band consisting of two DJ's, one singer and one violinist. I don't remember the name, but they were playing a kind of mix between tango and trip hop. I have also heard a metal band complete with castanets, haha! I like it, because no one there has any preconceptions about music. I don't like the huge discos here though; I don't want to be surrounded by sweaty girls. Not that I have anything against girls, though. When I go out I want to listen to the music, nothing else.
Well, the next Covenant album might sound interesting.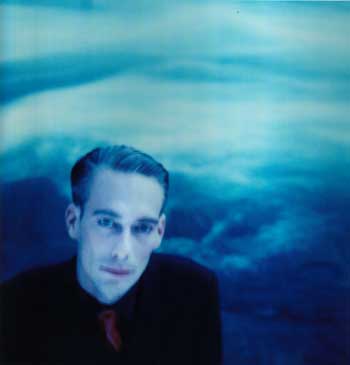 Eskil Simonsson.
Photo by: Kasskara
A second single from the album will be released. First "Call the Ships to Port" was released and now "Bullet" is chosen, a mid-tempo track with a sweeping chorus. A video has been made to promote it, and Joakim is very excited about it, as well he should be. It's a very good looking short film with lots of special effects and starring the three members. To cut a long story short: it is a video most electronic bands just dream of making.
- We went to Germany to film it. It was a really cool adventure indeed. We had a team of over 40 people, and filmed in an abandoned power plant that looked like something out of a science-fiction dream. It was an environment that could only exist in the movies. It even had trees growing inside of it!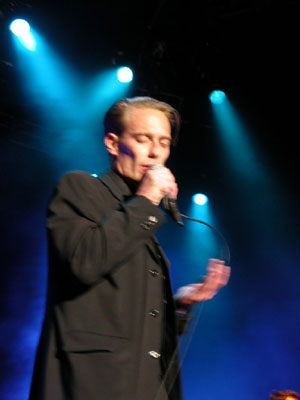 Eskil Simonsson live at the Arvika Festival 2002.
Photo by: Mikael Kahrle
Pressure on stage
A tour is planned this winter and it will kick off in Sweden, at the Tinitus festival. After that they go to Hannover and move on throughout Europe. They don't want to tour for too long though, because it's too taxing.
- It's worst for Eskil, because he carries the whole show night after night. It's an incredible pressure. Clas is still working, so he's losing money when touring, and I find myself not liking to be surrounded by so many people all the time. You never get time alone, Joakim sighs.
Playing live has its rewards though. Covenant headlined the final night at the biggest stage at the Arvika Festival the summer of 2002. Most of the festival's many visitors were watching.
- That gig was incredible! Totally amazing. We only knew we would be playing on the big stage a week beforehand, so we just dragged together some people we worked with a long time ago, and some sound technicians we met just two days before. Of course we were very nervous, but I think we did a good job. It was unbelievably many people there!
The future looks bright for these gentlemen now that they have switched to the big label KA2/Sony, and their latest single have entered the official charts in Germany, albeit at no 93. Where does Joakim see the band in five years?
- I hope we still have the opportunity to make a living as musicians. Not because it's comfortable - we have flown over forty times in two months - but because we do what we enjoy the most, to be creative and get paid for it. We also meet a lot of interesting people along the way.
---