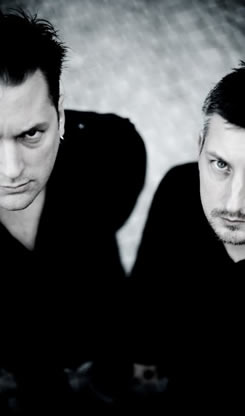 Photo by: Magnus Eklund
DUPONT
fully evolved
By: Tobias Eliasson
Published: August 26, 2009

Just around the Millennium shift we got a new trend in electronic music, especially in Europe. The wave of old school EBM hit us, when the classic sounds from the 80:s returned with younger acts. One of the pioneers behind this was Dupont from Stockholm who quickly become a name in that scene with their first album "Ukraina" from 2001.
After touring with Covenant they returned to the studio with a new version of the band without singer Johan Damm. Songwriter Rickard "Riccardo" Svensson had stepped up and the result was "Intermezzo" which had more influences from electropop.
Now their third album "Entering the Ice Age" is here. This time around Dupont have a new label, Progress, and have been assisted by Eskil Simonsson from Covenant and Oscar Holter from Necro Facility. We called Rickard and Daniel "Danucci" Jonasson to find out more.
Tell me the story behind how Dupont started.
– Well, Rickard and I go back all the way to High School, so we have known each other since we were 15 or so, Daniel starts. Rickard used to play in a rock band while I'm more of a DJ and promoter, working with clubs and concerts. We started to work together and at the beginning everything was really just about playing around.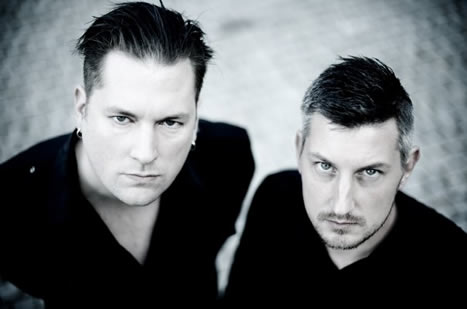 Photo by: Magnus Eklund

How did you find the sound of the band?
– You must remember that back in the late 90:s no one really played this type of EBM. We just started thinking about the type of music that got us hooked on electronic music to begin with and we landed on the classic EBM-acts like DAF and Nitzer Ebb. We felt that this was something that wasn't done anymore; bands like Pouppée Fabrikk had quit and there was a hole that we perhaps could fill. We found Johan Damm who had a number of different projects at the time, but just as we did, he really felt that we had found our home in Dupont.
And after that everything went quite fast?
– We got signed by a German label, Rickard tells me. And they were quite cocky about the fact that they had signed an old school EBM-act from Sweden, so we got attention quite fast and our first shows were in Germany. Our first single, "Behave", became something of a hit (it's on the new album, in a new version, it has never been released on an album before - editors remark) and the interest in us just seemed to continue. After Johan left the band we decided to continue with me behind the microphone instead, all this felt very natural since it was me and Daniel who started the band and have been the core.
So who does what in the band, what's the process behind the songwriting?
– Rickard writes everything and I act as his muse or moderator if you will. I seem to have an ability to bring out the best in him and since the electronic music is such a big part in my life as a DJ, I try to come with a lot of input. It tends to be quite a lengthy process since he's very methodic and disciplined in his work. We have always been more focused on feelings than sounds. Over the years this process has become bigger and bigger, I feel that Rickard has grown a lot as a writer since we started.
I think that you took a big step when you released your second album, "Intermezzo". How has Dupont evolved with "Entering the Ice Age"?
– Well the music has become much more personal, says Rickard. A lot of the darkness in the new songs comes from that, I believe. I have also allowed myself to be more experimental, stretching a bit outside the sound that we had before.
You have left the German label Life Is Painful Records and are now signed to Progress Productions in Sweden.
– We were really impressed with what the label created in so little time, so we started to talk with each other. This discussion just kept going and our cooperation grew from this. Progress seems like a perfect home for us.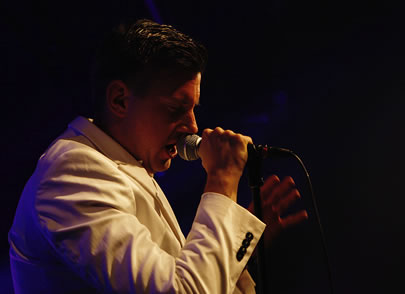 Rickard.
Photo by: Fredrik "Schlatta" Svensson (Release)

Do you enjoy life on the stage? This is where your music comes to life, isn't it?
– Being on stage is important, Daniel thinks. That's where you grow as a band and of course it's also a reward for us. We really enjoy playing live and hope to do much more of that in the future. We will of course play in Sweden, but Germany is, as always, a really important market for us and really what we are aiming for. But hopefully we can play more shows in other parts of Europe and perhaps the US also.
Speaking of that, what are your plans for the future?
– Promotion, promotion and promotion, Rickard laughs. The album will be released now and directly after that we travel to Germany for two shows, and hopefully a lot more concerts will follow, Daniel tells me. Rickard will have to take it a bit slow however and rest a lot since he was in an accident.
Yes, I saw the picture from the hospital, what happened?
– I managed to break my shoulder in a skateboard accident, but this doesn't affect the shows, Rickard assures me. I have my arm in a sling so I won't be quite the same on stage, but we will still put on a show.
And my last question, will we have to wait another four years for the next album?
– No, you won't. We already have a lot of material that didn't make it to "Entering the Ice Age". Right now we will focus on promoting this, but after that we back to the studio again.
Read more
"Entering the Ice Age" review.