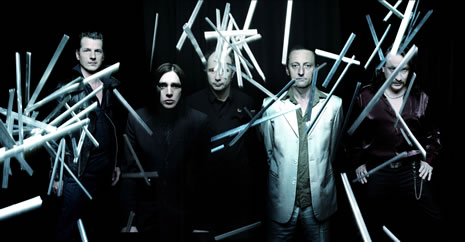 EINSTÜRZENDE NEUBAUTEN
being loved
By: Mattias Huss
Published: October 29, 2007

After nigh on 30 years, the entity, nay the beast, known as Einstürzende Neubauten has evolved into an independent being without need for any conscious effort from the five multi-talented genial dilettantes that make up its core.
Release finds bassist and musical jack-of-all-trades Alexander Hacke in a fine mood, speaking about love and magic, and a band at its ultimate productive peak.

Joining the cult
In the name of objective journalism, let's state the facts openly before we move on. It took me a while to sign up for Einstürzende Neubauten's supporter project. The breaking point was in 2004, when I learned that the supporters of the second phase of this subscription service were invited to a special concert in the Palast der Republik, the bronze mirrored former East German Parliament building slated for demolition. I never got over that, and for the next phase, I jumped on the chance.
– That concert was a lot of fun, Alexander Hacke remembers. I'm sad to report that the Palast is almost gone now, there is just a steel skeleton left of it and they're wasting millions and millions of euros to break it down.
Discipline and productivity
Berlin has changed a lot, and many prominent features present 30 years ago (at least a certain wall…) are long gone. Einstürzende Neubauten, on the other hand, have never been quite as present as right now. During my brief membership in this happy sect, they have recorded ten albums, only one of which is released to the general public. So "Alles wieder Offen" is just the tip of the iceberg, consisting of the eight part "Musterhaus"-series with various sound experiments, as well as a bonus collection of dream inspired songs called "Jewels" for download by the supporters.
– We've been very productive in this phase, I must say. We would meet in the studio for three week periods every two months over the time of two years. I think the fact that we're not working with a record company but made a promise to each and everyone of those supporters that we would record another great album adds a sense of discipline.
The subscription fees of roughly 2000 people is apparently just about enough to bring "Alles wieder Offen" into the world, although the band has been on a tight budget and not allowed themselves any luxuries, such as vacation or payment, since they started the supporter system back in 2002.
– We will definitely not launch a fourth phase immediately, Hacke says firmly. We will go on an extensive tour in spring to promote the record, and I'm sure we will do something for our 30 year anniversary, which is not too far off in 2010. Otherwise we will take it very easy with Einstürzende Neubauten.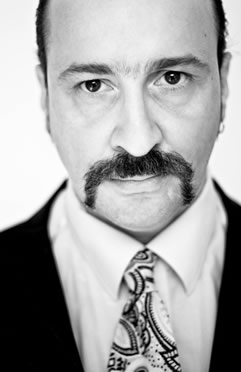 Photo by: Markus Johannes Reinhardt
Some loving attention
Despite the five hard years of slaving away for the supporters, often in live webcasts of studio sessions, Hacke has no qualms about taking the final step of severing all ties to external record companies. "Alles wieder Offen" is the first Neubauten album released publicly on the band's own label, but it's the interaction with the supporters, who of course receive a deluxe version with extra tracks, that the band really seem to cherish.
– First of all, you get immediate resonance to what you do. It's pretty much like playing a concert, where you can tell from the reactions of people whether you're going in the right direction. It's not like a democratic process, although we did that too in the past, asking the supporters what they thought we should do. But particularly during our webcasts, we could pretty soon tell if we were doing the right thing. Because then they actually stopped chatting with each other about chocolate or whatever (laughs). If we started playing boring music, their concentration would just drift, and that was basically one of the measures that we could apply.
– Also, you know, it just feels great being loved! It's great to be working directly for the people who love what we're doing. It provides us with a completely different attitude than working for a record company, where you sit down with company executives and speculate on the preferences of people. We also have a direct link to the supporters; it's not just them having a link to us. We are able to bypass the intermediator, which feels great to us.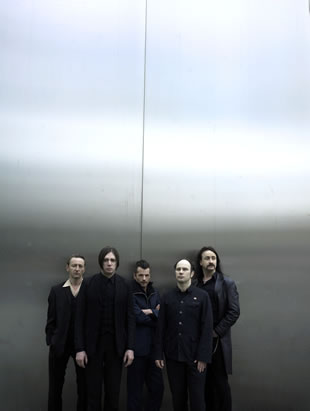 Make something happen
Even though music is being released in new forms around the world, with Radiohead recently offering downloaders to pay whatever they like for the new album, the Neubauten supporter project is unique and full of possibilities.
– We just do this in order to prove that it is possible to make things happen. We don't want to be part of the discussion about the decline of the music industry, copyright issues, downloads bla bla, you know? It's just not very stimulating. It's more important to do things, to trigger processes and do something new. I am sure this could be a model for other bands. You would have to slightly change it, but it would be a great model for younger bands, not a single one but say a bunch of young or lesser known Swedish bands, to set up a website like that with joined forces. I mean, we have the advantage of having been around for so long, and having the reputation for doing strange things, and people are interested in what we do. But it could work for others if people would apply solidarity instead of competition.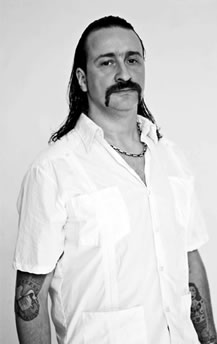 Photo by: Markus Johannes Reinhardt
The art of being Einstürzende Neubauten
It was in this warm environment that "Alles wieder Offen" was conceived in what seems to have been an unusually spontaneous and intuitive act of lovemaking.
– This time we didn't even have a conceptual thread as we did for "Perpetuum Mobile", the last public release. Then we had a certain theme, the element of air, the concept of travel, and all these images. Now we just came together and played, and it turned out that we were taking into account our history pretty much, our past. I think it's about us, this record, more than any record before. It takes our history into account and cherishes it. That wasn't deliberately decided or anything but sort of evolved during the process.
The music of Einstürzende Neubauten has evolved continuously since the visceral and grating singles from 1980 collected on "Kalte Sterne", up until the elegantly atmospheric, but still at times very intense, pieces of industrial chamber music of today. One of the big points of change was in the middle/end of the 90:s, when the vacant seats of Mark Chung and F.M. Einheit were filled to form the current line-up of the band. If we are to believe Mr. Hacke, another leap seems to have occurred during the recording of "Alles wieder Offen".
– In the past couple of years in this new line-up, the situation has been that the different individuals of the band would contribute their talent and their abilities in order to make Einstürzende Neubauten music. He would consciously contribute in order to feed this entity, this beast that is Einstürzende Neubauten. And this time around we just got together and played and it turned out to be Einstürzende Neubauten music. It was less of a conscious effort than ever before, which makes it very special to me. We were not acting like Einstürzende Neubauten, we were Einstürzende Neubauten! Everything just fell into place. There really was magic.
Working the magic
Part of the magic, as on all Neubauten records, was using any instrument within their reach, without any rules what so ever. "Alles wieder Offen" is quite an organic album pairing string sections, a Mexican vihuela guitar and a multitude of other traditional instruments with falling metal sticks and jet motors.
– I just got into using small instruments lately, you know (laughs). The mandolin and the vihuela are quite small. So I just included them and made use of them. This is like what I was talking about before. I could even play vihuela or mandolin, it still turned out to be Einstürzende Neubauten music.
Another example of the organic process of making music in the Neubauten camp is the use of a set of cards called Dave, which has to some extent directed the work on "Jewels" as well as the band's live performances.
– It's like a navigator, a divinatory system. It's a box of 600 cards, developed by Blixa by just listening to all of our back catalogue and taking notes of what is significant about each track. Like, this one is in the key of "G", and it starts using liquids, there are no bass frequencies, or only bass frequencies. He would then take all these notes and copy them onto white cards. And then we play these games where each band member gets three cards, for example, and uses whatever is written on them as an advice to pick the instrument to play, or how to play. It's an illogical system that opens up new channels, metaphors and associations in order to create music, and it's very entertaining for us to use. The name Dave is associated with the voice of a GPS, the navigator in a car, and it is also a character in the movie "The Nine Lives of Tomas Katz", which is about the surveillance systems in the London Subway. It is a very recommendable movie.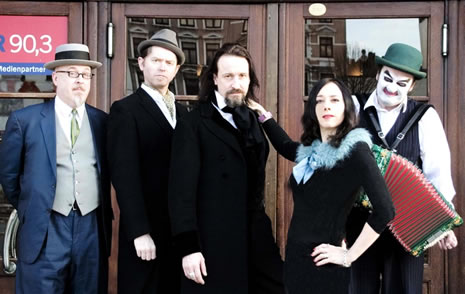 "Mountains of Madness".
News tidbits
There is too much happening around the Neubauten to keep track of, much less to list here. To give a few small news nuggets, Blixa Bargeld is a frequent Beijing visitor now, setting up a record label to release new Chinese music around the world. The experimental Chinese duo White recently visited Berlin to record their debut album in the Neubauten studio, after Blixa bumped into member Shenggy on the street seeing the Neubauten logo on the back of her hand.
Alexander Hacke himself has been working with audiovisual performances together with his wife Danielle De Picciotto, most recently a stage production tribute to H.P. Lovecraft called "Mountains of Madness", performed together with English cabaret music troupe The Tiger Lillies. He is now finishing another one called "Ship of Fools", premiering in Berlin in December 2007, as well as playing live gigs with Turkish band Baba Zula.
Personally though, I'm most anxiously awaiting the arrival of the luxurious supporter edition of the album, with the 32 page booklet and the extra tracks. None of which I'll share with any of you non-believers. So there!
Read more:
Release "Alles wieder Offen" review
Release has made several Einstürzende Neubauten interviews throughout the years; some in issues that can be ordered at Tidskriftsbutiken