FIELDS OF THE NEPHILIM
The Mourning Sun is up
By: Kalle Malmstedt
Pictures courtesy of: Sheerfaith/SPV/Hardbeat 2005
Published: December 20, 2005

Few other goth rock acts have had such a large and fanatical following as The Fields of the Nephilim. When they split up in 1991 the black clad community with cowboy boots mourned, and has done so ever since. Now, the "Mourning Sun" is up, which means The Nephilim are back.
At least legendary frontman Carl McCoy, whom Release has had a nervous conversation with.
Enter the real McCoy
Let's drop all pretence of professionalism. I have been a fan of Fields of the Nephilim, FotN, ever since 1990. For 15 years, that is. 15 years of waiting for a new – real – album from the band that released gothic masterpieces like "Dawnrazor", "The Nephilim" and "Elizium". Of course I liked the Nefilim project, spearheaded by Carl McCoy, in 1994. But apart from "Zoon" and a prematurely released album by Carl McCoy and original bassist Tony Petitt in 2002 – "Fallen" – things have been quite quiet from the Nephilim-camp for the better part of my life.
Add to that the impact that Carl McCoy has had as a front figure, both with his image as a futuristic cowboy with an interest in the occult and as a vocalist who was among the first to utilize the growling way of singing, and you might understand the dryness in my mouth when the phone rings and a friendly voice says "Hi, my name is Carl".
I have been a journalist for almost ten years, but I have been a fan since I was seventeen. That is why this is so huge for me, and why this text is so hard to write.
But at the same time, it's necessary. Fields of the Nephilim is back, with the new album "Mourning Sun" and Carl McCoy would really like to tell you about it.
– I'm quite surprised, actually. My records usually take some time to digest, but this one seems more direct, says Carl McCoy on the subject of the reception of new album "Mourning Sun".
And yes, the album has been received well, gaining praise and good remarks from most listeners. Of course, almost noone has been able to listen to it without comparing it to "Elizium" - and all other FotN-albums too, but hey, neither does Carl McCoy.
– It is a part of the same journey that started with "Dawnrazor". Some things came to the end of their cycle with "Zoon" and this is a new beginning, he says.
---
Ad: Order Fields of the Nephilim CD:s and listen to sound clips from:
Amazon.com
| Amazon.co.uk
| Amazon.de
---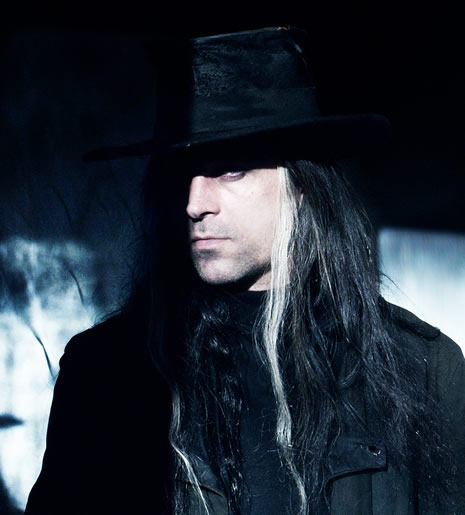 Made in Norway
"Mourning Sun" was recorded when Carl McCoy travelled over the world, bringing with him a rack of recording tools, he tells Release, recording some material in barren places in England and some far up north in Norway.
– I removed myself from the sun, the legendary singer simply states, but doesn't want to divulge who else is on the album.
– There were not many people involved, I tried to keep it down. But there were some people that helped me finalize the project. Everything will be revealed in time.
But maybe not everything. Carl McCoy works very intuitively with his music, letting sounds from the surroundings seep into the recordings, creating the desired ambience.
– I don't generally use a sample library. I record what's around me at the moment. Some of the stuff on the album is pretty adventurous, he explains.
All in all, the process of recording "Mourning Sun" was two years for preparations and twelve months for travelling, recording and adding some instruments with those mysterious musicians.
Very disappointed
Backtracking Carl McCoy's movements, that brings us to the conclusion that this was a project started somewhere around 2002, around the same time the badly received "Fallen" was released by Jungle Records. Carl McCoy really doesn't want to talk about what took place between himself and the company, but has previously denied that the half finished songs on "Fallen" were ready for release.
– I'm very disappointed. Those we worked pretty hard with. But in the end Jungle have probably done me a favour, in a way. They gave me a fresh start, he states.
And maybe that was something he needed. You see, the partial silence from the McCoy/Nephilim-camp these last few years hasn't been voluntarily. Carl McCoy gets something dark and bitter in his voice when he talks about a contract that bound him to a company (maybe Beggars Banquet?) and that made him unable to put out records, and how pleased he is with having broken free from that.
– All I have tried to do is to do what I do. But there has been a lot of turbulence and people standing in my way. I haven't been on holiday in ten years, he says and reveals that when not working with music, he has done a lot of work with graphics.
– I do a lot for Sheerfaith, advertisements, visuals for different kind of projects.
Also visuals for FotN obviously. The imagery surrounding The Nephilim has over the years had almost the same impact as the music and the whole project isn't as much a band as a… well, life project, for lack of better words.
– My whole existence, life, evolves around the concept of The Nephilim and it becomes what it becomes. I actually don't study it anymore. There's no need. In the books, there is just the same thing, described in different ways.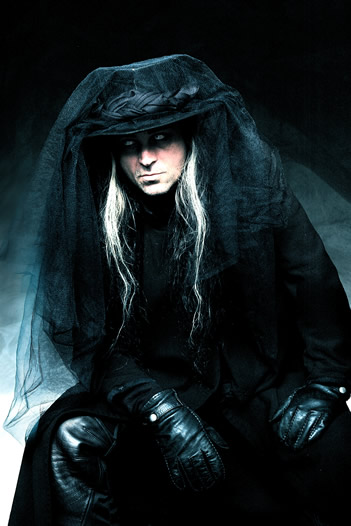 Elysian fields revisited
Of course Carl McCoy speaks about the Sumerian mythology, Judaeo-Christian beliefs and Crowleyan writings that are a part of the Nephilim saga. Instead of studying the scriptures, he now lives the experience. As intuitively, it seems, as he writes with input from the surroundings.
– I like playing with my words and use pen and paper when writing. I have no real format, but I always have a clear idea, emotionally, of what I want to do. Then it kind of unfolds, he says and elaborates a bit about the sadness that seems to be his signum, also on the new album.
– There seems to be sadness in a lot of the work I do. I have trouble making happy songs. But to do what you do, you have to have both. I am obviously not a sad person, I have a bright side too, and otherwise I would be very lonely and wouldn't have any friends.
And that he has. Both personal relationships and fans of the Nephilim, all over the world, eager to take part in the continued journey of Carl McCoy. So eager, in fact, that when this previously announced Spotlight was postponed, my editor was swamped with letters demanding it to be published. Carl McCoy himself states: (about the relatively long time between FotN-albums):
– In the long scheme of things, yes, maybe it has taken some time. But in the short scheme, it was actually put together pretty fast. Time is of no concern to me.
---
Ad: Order Fields of the Nephilim CD:s and listen to sound clips from:
Amazon.com
| Amazon.co.uk
| Amazon.de
---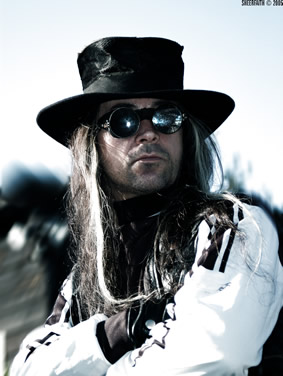 Tour and festivals await
However, the fans see it differently. Both the downtime between albums and the long time between the opportunities to catch The Nephilim live has caused much grief. The last stable line-up of FotN hasn't played together since The Festival of Fire in London 1991 and Carl McCoy hasn't toured much during the last few years; I recall an appearance on The Arvika Festival in the mid-90's as a rare exception to that rule.
But all this is going to change now, Carl McCoy tells his loyal watchmen.
– I have waited for a moment when I feel that I have something new to say, something that feels fresh. We will be playing in 2006. I feel a need to, now, he says.
Fields of the Nephilim will both tour and play festivals. Exactly who will be appearing with Carl on stage is a secret, so far. Perhaps the same close friends we hear on "Mourning Sun"; evidently Tony Petitt isn't among them, so maybe someone else. All will be revealed. What is almost certain, though, is that the original members of FotN aren't a part of the project any more. The Nephilim isn't a journey on which Carl McCoy feels comfortable with having a set role, anymore. He wants to do everything, his way.
– In the last set line-up, everyone had their roles. I was vocalist, but I also arranged and added strange sounds. I have always been a musician, he tells us and also lets us know what he listens to when not making music.
– When making the album, I haven't had time to really listen to anything. But otherwise, it depends on where the mood takes me. I prefer instrumental music, actually, anything that paints a picture.
Just like his own music does. So until you get a chance to catch The Nephilim live on a venue near you, please lend your ear to "Mourning Sun". As a friend of mine said "No one can say 'Burn!' like Carl McCoy".
And as an artist, no one could be more polite and easy to interview. For instance when I, yes, the journalist now stepping forward, very unprofessionally in the text again, say "I hope you excuse me for being a bit nervous", but when I say "I think your record is really great. I am a huge fan", the man in the hat simply states:
– That's OK. There is a reason I have chosen to speak with you.
That's the stuff legends are made of.
Read more:
Release "Mourning Sun" review
---
Ad: Order Fields of the Nephilim CD:s and listen to sound clips from:
Amazon.com
| Amazon.co.uk
| Amazon.de