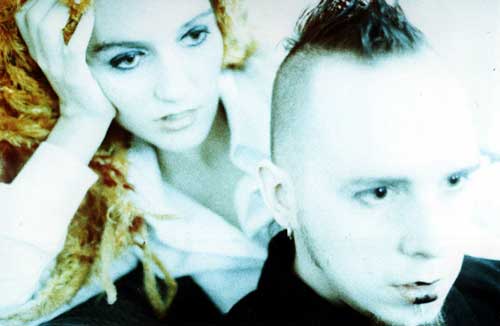 Arianne Schreiber and Bryan Black.
The electronic music world of
BRYAN BLACK
Haloblack, H3llb3nt, Xlover, Motor...
By: Kristoffer Noheden
Having released "Throb.", the first new Haloblack album in close to eight years in February, and with new albums on their way by projects Xlover and Motor, 2004 looks like a busy year for Bryan Black. In other words, it was about time for Release to catch up with the London-based American to discuss his different musical outlets.
From Minneapolis to London
When "Throb." was released in February, it was the first new proper album from one-man band Haloblack since "Funkyhell" in 1996. And even though "Throb." continues along the established Haloblack path of twitchy funk and gritty electronics, the nearly eight years that passed between the albums make themselves heard.
"Throb." is more melodic, but sounds even more broken up, tiny but razorsharp tinnitus-noises penetrating the music, and the whole album feels simultaneously enshrouded in sandpaper and velvet in all its schizophrenic swings between spastic dance music and somehow sensual-sounding sonic chaos.
During the protracted birth process of "Throb.", Bryan Black not only moved to London, England from Minneapolis, USA, but also partook in a host of different musical adventures. In London, he recorded a new album with H3llb3nt, the "supergroup" involving Jared Louche of Chemlab and Eric Powell of 16 Volt. He also started working on the new projects Xlover and Motor, as well as hooking up with Raymond Watts of KMFDM and Pig fame. This led to Black joining Watts' successful transnational band Schwein as a live member on their Japan tour. A whole influx of experiences and new influences to channel into the task of completing a new Haloblack album, in other words.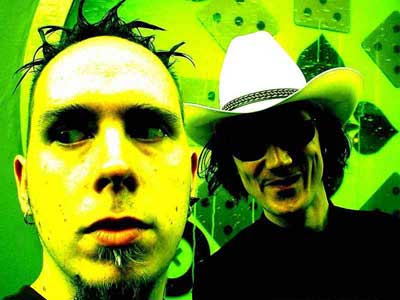 Black & Watts.
Junk funk for the year 2004
– Basically, I decided to go back to my electronic roots and see if I could find a sound that represented where I wanted to go. I used my new projects as an excuse to experiment until I felt confident I had something that would provide a new template for Haloblack. Whenever I made a song, which was too quirky or experimental for my current projects, I put it aside for Haloblack. In late 2003, I decided to take all these ideas and focus on finally putting together an album. Despite taking so long, it was surprisingly easy to put together. I was worried the album was too ambitious. But I think one of the strengths of the album is its diversity, Black tells me.
When I met up with Black in London in the Autumn of 2000, to interview him about another of his projects, the website thesickcity.com, he talked about his new material having a dark trip hop feel, something of which there aren't more than a couple of traces on the finished album.
– There was a period when I was experimenting with pitched down beats and heavy guitars. I even pitched the female vocals down until they sounded like bluesy male vocals. Tracks like "My Sacred" and "Out There" came from these sessions. After a few months of recording with this technique, I stepped away from the album and started writing synthpop tracks under the alias of Xlover. I then went back to the Haloblack album and wrote "Feel" and "Why?", "Permanence", etc. There are probably three-four different recording phases on this album. I could have made an album during any one particular time, but in the end, I was excited to display different moods and variations from all the different sessions under one sequence, Black comments now.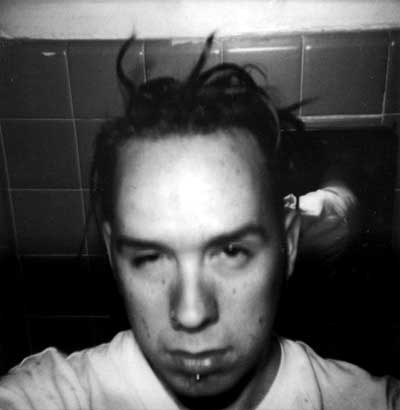 Underground parties and drug excess
I for one wouldn't mind hearing more of those genderbending experiments with female vocals pitched down to a strangely uncanny blues drawl, but "Throb." is nevertheless surprisingly coherent for an album that has gone through that many phases. This is not least due to the streak of big city boredom, alienation and excess that runs through it. And if London and its music scene have had any influence on the way "Throb." turned out, it seems to have been in a more dionysian than musical manner.
– The whole recording experience on this record was different. Instead of going into a studio with a tight schedule, we had 24-hour access to The Fortress Studios in East London. Beyond the usual excess of studio life, we were caught up in the middle of massive underground parties, which took place in the building during the late hours. After a few months, we were drifting and losing focus, and suffering the effects of drug excess. The track "Feel" deals with this very issue.
Ending up on the new Felix Da Housecat CD
At first listen, synthpop/electroclash act Xlover may seem to be quite a different beast than Haloblack, but at closer inspection, it appears to simply be the shinier flipside of the filthy Haloblack coin.
– Xlover happened by accident. I was starting to work with Olivier Grasset, who at the time was drumming for Haloblack. We were working on a cover of [Prince song] "Controversy" for an upcoming Haloblack concert, and the end result was a supercharged electro take on this classic track. It caught the ears of City Rockers, who were pioneering an electro revival in London. They wanted to release a single, so we had to write a b-side. The b-side turned out to be the single and we quickly decided to form a new project that was going to our outlet to further experiment with the electronic pop formula.
With Nina Rai handling the vocals, Xlover also allows Black to experiment in a different way than with Haloblack.
– Xlover is my outlet for techno and pop music. The Haloblack sound is more defined, and I have no interest in diluting it. With Xlover, I can get away with almost anything, he states.
Xlover's City Rockers connection also gave the band the opportunity to work with electroclash figurehead Felix Da Housecat, contributing to one song on his new album "Devin Dazzle & the Neon Fever" and in turn receiving help from him on their own forthcoming album.
– It's not an issue, Black says about the electroclash connections. Our sound has developed into something that just doesn't fit neatly into one genre. Whatever the label, we just make the music we want to make. I've always been fascinated with analog synthesizers and drum machines. It's just what I know.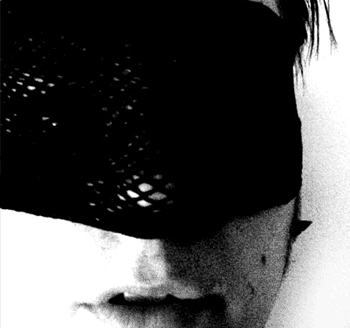 – It's Black.
Mute released undanceable experiments
What can we expect from the forthcoming Xlover album?
– The production is totally off the wall. It started out purely electronic, but has developed into something unexpected with some great guitar work and stripped down electro rock beats, driven by Nina's trademark vocals.
The Xlover sessions also led to Black and Grasset adopting another alias – Motor. Their debut 12" "0503" came out on Novamute last summer, and its three tracks of monotonous, malfunctioning beats sound like a meeting between minimal electro, melting hard drives and shortcircuited synapses.
– I was playing Mute Records some some stuff I was working on. They seemed to go for the most insane electronic experiments I was working on for Xlover. I decided this might be an ideal time to finally pursue this sound.
I never thought anyone would want to release it, as it was so abrasive and totally impossible to dance to. The first three track demo was signed to Mute and all three tracks make up the debut single.
Motor have also got a debut album coming up, but all this other activity doesn't mean that Black wants to abandon the Haloblack ship.
– The response from "Throb." has been overwhelming. Before its release, I was happy just to get the record out and move swiftly back to my other projects.
Because it's been so well received, I'm considering writing a new album and keeping the momentum. Haloblack is the one excuse I have to push myself musically in any way I feel inclined.
Read more
Read our review of Haloblack's "Throb." here, H3llb3nt's "Hardcore Vanilla" here, Felix Da Housecat's new album here. Haloblack web site.