Howard Jones is experiencing something of a comeback right now. He's having chart success with "Slip Away" by Mohito, where he is featured on vocals and Eric Prydz, who had a huge hit with "Call on Me", is using "Things Can Only Get Better" in one of his dance tracks.
And of course his new, all-electronic album "Revolution of the Heart" is coming out this autumn.
When Howard entered Swedish soil for the first time in a long while, we managed to get a chat with him, while he was preparing for his show at SAMA.
Actually, this is our first interview with Howard Jones. It's never too late.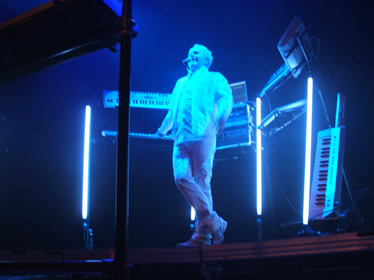 At SAMA 2005 he showed that he's still got it.
Photo by: Mikael Kahrle
Dream into Action - a true story
Some readers might know that I'm a long-time fan of Howard. I started to listen to him in 1984 or so, when I was ten years old. Me and my friend Joel used to sit in my family's living room playing "keyboards" on pillows, to Howard's debut album "Human's Lib". It probably looked rather silly, but hey, we were electronic superstars! I guess his music - together with Jean Michel Jarre's - set the tone for the rest of my life; I have listened to mostly electronic music since then.
Howard was on the top of his game at the time, and was immensely popular, even though his fame rose even higher when his next album "Dream into Action" came out in 1985. The single "No One Is to Blame" was a smash hit, and was played on American radio over three million times! To date, his albums have sold between eight and nine million copies. Not bad for a sweet bloke from High Wycombe who started out selling fruit and vegetables from a van. Indirectly, that was also how he got off his butt and started to make a living out of music.
– We were hit by a drunk driver, driving four times over the limit. He hit the van, which rolled over on top of my wife and customer. I was inside the van at the time… It was absolutely terrifying, but also a turning point because I realised "what the fuck am I doing selling fruit and vegetables?". I was making music at that time as well, but after this I thought that I would go for it 100%. And I did. I thought about how we all could have died that day. So in a sense it was a great, life changing moment. But it was horrible, and I still have trouble recalling it today.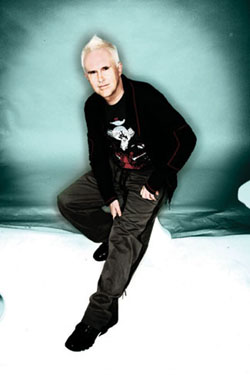 New song
I'm meeting Howard in an upstairs dressing room at Trädgårn' in Gothenburg and I'm a bit nervous, I must say. I even manage to screw up my recording of the interview, since I don't realise it's on "pause" until a couple of minutes into the conversation.
Howard looks a lot less lavish than his eighties persona. His hair is shorter and not as brightly coloured. He looks really good, and speaks with a very precise British accent.
After Howard's time in the limelight during the eighties, he has tried a lot of different approaches to making music. He used a more conventional setup with drums and guitars on "Cross That Line", moved on to solo piano on one album, and has played with an entire orchestra at The Proms in London. His prowess as a keyboard player led him to a tour with Ringo Starr.
After his discovery of software synthesizers, the new album "Revolution of the Heart" is almost purely electronic. The first taste from the album is the single "Just Look at You Now", a smooth synthpop piece with the type of chorus that comes home with you after a long day.
His working partner nowadays is a guy called Robbie Bronnieman, the man behind trance outfit DBA. Robbie has also provided a trance remix to the single. Apparently, he was a fan of Howard, they got together and found out that they liked working with each other. They have prepared the album for about a year, and are both happy with the result.
– Yes, I really feel it's some of the best work I've ever done, says Howard.
I ask him what other favourites he has among his own stuff.
– Other than that, I think that "Live Acoustic America" is one of my favourite albums. It's one performance, not edited, and it came out really well. But I do like them all. I think "One to One" is a bit underrated, and I think it was quite a groundbreaking album, using the Fairlight and everything.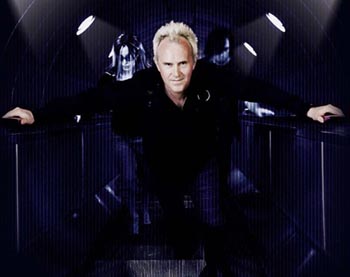 Always asking questions
The eighties were of course a highpoint in his career, and he got massive media attention.
– It was crazy. I was very busy, but then again, it doesn't feel that different now. I'm still constantly working, seven days a week, loving all of it. There's no time to rest, it's an onward moving thing, but it's great. It beats sitting at home.
Nowadays, it seems that not many people know he's very active writing music and touring. When I told friends that I was going to see Howard Jones, all of them said "what, is he still active?".
– I guess that's a fair enough question, says Howard with a smile. People ask me what I'm doing these days, and I answer "a whole lot actually". I'm just not on the telly.
– If you know anything about pop music, you know that there are people who've stopped. That's fine, they just go on to something else. But I'm not going to. I'm going to do this, hehe.
Howard is not particularly interested in being back in the limelight again though. He figures he had his time.
– Well, it could happen you know, but it's really not going to make much difference to me, because I've got my own agenda. We do gigs, we do electronic gigs, I do acoustic shows. I've already started working on the next album actually; I've got most of the songs written for that. I'm an artist, and I just do it whether it's big in terms of numbers. I've done that already, so I don't need to experience it again. I'm happy if it happens, because it brings a whole bunch of opportunities, but I think I can make those myself, because I create them. We can all create them with our own lives. I'm going to do what I do regardless, and an artist is supposed to do that. Get on, and be what they are.
– Of course, I don't do it purely for myself, because it's a combination, so it involves the listener. I'm not only thinking about what I like; I'm thinking of what people think. You have to be aware of what people will think and feel. It's not just a purely mindless savageness of doing what you want, I always think "who is going to listen to this, and what will they get out of it?". There is a dialogue, but it doesn't matter if it's ten, a hundred or a million. This time is now, and in 20 years time we might have a different audience that discovers it. That does happen. You just do what you have to do.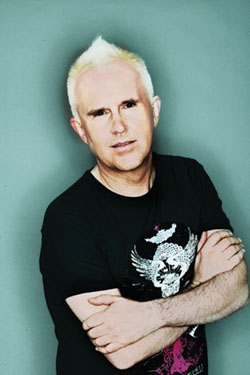 Step into these shoes
In addition to writing and performing his own material, he has also written songs for other artists, and produced Martin Grech's album, released on Howard's own label Dtox. He has written the track "Blue" for the Sugababes, which is a rather unexpected band for him to work with.
– I met their manager, and she just thought it would be a good idea. And it was! It worked very well. I'm not the best person to interface with commercial music though, but I really liked working with the Sugababes. However, to constantly have to do what record executives say, I couldn't do that. I'd rather do my own thing. When I work with other artists, I don't want to impose me on them, I want them to shine. The track we did for them was more Sugababes than anything else they've done and I think it's the only track with attitude on the album, and it had swearing in it, haha!
We talk a bit about lyrics, and Howard's way of approaching them. It seems to me that he seldom writes about himself, but more about his view of the world and how you are a part of it.
– Yeah, I don't write about myself that much, but I write about my perspective on life. The struggles and battles you have to go through, and that life isn't about everything suddenly becoming really easy. I think that a lot of western culture thinks that it is, that it's supposed to get to a position where you can watch the telly all day, which is ridiculous to me. Of course, life is dull like that, and we need challenges and battles to thrive. That's what I'm trying to acknowledge in my lyrics.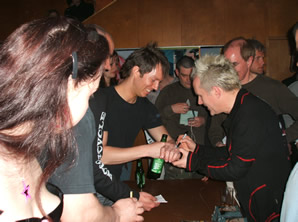 Howard signing autographs at SAMA 2005.
Photo by: Mikael Kahrle
He really seems to have a certain mindset, and I notice that a lot of his answers revolve around the basic thesis "you can do everything if you want". I guess that's true, and Howard proves this later in the evening when he takes the stage and makes a splendid performance that shows us all that even a fifty year old guy with a career spanning over 20 years still can spellbind his audience.