---

Photo by: Rip/Sony Music
The JESUS and MARY CHAIN
rest in peace
By: Mattias Huss

Here you go. I hope you like these new flowers. I'm sorry I don't come here more often. Is it all right if I sit down for a while and talk to you? There are so many memories, and so many questions unanswered. Like, why did you have to leave me here?
The beginning of the end
Sometimes I feel like I really was there in, like, 1985 during one of those riot gigs with Bobby Gillespie banging away at the drums and William probably beating someone in the audience up with his mike stand. It was William who did it in the end, I remember. William Reid, who left the stage of the House of Blues in Los Angeles in the fall of 1998, pissed off and tired of this goddamn business. Then there was silence. At last, an announcement: The Jesus and Mary Chain are no more.
I felt so cheated. I had just met Jim Reid and Ben Lurie in Stockholm that summer, shining with confidence, a new album just out on the shelves. A great album. After years of trouble with Warner, Creation was going to give the guys the success they'd always deserved but had never been given.
That's what I thought, but I guess I didn't know you guys as well as I thought.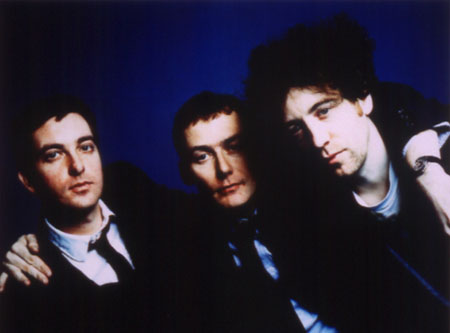 All friends?
Photo by: Rip/Sony Music

Maybe the signs of impending doom really were obvious. William wasn't there for the interview, supposedly sick and tired of the press or maybe just reluctant to chat about his one time relationship to Mazzy Star chanteuse Hope Sandoval. Then again, maybe he didn't want to hang around Jim.
- It hasn't become any easier for us to work together through the years, Jim told me casually in his Scottish drawl. William and me can start arguing about a pint of beer or whatever. We can practically kill each other over a cup of coffee. At times it's been pretty nasty. But since we're brothers we always come back to each other. I think we could probably never be friends, but we love each other as brothers. I suppose it's common for brothers to argue about stupid stuff.
- They just usually don't use chainsaws, remarked Ben Lurie, member in the band since 1989.
The remark wasn't meant to be taken seriously, but looking back now, there just might have been a grain of truth in it.
Jim and Ben had already gone ahead and formed their band, that after the demise of The Jesus and Mary Chain would eventually become Freeheat. Back then it was a side project giving them a chance to "make some music without having everybody compare it to "Psychocandy".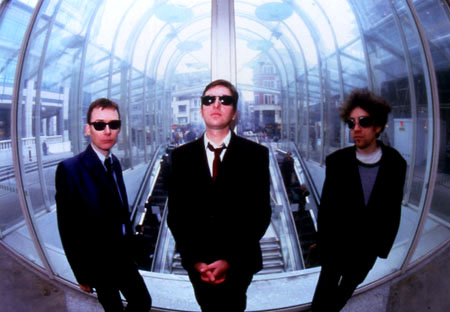 Photo by: Rip/Sony Music
The future of rock music
That album, a blessing when it appeared in 1985, all glorious noise and beauty, eventually became a curse for the band. "Psychocandy" was variously described as the future of rock music, hideous rubbish and all kinds of things in between. The critics quickly decided that this was a so-called "classic", and that The Jesus and Mary Chain had thus had their fifteen minutes of fame. So when "Darklands" was released the media started whining about the sudden shift from hellish feedback cacophony to dark melancholia and sugarcoated pop melodies.
- It's really strange, Jim said. People like Nick Cave can reinvent themselves infinitely and critics still like them. But it seems whenever the Mary Chain do something that isn't noise people just go "why are they doing that?"
Yeah, well, you guys were always difficult, never could you do what you were told, could you? If people wanted something, you just had to come up with something else. That's self destructive, you know, to constantly go against the grain.
But it's so cool.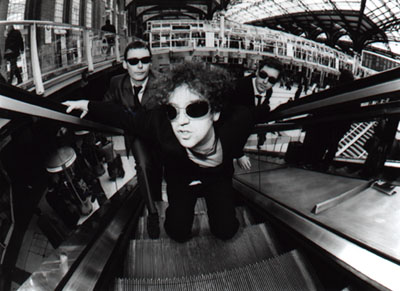 Photo by: Rip/Sub Pop
Difficult people
Perhaps the violence of the shows, the internal conflicts and the defiance toward record labels and media made it inevitable. Already in the very beginning a snippet of lyrics going
"fuck fuck fuck Jesus fuck"
had some people of weak disposition throwing somersaults and had the single "Upside Down" temporarily recalled from stores. "Some Candy Talking" got into trouble with British radio for supposed drug references, and later something similar occurred to a decadent masterpiece called "Reverence". It was banned from airplay due to some beautiful and oh so offensive lines of lyricism:

"I wanna die just like Jesus Christ, I wanna die on a bed of spikes, I wanna die come see paradise. I wanna die just like JFK, I wanna die in the USA"

So they never quite made it big. At times just on the outskirts of the mainstream, they never managed - or maybe they just refused - to appeal to the masses. The Jesus and Mary Chain had fans, all right. They just refused to play the music industry game, spitting out their distaste of it in songs like "Write Record Release Blues" and "I Hate Rock'n'roll".
- What William is talking about in that song, Jim explained, and we all agree on that one, is the feeling of making really great music and then not getting it played anywhere. It's all this shit you have to get through when you're making music. On the other hand, we love what we're doing. I wouldn't want to do anything else.
Just having left Warner for indie-gone-huge label Creation - that once issued the band's debut single - Jim was happy to air his frustration about the workings of the music industry behemoths.
- I think William and me confuse many people in the business. The way we run the band is rather unconventional. What usually happens is that we present what feel is a fantastic idea to them and they say: "but that's not financially realistic". People outside the music business understand what we're doing, but the people at MTV and BBC seem almost scared of us.
Jim went on and wrote a song in a more positive vein called "I Love Rock'n'roll" to go with the hateful one on the last album "Munki" (1998). William, responsible for the other songs voicing anger towards the bullshit industry, seemed to me to be the cynical doomsayer of the band, the brooding guy in black. Doomsayers or not mind you, The Jesus and Mary Chain were always guys in black.
- Well, you who said it, Jim exclaimed, his accent slightly more comprehensible after twenty minutes of intense concentration. I think he is the cynical one. But William always tells me I'm the most cynical person he knows. I don't see myself as a cynical person. My problem is I get depressed sometimes. I see that as the opposite of being cynical. So it's my word against his.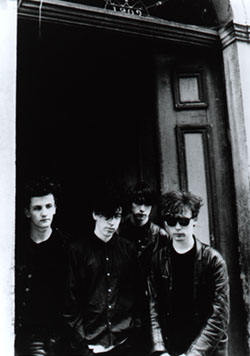 Now, this is long ago. And of course, no pics are any near new.
Photo by: Warner Bros
And what about the future
Yeah, whatever. I guess it wasn't all that great swapping cynicisms 24 hours a day in the tour bus. They got fed up and split up. End of story.
Actually, William went off to release some pretty strange solo records, and Jim and Ben got Freeheat going with a couple of old friends from Gun Club and Earl Brutus. The "Retox" EP sounds nice, but it ain't The Jesus and Mary Chain. Somebody said the Reid brothers are friends again and have been working together producing music for their little sister Linda (known as Sister Vanilla).
So maybe, someday, they might get together and…
No. It is better this way. The Jesus and Mary Chain are simply too cool, too great for a reunion. Better then to listen to the nine album testimony of their violent, warm and noisy soul. To feel it, but never quite understand the strange coolness with which they conjure thoughts of suicide, doomed love, sunshine and just sidewalking. Chilled to the bone and five miles to home.
- Life is like that, says Jim, visibly irritated by stupid questions about specific lyrics by somebody obviously more a fan than a journalist (and visibly overawed at getting to share beers with a couple of rock gods). If you brood for a while on something miserable you're bound to find something fantastic in there. I can't say exactly what makes me want to make music. It's always different things. I don't think it is meaningful to discuss why we write lyrics the way we do. Some lines on some records appeal to you, but you don't always need to know why. You can analyze things to death, but I think music goes beyond that kind of rationality.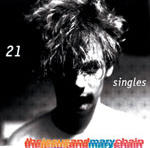 The "21 Singles" compilation, released by Rhino on May 27 and July 2, 2002. There is also a new DVD ("Videos 1985-89") out - in Japan only.
A few words of goodbye
So I won't analyze. I'll just accept the fact that you're gone and salvage the memories. You had to implode stylishly to be born again in other shapes and forms. Your business was done and through. Still, nothing can be quite the same. Nothing can take the place as a soundtrack of my life. Nothing can ever compare to letting the sounds of "Honey's Dead", your fifth album, electrify me before leaving for some party; then going out, young and stupid, feeling infinitely cool but at the same time ready to catch fire at any moment. Or catching a strand of lyrics emerging from somewhere in my mind, walking home alone on a miserable, rainy night. Humming, "There's something warm about the rain. There's something warm in everything".
Speaking of rain, there's a drizzle coming. I'll be on my way now. I will be missing you. And I'll be back, playing those albums over and over again. Maybe even buying some shades and donning my old black jeans sometimes. I'll look just like you, except I could never get my hair like that, you know, just unbelievably messy AND cool at the same time.
Oh, come on, pleeeze don't be sad now. At least you got to die in the USA.
Note: Just like the Ogre Spotlight, this is an updated and translated version of a 1998 feature in the printed Release. It was meant as one of the top stories for issue 2/98, the issue that later became 1/99, but ultimately never saw the light of day... Most of that issue was ready to print, and so was this feature.
---