Release was invited to Kent's studio Psykbunkern. Since we have just been knocked down again by another beautifully dark Kent album "Du & jag döden" ("You & Me Death"), what else was there to do than accept. And after all, we're talking about the biggest and best of all the thousands of bands in Sweden.
Welcome to the black bunker
When I'm walking around in the idyllic suburban area of Örby outside of Stockholm, I find myself thinking that it's a bit wild that the biggest band in Sweden has its base here of all places. In between houses with nice gardens lies the former Park Folkets hus (town hall) that Kent have made into a modern recording studio, lovingly called Psykbunkern (freely translated into "the psychotic bunker").
Once inside I meet with Sami Sirviö, resident guitar virtuoso and as I find out, an all-round nice guy. I'm immediately struck by the overall black theme in the studio. The windows are dark, all the doors are black, the sofa we're sitting in is black... you get the idea. They have a really cosy relax room in one part of the studio, which is where we talk. It's equipped with some of the essentials in life: a big screen projector, an xbox, a Playstation 2, a DVD player and so on, but in preparation for the upcoming tour, it's filled with transportation boxes.
– We really like it here, says Sami. It's good to get away from the city. It was Stefan Boman, who produced "Du & jag döden" with us, that knew about this place. It used to be a music equipment shop and Stefan had heard that they were closing down. So he and I got things going, had people building the studio, and we bought a huge mixing desk from Japan.
Kent plan to stay in their bunker for some time.
– If we get tired of recording here, we could just go and do the basic recordings somewhere else, and get back here for the mix and to finish up. It's an economic gain as well, as we took the recording budget for this instead of hiring a studio for 12 000 (Swedish kronor, about $ 1 700) a day.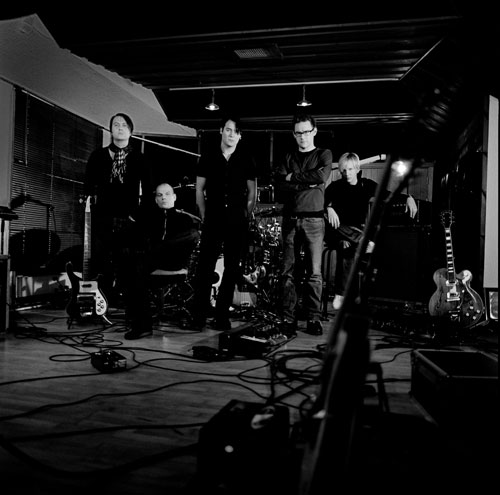 From left to right: Martin Sköld, Harri Mänty, Markus Mustonen, Joakim Berg and Sami Sirviö.
EP after the summer?
For the new album, Kent changed studio tactics. Instead of piecing together tracks on the computer, they rehearsed the songs for three months. Around twenty songs were rehearsed, of which eleven ended up on the finished product. Kent wrote several great tracks that didn't fit in. Two of them are used on the latest single "Palace and Main", and Sami tells me that they almost cried when one of those tracks – "Nihilisten" – was pulled from the album track list, because it didn't fit the flow they were trying to create.
They also have some songs that they didn't have time to complete. These may end up on an EP at the end of the summer, Sami tells me all this slowly; seemingly thinking about if he really should tell me.
– Maybe we'll only release it via Itunes. Do something different. People think it's easier to download songs, and we understand that. So it's better that we find a solution, than to fight each other.

The art of creating a buzz
The cover art of "Du & jag döden" is based on a painting by Oskar Korsár. He was introduced to the band by Johan Renck (Stakka Bo), who takes care of some of their stage production. Oskar had made a painting of a skeleton and a girl sitting on the beach, holding each other. Sami thought that obviously, the image would fit well with the theme of the album, and asked Oskar if he could make a painting especially for them. Unfortunately he didn't have time to do it, so Johan Renck's production company did it, on computers, instead. The result has been the center of some serious debate on Kent's web forum.
– We knew there would be talk, of course. But that's also the point. Instead of having a beautiful photo of a landscape or an animal, we thought that this time, we should do something completely different.
Kent rent a tent
Just before the time of the interview, Kent played Copenhagen as a test before the real tour started. It went very well, with rave reviews, and a building anticipation among the fans. The main tour will make use of Europe's biggest concert tents, humongous beasts built to accommodate 18 000 people at once. These will be used at the four shows in Stockholm and Gothenburg, while other cities have to do with smaller tents.
Anna Ternheim is going to open the shows. She is a Swedish newcomer Grammis winner and Kent are pleased with having her joining them.
Kent might go from the big and bold, to play small club gigs this autumn: around 20 gigs in total, in locations with a maximum capacity of 1 000 people per venue.
– I'm more nervous at a club gig, because it's so intimate and close. The big stages are more relaxed, actually, Sami thinks.
– It was our booking company that came up with these tents, and we thought it might be a really good idea, because… well, it's probably going to rain, hehe. You can do much more with the lighting as well, because it's dark around you inside. Compared to the warm-up gigs, there will be some new lighting equipment that we haven't used before.
The set list will probably change over time, Sami tells me, which is good news for those, like myself, who plan to see more than one performance (in my case Gothenburg and Stockholm).
– The list is actually always the hardest part. It's always hell to come up with it. We vote for songs, but then you often realize while rehearsing that it doesn't work. You have to create an even flow, tempo-wise. You can't go from ballad to a fast song, back to a ballad, and then to a fast song again. People will freak out. And then you have to think about if there are three songs with similar intros..., well then you can't play them after each other, can you?
Independence
Sami tells me that they thought a lot about the tents' capacity prior to the ticket sale start. How on earth would they be able to fill these? With no record out at the time, and the possibility of a flop when "Du & jag döden" reached the world, things could have gone wrong. As usual though, this band's steady relationship with the Swedes seems to be solid. Over 100 000 tickets have been sold, and the album has sold over 200 000 copies in Scandinavia so far. I prod Sami Sirviö for some thoughts about why Kent are able to maintain this level of popularity over time.
– Well, first of all, Jocke (Joakim Berg, singer, lyricist, main songwriter) writes damn good songs. That's the basis of it all. You can't defend yourself from great songs. The other main thing is that we don't care about what people say or think about us. We just do what we do until we drive off the road…
Very few bands have managed to achieve what you have.
– Yes, but then again, you could say "what's so hard?". I'm wondering more about what other bands do wrong, actually. As long as you do what you really want to do, it's quite simple. I think many go wrong when they start to change their music so that it fits in a certain climate; like starting to use techno elements, just because that's popular at the time.
Personally, I think the record company is also a big part of the success. It backs Kent fully but at the same time lets them do what they want. Sami claims the main reason they signed to RCA/Sony BMG was that they were the only ones who gave them total artistic freedom.
– You might expect small indie labels to give you more freedom, but ironically that's not the case. Almost the other way around actually, because indie labels try to control the sound of their artists much more. Independent is not a genre, it's an attitude towards music.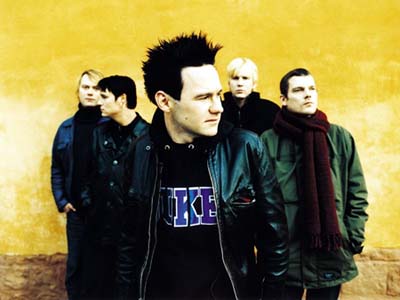 Wanted to make synthpop with Mobile Homes
So what are their influences then? Sami takes the easy road and answers "damn good songs", no matter what the genre; as long as there is a great melody in there somewhere.
– When I grew up I was a total Elvis maniac, and then in the eighties there was the new romantic wave, with Indochine, Alphaville and music like that. And then there was the awful metal period, which I'm trying to forget. I didn't like any of it. But towards the end of the eighties I discovered Depeche Mode, around "Black Celebration" and "Music for the Masses". And The Sisters of Mercy came along for the ride, almost automatically.
So, Sami likes electronic music, but the real fan in the band is Markus Mustonen, a Kraftwerk-fan, complete with a "synth" hairdo. Sami however, likes to play with the keyboards in the studio, and often try out guitar melodies on synthesizers first.
Moreover, he has produced an EP – aptly titled "EP" – for Mobile Homes. We're of course curious about how a guitar player in Sweden's biggest band ends up working with a quite small synthpop band, although they have worked with celebrities before (like Karl Bartos).
– They called me and asked if I wanted to produce, because they wanted to make a guitar record. But I wanted to make an electronic album! They wanted to make a kind of Smashing Pumpkins thing, and we had such a war over this. I didn't know what they were doing. I guess we found something of middle ground on that EP, but now I've convinced them to let go of the guitars and focus on electronic music, which is what made them popular in the first place, Sami says as he re-positions himself in that comfy couch of his.
The majority of Mobile Homes now play in the project Sapporo '72, and they make poppy electronic music in the very narrow genre which we can call "Kraftwerk". Apparently the band is aware of the similarity to the German quartet and laughs at it, says Sami with a smile. He also says that there's talk about a record deal for Sapporo '72, and that the album might be mixed in Kent's studio.

Dressed in black
The theme for the latest album is death, and the colour black is prevalent in all the band's imagery, especially these days. This is to separate it from the white-themed, happier last album "Vapen & ammunition" that sold over half a million copies in Scandinavia, and culminated in a concert at Stockholm Stadium with a huge audience of over 30 000 totally clad in white.
– We didn't expect that so many would actually show up in white, Sami laughs. It was just a joke! We were sitting in the rehearsal studio when the booking company came in and we started joking about parties with dresscodes, and someone said "we should print 'dresscode: white' on the posters!". Then we didn't really think about it anymore, until we saw the actual posters! When we came on stage and realized that everyone actually wore white, well… that was the best part of the show. We just stood there with open mouths throughout the entire concert, wondering what went wrong...
So, do you expect people to show up in black this time around?
– Hehe, that would be so damn cool! I heard that Gyllene Tider (another big Swedish band) tried something like that with red clothes, but it didn't work out. I guess red clothes makes it harder. Black or white works better, but maybe we should try chicken yellow or something, haha.

Skeleton in the closet
Our time is quickly running out, but our conversation drifts towards old synthpop favourites, and Alphaville's concert at the Stockholm Tinitus festival last year, where they played a reggae version of "Sound Like a Melody". Sami laughs and tells me that they were rehearsing a reggae version of the old Kent hit "Kräm" when they were too fed up with it, thus ensuring that no one would want to hear it again. I wonder if that was what Marian Gold was after as well? Anyway, luckily for us someone stopped Kent in time.
On my way out, Sami proudly shows me a big skeleton given to them by their booking company. It fits well with the dark studio, and after saying goodbye, my eyes hurt from the light coming from the warm spring sun outside. As I walk through the calm neighborhood, I wonder if the kids in the nearby school know that their idols are just around the corner?
Read more
After a failed search for a new Skinny Puppy front page image for our interview, Kent was chosen for cover story of printed Release issue 1/96. Martin Söderström met Joakim Berg at a swimming pool complex.