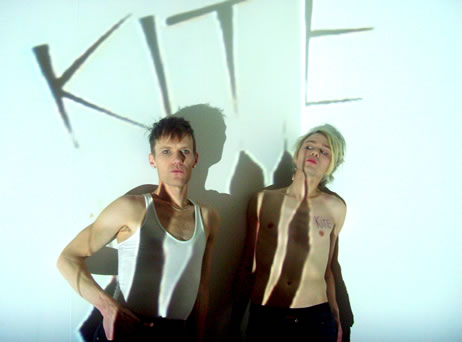 Photo by: Jenny Farida Thåström
KITE
rising electronic pop stars
By: Johan Carlsson
Published: December 16, 2008

When I first heard Kite I was blown away by their sound. Eerie and otherworldly vocals singing beautiful melodies over bubbly analogue synthesizers. I thought it would be best for all of us if you learned more about them. Let's take a quick, first look one of the really promising electronic pop newcomers out there.
After the superb first four track EP, released this autumn on both CD and vinyl (!) on Progress Productions, the duo is working hard on new material in their home studio in Stockholm.
Kite's not like other bands so they don't plan an album anytime soon. Instead, another four-track EP will be released and it might be followed by a third EP before the debut album sees the light of day.
It's difficult to figure out exactly what the mysterious Kite men are planning, but one thing is certain: they do plan. They carefully think about everyting from every single word in their lyrics to the record cover's fonts. Kite's a full concept. When asked about the direction of the new material, Christian says:
– We would have liked to answer that it is darker and harder, but at least on the coming EP, it's rather the opposite. Maybe the next EP will be pitch black though.
– We want to clarify and enhance the things that we are good at, Niklas elaborates.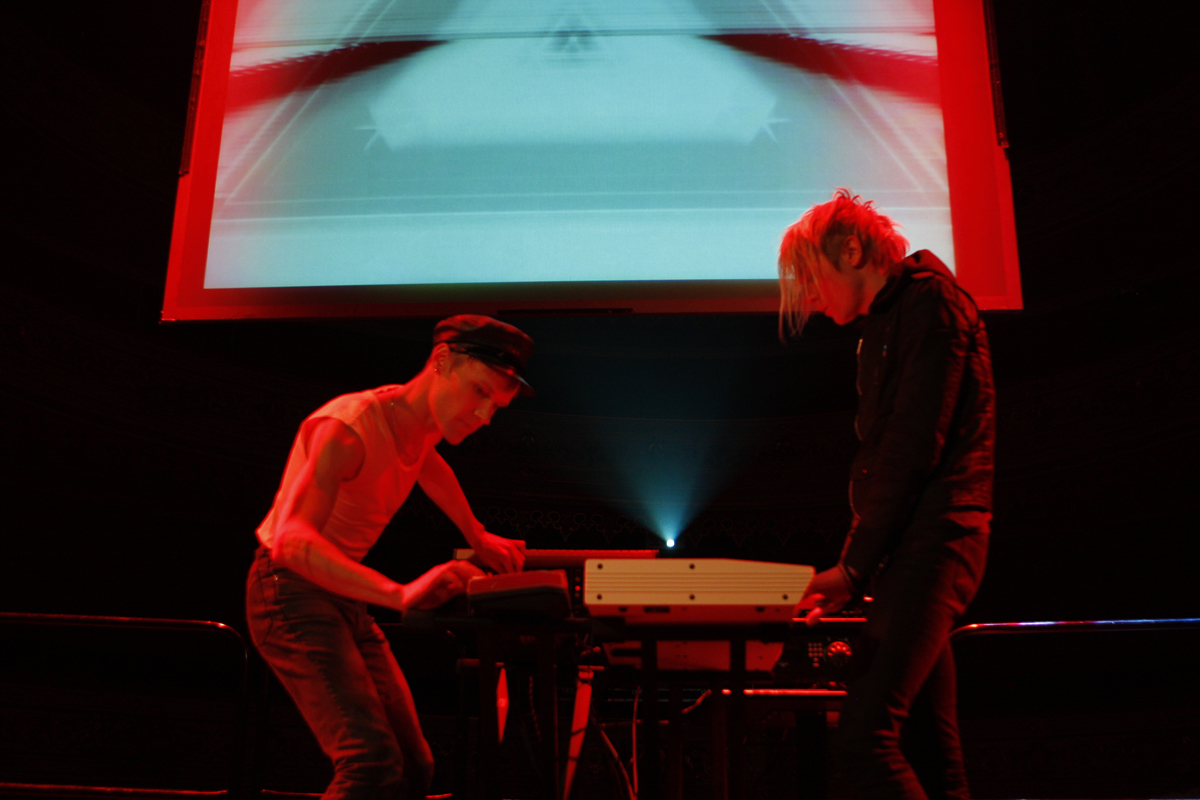 Photo by: Fredrik "Schlatta" Svensson
Both Christian Berg and vocalist Niklas Stenemo have been active in the Swedish music scene for a long time before they hooked up and started Kite. They actually met for the first time ten years ago, but it wasn't until Christian moved to Malmö in 2006 and started sampling the city's nightlife that they met again and decided to start making music together.
Christian is the electronica guy, having grown up with Howard Jones, Fancy and Ken Lazlo. In other words, the same stuff as me.
He admits to listening to a lot of more questionable music though.
– Yeah, that was the good stuff. I listened to a lot of crap as well. Like Troll, Magnus Uggla and some bad metal.
Christian grew up in a small town in the county of Småland and claims that there was nothing to do there except making music. Lucky for us then. He has played with The April Tears, Yvonne and Strip Music.
Niklas, in turn, has a more hard rock background, although he ventured into electronic territory as well. He has just completed a new album with his other band, Melody Club. He claims that he started making music because it always had such influence on him, and he had strong opinions about it. And since music came easy to him, making his own was no problem.
– We both bring ideas for songs, says Niklas about their workflow. Christian agrees.
– Everything starts with an idea that can come from any of us. Then we smash it into little pieces, and build it up again, and repeats three or four times. After that, Niklas lays down the vocals, and he also write the lyrics.
Even if Kite's still fairly unknown, they have received some raving reviews and are being played quite often on Swedish national radio P3.
Kite plan to play live as much as possible, on their own, before eventuelly hook up with a booking agent. They were picked to play at the Gothenburg Preview Festival in December, where the future stars of 2009 perform.
And as a totally random bonus info I can tell you that the name Kite symbolizes their love for other artists they admire such as Silverbullit and Kate Bush, but it's also a sort of wordplay on Christians nickname Kitte. So there.