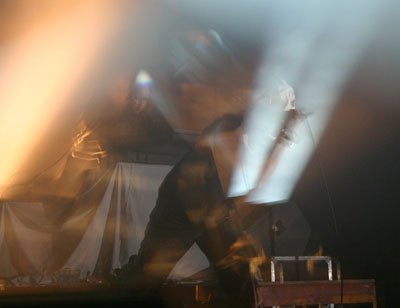 KLINIK
reunited EBM veterans
By: Karin Martinsson
Photos by: Sören Jensen
After almost 14 years of absence from the stage, the legendary EBM-band The Klinik recently made a comeback with the original members Dirk Ivens and Marc Verhaeghen. The stage chosen for this unique moment was the Belgian Independent Music Festival in Antwerpen on December 27. Release Music Magazine managed to get an exclusive interview with the vocalist Dirk Ivens, also the man behind EBM projects Dive and Sonar as well as the label Daft.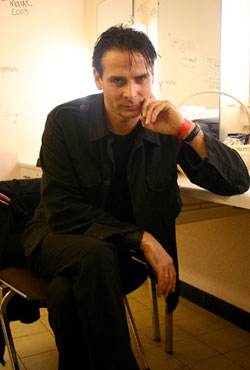 Dirk Ivens at the interview.
Older and wiser
It has been 14 years since the original members in The Klinik, Dirk Ivens and Marc Verhaeghen, performed together. Both of them are running their own projects now; Marc has continued the work under The Klinik flag and Dirk is active with Dive and Sonar.
- It feels strange to perform together again after 14 years… We are both a bit older and wiser, and we both have our own projects. It feels like a strange thing to do after so long, says Dirk Ivens.
The idea of a reunion is not new. Dirk wanted to do something already two years ago when the box with The Klinik was released. But after some problems with the mastering, the whole idea was put on ice. Until last summer, when Dirk and Marc performed at the same stage with their "new" groups at Wave Gotik Treffen in Leipzig.
- Well, Marc asked me if we could do something extra together there, but I was not prepared to do it. Instead, we decided to do an exclusive reunion at this festival.
I guess you have you been practicing together a lot for this concert?
- We almost never practiced in the past, and we have not been practicing for this concert either. So today will be the very first time in 14 years we are playing together. We always have the musical base, so we can practice on our own. There is no need to come together. We both know the tracks… So, we will see what will happen today, I am just as curious as you are!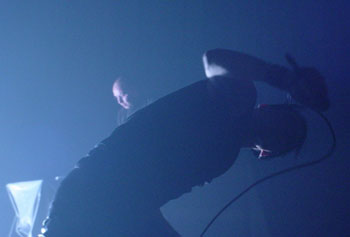 The band started with a tape
The history of The Klinik started more than 20 years ago, when Marc started the band together with three other people. But it was not very successful. Then Dirk came in.
- We made a home-tape together with some other bands, a tape that among others was much liked of some people in Norway who asked us to come there and play. So, we formed one group of four bands. In those days, we called our band Absolute Controlled Clinical Maniacs. Under that name we did three concerts in Norway but when we came back we thought the name was too long and we reduced it again, to The Klinik. Our first record came out in the right moment, in 1984. Front 242 and Neon Judgement were coming up, so I guess that our timing was just right.
And then I guess we all know the successful story that went on for six years. But then, Dirk decided to leave the band.
- We had been working together for six years and we both wanted to do something different. There was no progress anymore and we both wanted to do something different, on our own. I already had the idea of Dive in my mind - it was simply time to stop.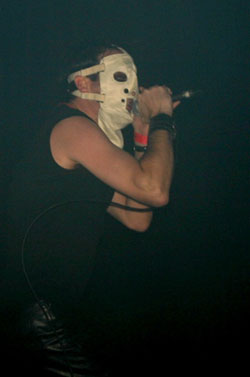 A unique concert
I guess many fans all over the world was hoping that this reunion concert was recorded to be released on CD, but sorry – The Klinik has decided to do something special only for the audience attending the Belgian Independent Music Festival.
- We want to do something unique. And it was not that long ago we released The Klinik's box that included a live recording.
And the chances for another reunion is, according to Dirk not that great:
- But I do not say never – it is a big word… If the gig today is a disaster, it is never, but if it is good, we will see.
What do you think of The Klinik of today?
- Today there is no singer and it is totally different music. But it is difficult to make the same music as we did 15 years ago. For us, it started 20 years ago and stopped 14 years ago. Quite natural, the music is different.
Do I have to say that the concert was brilliant? I guessed not. Among the songs that were played are the following: "Go Back", "Memories", "Sick in Your Mind", "Moving Hands", "Hours + Hours", "Sleepwalkin'", "Pain and Pleasure", "Lies" and "Black Leather". Some of these are hard and simple hits that may remain EBM classics forever.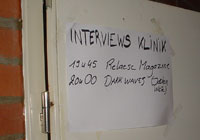 Read more

See our live report from the reunion gig here.
Read a Klinik album review here.