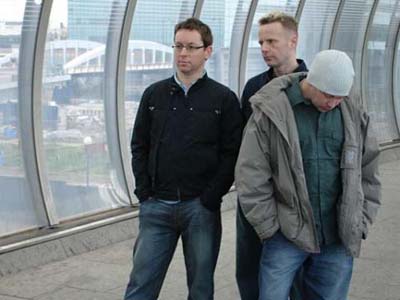 ON THE MENTAL SOFA WITH MESH
By: Johan Carlsson
Pictures: Mesh, Karin Martinsson and Mikael Kahrle
Published: August 21, 2006

This music journalist gig, it doesn't suck. On top of spending a great weekend at the Arvika Festival, I also got to have an interesting chat with the guys in Mesh. They're a lot jollier than their music hints at, let me tell you. With the new, brilliant full-length "We Collide" under their belt, the Brits are out playing it to the masses.
Rock the record button
I met Mesh backstage a little more than an hour before they were supposed to go on stage. They were running a little late, so another journalist was talking to them when I showed up, but shortly it was my turn to chat with the three Bristol lads sitting by a small rock, used as a table. I placed my MP3 recorder there, and pressed record. Or so I think, because I can't find my recording afterwards! Anyway, I wrote down as much as I could directly when I got back to my tent.
It was fun to talk to the whole band – Mark Hockins, Richard Silverthorn and Neil Taylor – at the same time, and they were all in a good mood.
We start talking about the new album, "We Collide", released this April. This time, Mesh brought in the mixing talents of Gareth Jones, a music industry legend that's worked with Erasure, Depeche Mode, Einstürzende Neubauten, Nitzer Ebb, Nick Cave and many more. He didn't produce the album, but I have a feeling he influenced the sound quite a bit. Neil tells about the experience.
– He's a really nice bloke. He could tell by our body language when we weren't happy with a mix, haha. He's very honest, and will always tell us what he thinks.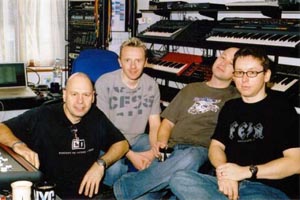 Gareth, Richard, Mark and Neil.
Assemblage 23 cover
The work on "We Collide" has taken quite some time, because of label problems. Mesh switched from Sony to the smaller Koenigskinder Records. They also signed a major publishing deal in USA, and they're back on Memento Materia in Scandinavia, the label that first signed them when they started out. Mesh released their first CD in 1997: "Fragile".
– Sony is a good label, but they're only in it for the big money, Mark says. We have almost the same people working for us now, but we have a new distributor. Hopefully, our records will be more available.
Speaking of records, Mesh has a brand new single out, a double A-side with "My Hands Are Tied" and "Petrified" from the album. Richard tells me a bit about the release.
– Well, there are some more dancey versions of the songs on it, and a cover of Assemblage 23's track "Document".
– We have actually had a lot of radio play in Germany with this single, which didn't happen with "Crash", Neil fills in.
What about the cover version?
– The cover happened a bit by accident. I made an acoustic demo of it, and discovered what a great song it was, Mark says. I like the meaning of the lyrics as well; kind of "I made my mark on the world, and this is what I leave behind". So we made it into a full track.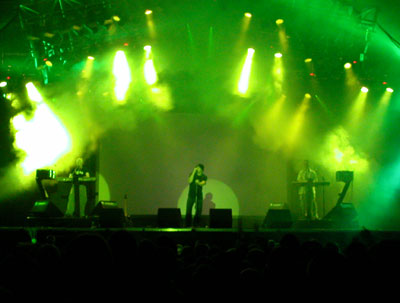 Playing the biggest stage at the Arvika Festival in 2003.
Photo by: Mikael Kahrle
Where's the big break?
Despite making catchy pop songs that could appeal to the masses, Mesh's big break is yet to be seen. I ask whether they're happy with where they are as a band.
– Yeah, well, pretty much. We feel like we're getting bigger and bigger with each album, relates Mark.
Would you say you are a bit hindered by your genre?
– That is probably true. A lot of people won't listen to us when we're pigeonholed into the electronic genre. We get that a lot.
Mesh use more guitars and real drums on the new material, and that might help bring in new fans, perhaps. Still, they headlined the biggest stage at the Arvika Festival already in 2003. Even though not all of the 16 000 festival goers watched them, it was a huge crowd to entertain.
– Haha, yeah we were really surprised too, laughs Neil. They must have gotten the wrong band! But it was amazing.
Is that your biggest gig ever?
– Hmm, no I think we played for about 18 000 people opening for The Cure in Germany once. But Arvika was really big. However, once you get over 10 000, it doesn't really matter any more. It's just a huge mass of people.
Can you work full time with music?
– Well, we used to be able to do it, when we had "the big record deal". Nowadays we have to do other stuff as well. Pay the bills, and eat, Neil begins.
– We all have families now, so at a certain point you need to get a steady income. If you're a student, you can live like this forever, but we can't, Richard goes on.
– You need to make a lot of money to live comfortably and to know that you can retire. You can't just live on selling merchandise, says Mark.
– You'll have a lot of T-shirts though, Richard guffaws.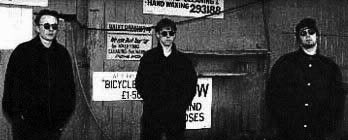 Mesh in the early days.
Therapy?
All three of them seem to be upbeat, easygoing people. Which is why the dark, angst ridden lyrics seem to contrast with them. Mark explains.
– The lyrics are a kind of therapy for me. I just need to get some stuff out. It's like a psychiatrist.
A kind of mental sofa?
– Hehe, yes, that's it, says Mark.
– That's a good phrase! We should use that!, Richard laughs.
Hey, I want 50 percent!
Laughter ensues.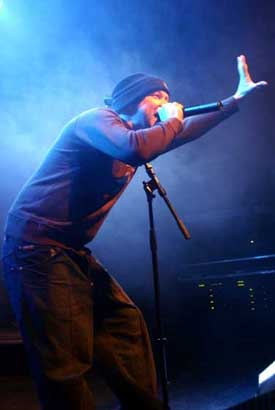 Mark, on stage at SAMA 2004.
Photo by: Karin Martinsson (Release)
Tragic double murder
"Can You Mend Hearts" on "We Collide" are about widely reported killings of two 10-year old girls in the UK 2002.
– Well, it was in our hometown and it just really got to me. I have a family myself and it was a really big story. I needed to let that out somehow.
That mental sofa seems to be working well for him.
So what do they listen to these days? Any influences? Neil starts off.
– Well, Madonna's latest was good, I thought.
– I still listen a lot to Radiohead and Manic Street Preachers, Mark continues.
– Thing is, with all the bands in our genre… we sort of know all of them, Mark explains. Like Covenant, Apoptygma etc. I like their latest album actually. A lot of people are saying he sold out and went crap, but I don't think so.
Yeah, I feel he's always made pop songs, he just changed instruments.
– Well said, Richard agrees.
– Yeah, he's always made good songs. I also hope to see Covenant playing here later tonight, says Mark.
Finally, what's with the hat Mark?
– Umm, I just started wearing hats some years ago, and it sort of stuck. I don't want to expose my scalp to the audience, hehe.
With that, we rise up from the grass. My feet have gone to sleep, and I stumble away, while Mesh go get ready for the show.
Read more:
Release "We Collide" review
Browse the review archives to find more Mesh reviews.
Old print issues of Release also contain Mesh reviews, short stories and interviews.
AD: ORDER MESH CD:S FROM MUSIC NON STOP