MESH
- the end was close
By: Niklas Forsberg
Photos by: Dirk Eusterbrock
Published: November 14, 2009

2009 has been a very strong year, considering most of the big electronic acts have released new albums to the world. Mesh are no different, bringing us "A Perfect Solution", a first in several ways for the popular Brits. We follow up our big 2006 Spotlight by asking them a few questions about the new album, the loss of a band member and the future.

Starting afresh
"We Collide", the band's last album from 2006, hurdled the band across the globe to promote and back it through concerts and PR work. Richard Silverthorn tells us about how it felt to start work on "A Perfect Solution".
- It is always difficult to start something new, as it seems such a big task to write a whole album. "We Collide" was also so well received you do tend to doubt whether you can better it. Our aim is always to try and create an album that will raise the bar from the last one. We never had a specific idea of how it was going to sound but we wanted something that was a little darker and with more energy. "We Collide" was quite a commercial sounding album, almost poppy, so we wanted to try and combine that with an edgier sound.
How did you want "A Perfect Solution" to sound in the beginning and has it transformed during the recording process?
- I think we wanted it to sound more gritty and raw and we kept that in mind during the recording process. We obviously didn't want to take it too far and alienate our fan base, we just wanted to add a new energy whilst keeping our sound. I think we have managed to strike a balance between the two.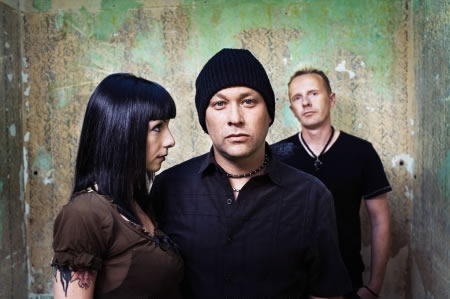 Has it been a substantial idea to take the Mesh sound more into the "mainstream"? Do you think it is vital for a band from the electronic scene to take this step?
- I think it is not necessarily vital but if you want to get recognition then the mainstream is where it is going to happen. Every band wants fame and to be able to sell thousands of albums, that is just human nature. To me, mainstream means popularity and recognition and if we can achieve that I would be a happy man. For us the ideal situation would be commercial radio play and the ability to fit into the dark electronic scene at the same time. The Prodigy, Placebo and Muse are all bands that do this easily but it is a big challenge for someone like us.
Losing Neil
In the aftermath of the last album one third of the band, Neil Taylor, suddenly decided to quit Mesh, leaving Richard and vocalist Mark Hockings to ponder whether or not to continue with the band.
- Neil decided he wanted to leave after the first leg of the "We Collide" tour. Looking back I think the reason behind it was that Neil's role within the band was the business/admin side of things and his musical input was very little. I think eventually he stopped enjoying it. Playing live was always an exciting time for Mark and myself because it was showcasing songs that we had written but for Neil it was different. To be honest we both felt let down by his decision to leave at what we felt was an important time for the band, but perhaps it was the right thing. It is a new chapter for us.
Has the dynamics changed within the band with Neil gone?
- At first it all felt a bit odd but I think it made us more determined to make things work. We found ourselves doing jobs we'd never done before and a lot more admin jobs, but it has been a good learning curve for us. There is also less compromising these days as both Mark and my ideas and goals are very similar.
Were there ever doubts about carrying on with the band?
- Oh yeah! Initially Mark and I weren't sure if this was the end of Mesh or not. We both went away and thought long and hard what we wanted to do. We soon came to the conclusion that we wanted to take it further. The band had been such a big part of our lives that we wouldn't know what to do without it. Expressing yourself through music is a good release of pressure, so I'm sure we would go mad without that.
Touring and the future
One might wonder if the lads will take their new album out on the road as extensively as they did the last time around?
- Starting in November we are doing a European tour lasting three weeks, then taking a break for Christmas, then I am sure there will be additional dates added. There are already dates confirmed for Russia and Spain in the new year. We are really looking forward to getting back on the road and playing the new material. We have a few new tricks up our sleeves for the look and feel of the show. We like a challenge!
Will there be more single releases from the album?
- Yes, there is already talk of a second single, but it is all down to time at the moment. We are at present sorting out everything for the European tour so perhaps as soon as we've finished we can concentrate on a second single. I mean there is no reason now why they couldn't just put out a single with loads of mixes but that just isn't what we like to do, we would rather offer something new on the B-side or something exclusive which will require our input.
Is Mesh a full time job these days?
- At the moment it really does feel that way. We are lucky in as much as that we can both dedicate time to the band and get paid for what we do, so it is kind of a part time job as well as our other careers. Recently I have been doing more for the band than in my other job so the balance has swung the other way. In some ways it is better like that, we both love the involvement in the band but it is nice to be able to step away from it occasionally.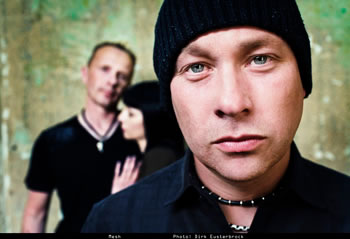 This and that
As Mesh have collaborated and worked with many different acts in the genre, it might be interesting to know more about what bands they like themselves. Rich tells us.
- There are quite a few talented and favourite bands in this scene. Over the years some have become very good friends of ours. To name a few Apoptygma Berserk, De/Vision, Kloq, Iris and VNV Nation who we have known for years, from right back when we all started. Other bands that are making good music are IAMX, Nitzer Ebb, and the big boys like DM and Nine Inch Nails.
So, one last question. Is there one particular song you are more proud of than others? One where you felt that everything clicked?
- Yes, all for different reasons though. When we wrote "Not Prepared" I literally bashed out some piano chords and Mark came up with a lyric, it was almost that quick. Over the years it has become a fan favourite, I just wish we could write them that easily every time. There are others because they remind me of the time when we wrote them. On "A Perfect Solution" the song "Who Says" came together very easily, I think we both know when it works without having to say anything to each other.
So, it remains to be seen just how far "A Perfect Solution" will take the band and if a band from the electropop scene can take it to the next level. As there are numerous potential "mainstream" tracks on it, don't be all that surprised if we see Mesh on talk shows and huge concert stages soon.