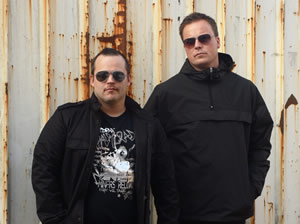 The state of Michigan
By: Niklas Forsberg
Published: February 15, 2008

The third Michigan album, "Pulse of Pain", has opened up a few new doors for the Swedish electropop trio from Memento Materia. German label Infacted Recordings helps promoting Michigan in the promised land of electronic pop music. We decided to have a quick chat with song writer and ballad singer Jonas Öberg and main vocalist Peter Ehn about the new album and what comes next. We learn that a new EP is in the works.
New directions?
Michigan began their professional career through the "Quest for Fame" contest, where they landed a contract with Memento Materia. Three albums, two singles and countless compilation contributions later have seen the band firmly establish themselves within the synthpop field.
"Pulse of Pain", a slightly darker journey than previous efforts has just been released. Last autumn also saw them tour Germany together with synthpop veterans De/Vision.
What did you want to change or enhance with the new album?
– We wanted to expand the depth of the songs further and we were determined to use Peter's vocal capacity better than before, Jonas Öberg says. We are also always searching for ways to enhance the overall atmosphere of our sound, he adds.
Walking suspiciously close the their mentors Depeche Mode, there is no denying the fact that this statement is true. Peter Ehn whispers, screams and everything in between and there is certainly something less immediate about the songs on "Pulse of Pain".
– Usually when I write a song I use a simple beat and a bass line to get going. The rest, melodies, chorus and lyrics, sort of comes along by itself. So far the song writing has been rather painless, thankfully, but you never know how long that feeling will last, says Öberg.
Turning the darkness around
The common lyrical staples of the synthpop field in general consist of rather trite cliches about lost love and daunting, painful struggles. Michigan have tried to move away from the formula this time around.
– An overall theme lyrically deals with the ability to capture and appreciate the bright moments in our dreary existence. This can, and should, be done, Jonas emphasizes. There is quite a bit about human interactions on there, too, though. Musically we wanted to sound distinctly more modern with the new material, he continues. At the same we did not want to lose the trademark Michigan feel of good melody, great vocals and nice sounding bass lines.
Like a few other bands in the genre, Michigan are spoiled with two good vocalists. In true Depeche Mode fashion, Jonas Öberg's tender emotion encloses most of the ballads while Peter Ehn's power handles all types of tracks.
– It comes totally naturally when we are deciding who sings what songs. There have been a few occasions where we both have sung a track to see whose voice fits best, Öberg explains.

Different backgrounds
What kind of music have you ejoyed during your teen years? Italo disco and synthpop like me?
– Well, I listened to all sorts of music, but I guess mostly acts like Depeche Mode, Erasure, Kraftwerk and Howard Jones. Italo disco is part of my past. The Beat Box' (Swedish Italo label in the eighties) music was very strong, Jonas remembers. Peter was more into rock and heavy metal. His favourites included Rod Stewart and Mötely Crüe. Nowadays we all like bands in our genre and related genres, like De/Vision, Iris and Marsheaux at one end and Killers, U2 and Marilyn Manson at the other.
There is more than a fair amount of rock shading the tracks of "Pulse of Pain", more so than on any prior release; making it grittier, darker and possibly more accessible to the general music buying public.
It has taken some time, but I have come to find out that I am not the only sports enthusiast operating within the electronic music territory. Jonas reveals a burning passion for football (no, not American football, soccer!).
– We love football! Personally I prefer AIK (Swedish team) and Liverpool, while Peter lives and dies for the less talented Djurgården (another Swedish team from the same region as AIK) and Tottenham, laughs Jonas. Peter also manages a junior football team here in Sweden and he loves it!
So, there, something to fall back on if the career stagnates. The recently completed tour of Germany will probably increase Michigan's odds for a healthy life expectancy, though. And as a new remix EP is in the works for the summer, we can only hope.
Read more:
Release "Pulse of Pain" review