---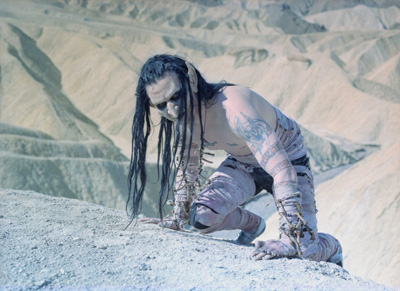 The one and only MORTIIS
By: Kalle Malmstedt
Photos by: Anna Kallberg
They say he killed his mother, lives in a cave and practice human sacrifice.
The rumours surrounding him are many.
The truth is simple. He is both Norway's dark lord Mortiis and Håvard Elefsen. And quite pleased with it too.

Doctor's orders
When Release Magazine gets hold of him over the phone, he explains that he's not always been that pleased.
- The latest album, "The Smell of Rain", came in to being when I was in a special mental state, wasn't feeling very well. Depression, you could call it. I am a bit reluctant to use the term, it seems that everyone is depressed at the moment. But yes, I was depressed, he says.
And it is that depression that has coloured everything about the album - from the lyrics to the name.
- It's all about symbolically wanting something so bad you can almost smell it, falling into a depression, trying to figure out why you went there in the first place - whether it's from the inside or the outside, how you try to deal with it and how you get away from it, Mortiis states.
Dealt with it he has. Mortiis tells Release, the making of "The Smell of Rain" was just what the doctor ordered.
- Yeah, you could say it was somewhat therapeutic, he says on the line from Norway.
- But problems with depression aren't new to me. I have suffered this since I was very young.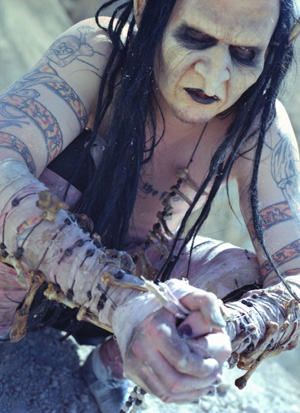 A human being with hideous exterior
The character or persona Mortiis has been with him since his time in metal act Emperor. At first, with Emperor, Mortiis had a bit more black metal accessories, but has since become increasingly human.
Up until now Håvard has been reluctant, to say the least, about showing himself without the costume and make up.
- But now I am at ease with it. I am Mortiis and Mortiis is I. We are inseparable. But I would not be afraid to show myself without the mask for the media nowadays, says Håvard.
"The Smell of Rain" is also unmasked, as Mortiis uses every song to describe his personal feelings. For example "Parasite God" is a song about alienation, "Smell the Witch" a song about childhood fears and "Monolith" a cry for help, or as Mortiis himself has stated on occasion:
- It is based on the realisation that I am just a human being with a hideous exterior.
Hideous exterior is nothing that comes to mind when listening to the nine tracks of "The Smell of Rain". Where the breakthrough "The Stargate" from 1999 was explicitly ambient with clear roots in the tradition of music like Enigma, "The Smell of Rain" takes those roots one step further. Several steps further actually, when Mortiis takes the ambient roots and lets them mate with his long time love affair with the electronic darkwave movement.
- I have been listening to, and loved, bands like The Sisters of Mercy, Skinny Puppy and Nine Inch Nails for a long time. Especially Nine Inch Nails and Trent Reznor have been very important to me, says Håvard who, as Mortiis, now also have assumed all vocal duties on the new record.
- There were several reasons for this, but the main reason for considering lead vocals in the first place was the nature of the songs. Their whole structure and layout is very rock, it just calls for lead vocals. And there's this strong visual side to me as Mortiis and if someone else was going to do lead vocals when it came to doing the live shows it just wouldn't work, he says.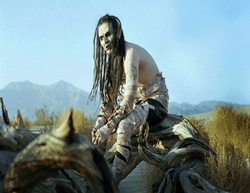 Band in three countries
And live shows there are going to be - right now actually. Mortiis band is spread over three different countries and it has taken some time to put everyone together to rehearse, but now they embark on Mortiis first ever full-scale tour with a band, with The Crest as a warm up-act. Mortiis and Crest will be playing throughout the whole of Europe during the spring, but mainly in Germany. The tour will end in Sweden in late April.
The problems with band members in different countries, by the way, forced Mortiis himself to leave Norway a while and go to Sweden were he actually lived some years ago.
- Yeah, I was with this girl and she was Swedish, so I lived in Halmstad for a few years, Håvard explains.
This time it was not a girl that lured him to his neighbouring country, but a keyboardist who lives on the west coast with whom Mortiis prepared a part of next years live performance. Keyboards are nowadays a great part of Mortiis' music, which was not the case a few years ago.
- Some people expect me to sound like in the days when I was playing with the black metal band Emperor, Håvard says.
Well, he does not, and he doesn't sound like in the days when he quit Emperor either.
- Nah, those records make me embarrassed. They sound like crap! Håvard says.
Or is it Mortiis?
Probably both.

---