Mr Jones Machine is a brotherly affair, with Jouni and Jarmo Ollila, together with Magnus Lindström. With a rich background in the Swedish electronic scene, they now work together to make an electric retro voyage in the form of their debut album "New Wave".
Daily Planet and Pouppée Fabrikk
You might already know that two of the members of Mr Jones Machine have been involved in several well-known (in Sweden at least) projects before. Jarmo made one of the best Swedish synthpop albums ever with Daily Planet's "The Tide", and has also been in La Vogue. Jouni played with hard-hitting industrial act Pouppée Fabrikk and made some landmark recordings in the nineties, while also working with Spetsnaz member Stefan Nilsson in the cover band Volvo 242.
- Me and my brother have always talked about doing something together, and when Daily Planet and Pouppée Fabrikk ended, we wrote some stuff, says Jouni. We started out slowly, trying out ideas before it began to sound really good. When Magnus joined in 2003, we really speeded up.
Magnus is not as well known as the brothers, but has worked with music in "his bedroom" so to speak, for a long while.
- I tried playing in a couple of constellations a long time ago. However, the phenomenal invention of the portable cassette mixer replaced the musicians and I started making music on my own. Those recordings were buried with the intention of re-doing them at a later stage. A third attempt a couple of years ago resulted in a number of recordings, some of which could be heard at Romo Night on some occasions.

In the closet
Mr Jones Machine make elegant retro-styled synthpop, which is quite a big leap from Pouppée Fabrikk's onslaught of basslines, guitars and beats. Of course, I had to ask Jouni if he has been a closet synthpop fan all along.
- Well, synthpop was the first thing I listened to as a youngster. The harder stuff came later on, so you can safely say my biggest influences came from the early electronic wave. So I'm not an EBM guy going soft, rather the other way around. Mr Jones Machine is the kind of music I've always wanted to do, but never got around to.
- My brother and I come from a musical family, with everything from accordions, electronic drums and weird home built devices, so music has always been present.
- Playing with my brother works like a charm, says Jarmo. We had all our fights in the seventies, so we have kind of put all of that behind us. We're like buddies now.
- Hehe, yes, Jarmo has stopped stealing my toy cars now, so we're cool, laughs Jouni.






Jarmo, Magnus and Jouni.

Noisy chords, begone!
It's pretty obvious that these three lads have a fascination for old-school synthpop, because they grew up with it. They listened to Jean Michel Jarre and Kraftwerk during the seventies, and later on when The Human League, Ultravox and all the others reached Scandinavia with the British new wave, they were hooked for good. They explain:
- It was really something new at the time, and it broke all the conventions of guitar rock and pop. Not only in the use of the synthesizer as main instrument, but it was also a new sound altogether. There was something suggestive and magical with the rhythms created by the sequencer. And there was the "synth lead", a pure melody played on note at the time, instead of noisy chords!
Mr Jones Machine got their name from a song by Swedish new wave band Adolphson & Falk, from their 1982 album "Med rymden i blodet". The song in question is called "Mr. Jones' Maskin" (maskin is Swedish for machine) and on the English version of the album, "From Here to Eternity", released one year later, the song is not called "Mr. Jones' Machine" but "Just a Machine".
New music doesn't seem to go down as well, and they claim that the Swedish scene pretty much started to suck when Elegant Machinery called it quits. Speaking of the scene, the Swedish synthpop mecca seems to be around Gothenburg for some reason, which is where two thirds of the band lives. Jarmo and Magnus can usually be spotted in the bar or at the dancefloor of Romo Night and there is no doubt these guys are truly in love with the synthpop tunes of old.
- Skåne was the synthpop nest for a long time during the nineties, but when Tobbe and Tony started the new romantic club Romo Night in Gothenburg in 1996, Gothenburg was placed on the map as the capital of synthpop. Stockholm is better these days, but they have a long way to go before they reach our level, says Jarmo.

Absolute hits - not
The album "New Wave" was recorded in Karlskoga, Sweden, in Jouni's studio. The vocals were recorded in Örebro, assisted by Spetsnaz singer Pontus Ståhlberg in his studio. Since Magnus and Jarmo live in Gothenburg, they made so-called "pre-demos" there, and then sent them to Jouni. The album was then completed in Jouni's studio, with everyone present.
- We started working with the album in 1998, and slowly shaped our sound. We did a couple of gigs to test our material, to see if we were walking down the right path. "New Wave" was completely finished in the spring of 2004, and we began our search for the right label. Most labels wanted us to write "hits", which is a shame. It's way too easy to write happy hits, no challenge at all. So, it was natural for us to work with newly founded Progress Productions in Gothenburg, as we spoke the same language. It's sad that the small synth labels have started to think like the big ones. They don't have the resources or contacts anyway, so it's a bit like throwing your money away. That said, it might work… But why write hits?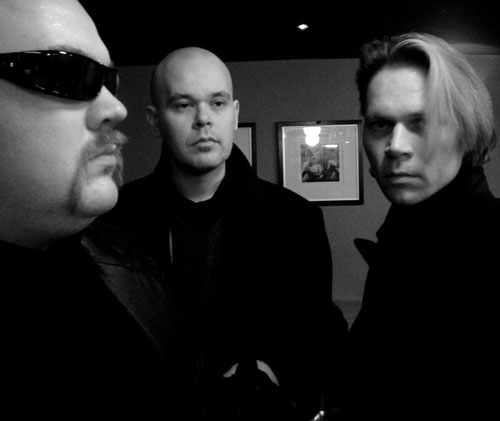 Splatter!
The title track of the album sticks out a bit compared to the other songs, and even though the band members claim they don't have a favourite song, it seems to be close to their hearts. Here follows a jumbled story of how it came to be: The three of them were sitting in the studio, and Jarmo was presenting a couple of songs, while Jouni was criticizing them. The lyrics for "New Wave" that Magnus had written was lying on a keyboard and Jarmo continued to struggle away with the string synthesizer. Then suddenly you could hear Jouni scream "I'VE GOT IT!". He put a "blues 12" in the Atari (sic), and gave the lyrics to Jarmo. Two minutes later, the song was finished, seemingly out of nowhere.
Jarmo, Jouni and Magnus will concentrate on promoting the new album for some time, with gigs all around Sweden. Some festival gigs might creep in as well, and some smaller gigs to keep the public alerted to their presence.
One of their songs will probably be featured in a splatter movie called "Die Zombiejäger", which might not be what you expect from a smooth electropop band. New Mr Jones Machine products will come in due time, but they want to ride this wave first.