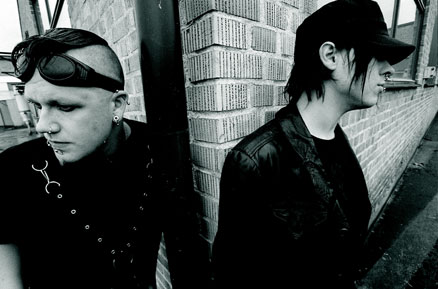 From the left Torny Gottberg and Mattias Werdenskog.
PROJECT-X don't play by the rules
By: Johan Carlsson
Photos by: David Elg
The Swedish EBM band Project-X has been successful so far, with several tours in Europe and the United States. Their latest album "Modus Operandi" has been a hit with many critics and fans of classic EBM, and the band is releasing a new EP any day now.
I sat down in a cosy café in Old Town, Stockholm, to talk to Mattias Werdenskog and Torny Gottberg about amongst other things fear of flying, remixing and kissing ass. They are an easy bunch, with Torny being a jovial fellow very close to laughter, and Mattias hiding under a big cap spurting out funny comments. Quite a long way from their dark and hard image.
Read on, we begin with a very fundamental question: Why are you making music?
Destructive creativity
- Hmm, music is a way of getting your aggressions out, says Torny. When you're angry it feels better to do something creative instead of going out and hit someone. It seems so pointless! We're more into destructive creativity.
Mattias elaborates:
- Yeah, I think we are creative people, and we are doing this kind of thing because we have experienced anguish in some ways. And anguish is fuel for creativity.
- There are many ways to express yourself emotionally, some people paint, others make music, says Torny. I have always thought it is tremendous fun to make music. I've been at it since I ways 13 years old, which is 15 years ago now. We don't try to change the world or anything. People should think themselves.
- I guess that's what art is all about, continues Mattias, the artist or the writer makes their piece, and then you get to interpret it your way. When you have your own interpretation of it, then it gets value, and it becomes art.
Mattias says he has a background in death metal, but has been fiddling with computers and found out that this kind of music is pretty interesting too.
- Since Mattias joined the band, we use more noisy sounds. He's the one who brings in most of the broken and distorted stuff, Torny explains.
- And after that I fall asleep on the floor, laughs Mattias.
- Haha, that's actually true, guffaws Torny. Then I will wake him up three hours later to tell him that the song is finished. Nah, I think we complement each other. I make more traditional EBM music, and he makes more industrial material.
- And actually, he's really hard to wake up in the morning, when you're in a hotel room.
- Hehe, yes, and I always forget things.
- True. Halfway home from a tour of Germany you can say, "damn, I forgot my mobile". Which has actually happened…
Mattias says that it's his job to remove stuff from the songs when Torny has added too much. This might lead to some heated discussions, but in the end they usually compromise or make two versions of the track, and then decide which one is the best one.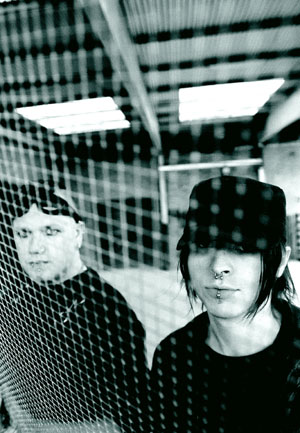 How Germans react to slam dance, fear of flying and other tales
The "Modus Operandi" album is out in Germany via Trisol and in Scandinavia on Energy Rekords. Torny works at Energy in Sweden's Älmhult. Älmhult is the home of Ikea and he is one of the few who doesn't work there. He says Project-X was signed to Energy before he was hired. Torny used to run the Swedish fanzine Sauna but no more. Mattias works as a designer at SVT, the Swedish Television, in Växjö. He has also used his skills and produced Project-X videos. Björn Lager is also a member of the band, and mostly acts like live drummer these days. He wasn't available neither at the interview nor for the photo shoot.
The response for "Modus Operandi" has so far been good.
- Yeah, Release is actually the magazine where we have gotten the lowest score, Torny points out with a smile. And you gave us seven out of ten! Zero Magazine gave us five out of five, which is too much really. It's not that good! But of course it's fun to get positive feedback.
Project-X have been working on "Modus Operandi" for a very long time, on and off. There have been times when they have started and something else has come in between, like a tour. With the finished records behind them now, they feel that they have come closer to their original goal of combining dance and noise beats. In accordance with their humour, of course they say that they are most satisfied with the hidden bonus track…
Touring is something that Project-X have been doing quite a lot, in USA twice for example. A new tour of Germany is in the works, and they have recently signed to a booking company, which is a new experience for them. Touring seems to be pretty eventful around these fellows.
- I was pretty drunk and slam dancing on a dance floor in a small German village somewhere, Mattias tells us. Unfortunately the Germans didn't know about slam dancing, and suddenly a big German stood in front of me. He kicked me in the groin, and then I don't know what happened. Anyway, he almost broke my foot, and I was limping for the rest of the tour.
- That's when you learned about "travel insurance", laughs Torny.
Being good friends with Covenant has resulted in Torny having the pleasure of standing in for Clas Nachmansson at Wave Gotik Treffen.
- It went pretty good, considering the small amount of time I had to rehearse! I sat in the dressing room with some small multimedia speakers and a colour marked keyboard. Their melodies is a lot more complex than you think. It was fun though, and I got to wear a suit, which is always a bonus. A funny thing was that a Belgian magazine had a big article about Covenant, with a lot of pictures from that show, and I was in half of them!
Torny has a big fear of flying, a thing that has become worse and worse over the years. So bad in fact, that he has a special paper saying that he is allowed to bring strong medicine with him on the airplane.
- Unfortunately, I can't use them when we travel in Europe, since the effect lasts for 12 hours. They make you totally apathetic, and remove all emotion. Luckily, on short trips alcohol works just as good! However that results in hideously expensive flights though. The trip only costs 1200 SEK, but the bar before take off costs 2500 SEK, haha.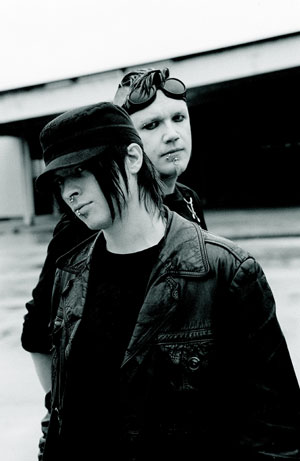 Truth or dare
Being an outspoken and sometimes brutally honest kind of guy, Torny has a bit of a reputation for being a troublemaker. He claims there's way too much asskissing in this business, and finds it better to actually say what he thinks instead of wussing out. Mattias gives his view of it.
- When I got to know Torny I sometimes thought he was a big prick, but after a while you figure out that you are still allowed to have your own opinion.
- At one time a band I know really well came up to me after a show and asked what I thought of it, Torny says. I told them it sucked, because it really did, and now they still don't want to talk to me. I guess you're not supposed to have an honest opinion. And I can almost be angry when I read some reviews of for example VNV Nation, Covenant and Apoptygma Berzerk. One just can't give them a bad review, because then you're marked forever. But my conscience is always clean because I have said what I think. Then again, I'm a bit more laid back these days, and perhaps I don't have to go into an argument with certain people. But you can't be friends with everyone.
The immediate future sees a new EP tentatively called "No Regrets for Staying Awake". However, it turns out that the title was something they made up in the spur of the moment while writing the news on their web page. A couple of new songs, as well as some new remixes by Lights of Euphoria, Icon of Coil, Dioxyde and Davantage. Regarding remixes, at least Torny nurtures a dream of remixing Björk, and claims he has been really close to remix Kent. The result might have sounded very interesting, but perhaps not as intriguing as the noise remix he says he wants to do of Rolling Stones.
As we walk out of the café he comments that the bun he was nibbling on was incredibly stale. He jokes about how the small bands get crappy pastries in here, and if Eskil from Covenant were here he would surely have gotten a fresh one. It's hard not to enjoy the company of these guys.