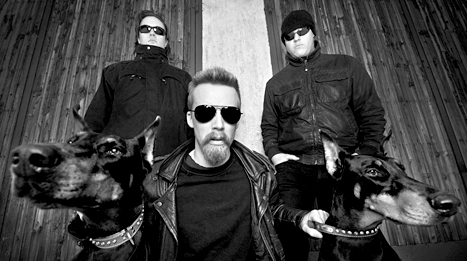 RAUBTIER
predators from the north
By: Johan Carlsson
Published: August 11, 2009

The debut album from Raubtier hit me like a rock earlier this year, and for a while I couldn't stop listening to it. The charming blend of brutally heavy guitar riffs, electronics and aggressive vocals in Swedish and German seemed to fill an empty place in the Swedish musical landscape. We decided to find out more.
Raubtier was formed a couple of years ago, but the three members Hulkoff, Thorbjörn (sometimes called Joey) and Buffeln - all brilliant rock star names of course - have been in other bands before. They reside in a city in Sweden called Haparanda, located far north close to the Finnish border. It's a macho society, and mostly heavy metal territory. Actually, I have noticed that Sweden becomes more and more electronic the farther south you get, with Malmö being the country's synthpop capital. But the cold north is perfect breeding ground for this testosteron industrial metal band.
A comparison with Rammstein is obvious, but I know Raubtier is a bit tired of hearing that. That description is just a start though; the Raubtier sound is more metal, with blast beats and guitar solos added. Hulkoff's hard, rasping Swedish lyrics also separate them from the rest, with the subject matter concerning life, religion and dogs. Yes, dogs. And psychopaths putting diesel in the drinking water.
Trying to understand this band is hard. On one hand we have the uncompromising music, and on the other hand we have the members themselves, often responding with their special brand of humour. You have to imagine these answers are given with tongue firmly in cheek. Singer Hulkoff works the forests around Haparanda, and they have an aura of "tough guys", drinking and reveling in the glorification of the grim north. Still, in interviews they seem to be humorous and easygoing fellows.
The amazing thing with the debut album "Det finns bara krig" (There is Only War) is that almost everyone I have played it to absolutely loves it. So we're all eager to hear some new material. Thus, I asked what happens next.
– We're going to release a single soon, and we're working like hell on new material. A lot of cool stuff will happen this fall.
The album is quite electronic, do any of you listen to this kind of music?
– Hulkoff listens to industrial like Laibach for example, Joey likes eighties synthpop and Buffeln enjoys weird electronic noises.
How long did it take to make the album?
– One week effectively, the rest of the time was spent doing shit.
What are you most happy about regarding the album?
– We're damn happy about the overall product, from the cover to production.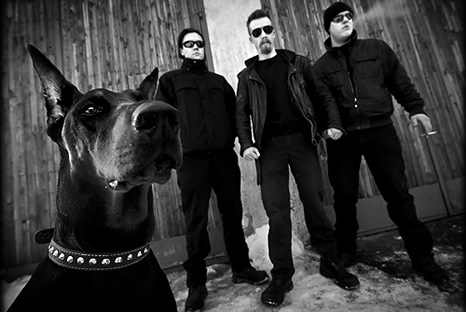 Two of the songs on the album are about dogs - "Kamphund" and "Dobermann", but no one in the band actually owns one. I just had to ask if only cool dogs could cut it. And what about cats?
– Well, hunting dogs are OK, and Joey is a cat lover. Two thirds of Raubtier however, are cat haters.
Imagine this being said with a big Swedish northern accent for full effect if you will.
Will you do like Kent now, and move from the small town into the big city? Or maybe it's easier to focus on the music up there?
– We're probably not moving.
In Sweden we often like to use German words if we want to sound aggressive and angry, and Raubtier is obviously no exception. The band name itself is German for "Predator", taken from the movie, and the song titles "Götterdämmerung" and "Achtung Panzer" sound distinctly teutonic. But does everything sound cooler in German?
– Everything does not sound cooler in German. Schnurrbart sure does not sound as cool as moustache.
So, there you have it. I'm very eager to hear what they come up with next, and hope they keep going in the same style, just being awesome.
Read more
Album review here.