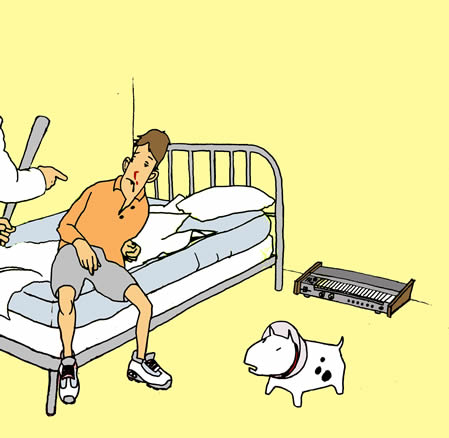 REX THE DOG
dance music for the synthpop crowd
By: Tobias Eliasson
Published: November 8, 2008

At first, Rex the Dog gained attention for his remixes of bands like The Knife, Depeche Mode, Client, The Prodigy and Röyksopp. He has also released a number of minimal techno singles on German label Kompakt. He says Daniel Miller, early Depeche Mode and how they got the most out of their basic equipment made him fell in love.
In September, the delayed debut album finally arrived through his label Hundehaus. And the result was well worth the wait.
We got the chance to ask some questions about his work, the album and the future of Rex the Dog.
How come that Rex started to make music?
– Hehe, usually people ask if it is difficult for a dog to make music and I have to explain that he doesn't really do too much actual studio work. The truth is that Rex arrived around the same time that I started getting into German techno records and concentrating on exploring really old synths. Something musically changed for me around that time, and Rex brought a fresh vibe with him that just became a part of this.
The thing that I find most amazing in your music is your special blend between old and new electronic sounds. What is more inspiring, the old or the new?
– Thanks! I think right now, for us, the old equipment is very inspiring, but particularly when used in conjunction with modern software. A big inspiration is new music, like when you find a new record with fresh melodies and surprises; it's a big reason to keep making records.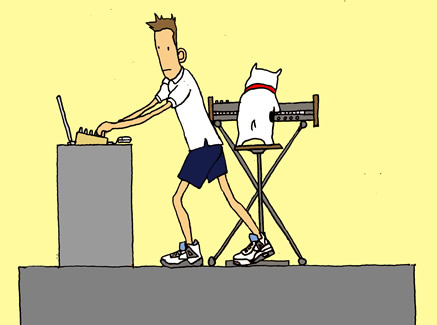 What is it that you find so stimulating in working with these old, analogue synthesizers instead of more modern machines?
– I had already used some analogue synths, and been quite excited by them before Rex arrived. But it was around the time that Rex came that I read about Daniel Miller and early Depeche Mode and how they got the most out of such basic equipment. I became kind of obsessed with finding some of the same equipment and when I really concentrated on how it worked, I fell in love. The digital side is still important because we like to slice and edit what we make with the analogue synths, but it is the warmth and surprises that the old synths give us that really please us.
Your first album is out now, after some delay, how come that it took so long to take the step from making singles to creating the album?
– It was really a case of being quite dissatisfied with the way our tracks sounded together when they were collected on one CD. We are quite impatient with a lot of "techno" albums. We are used to hearing techno in clubs, but at home only in quite short doses. I think it took us a really long time to find a balance between techno and pop, and it was only after many versions of the album that we found a direction that felt good to us.
The album is released on your own label Hundehaus Records, why did you take the step to start your own label?
– We originally set the label up so that we could release "Prototype" as a 12" in the UK a couple of years ago. We had always planned that our album would come out on Kompakt, but because we were so late all the time we hit problems with Kompakt's release schedule and so for this first album we decided to use Hundehaus again.
Do you plan on releasing other artists?
– No, this is not our plan. Hundehaus is just really a symbol for the things that we are making ourselves.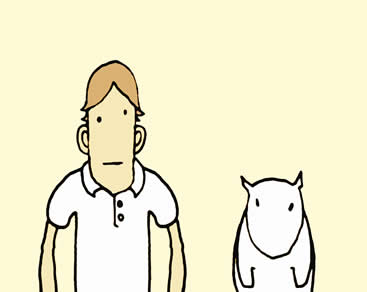 You have a unique visual style that you can see in all your works, why did you choose to work with this cartoon-like style?
– It was just natural I think. I think it represents the music better than traditional photographs. Drawing, animation and graphic art are big passions for me, and it suits me and Rex to present ourselves like this.
How come that you started to make remixes for other bands?
– The way it started was that we share the same management as The Knife and we were allowed to try a remix of "Heartbeats" which we did really quickly. We loved the song. It seemed to fit very well with us, and then after that we just got lucky and were allowed to remix several tracks that we loved, like "Photographic" by Depeche Mode and "Girls" by The Prodigy. It's hard after those opportunities, because now we are not really interested in remixing something unless we love it.
Do you have any new remixes that you are working on right now?
– Not right now. We are making extended remixes for our singles at the moment and also working with an animator on a stop motion video for "Bubblicious" which uses cardboard robots. So there is not much time for outside remixes right now!
What are your other plans for the future?
– Right now, it is to go record shopping. I go to Berlin this Friday (Rex will stay at home, sore point…) and I plan to come back with a bag of records!