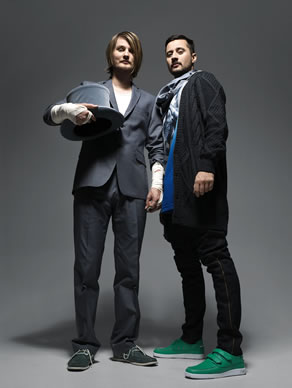 RÖYKSOPP EVERYWHERE
By: Peter Marchione
Photos by: Stian Andersen
Published: November 30, 2009

The Röyksopp phenomenon is an obscure blend of dance beats, ambient layering and Scandinavian melancholy. Almost a decade has passed since the debut "Melody A.M." hit the listeners of electronic music like a burst of fresh air. These Norwegian chaps managed to create electronic dance music cool enough for the fashionable dance floors but still far more melodic than most contemporary acts. The first mega hit "Eple" was not only suited for the dance hall – it also worked perfectly in living rooms, bed rooms, kitchens - and in television ad spots.
Their latest masterpiece "Junior" was released in February 2009, and this complex album featured guest vocals from Karin Dreijer Andersson (The Knife, Fever Ray), Robyn, Lykke Li and Anneli Drecker (Bel Canto).
Peter Marchione caught Torbjørn Brundtland in between albums "Junior" and "Senior".

Eighties synthpop
Röyksopp was officially formed in Tromsö, the home town of Torbjørn Brundtland and Svein Berge, back in 1998 but Torbjørn can tell us a bit more about the actual background.
– Me and Svein go way back since we met back in the late eighties, when we were about twelve. We quickly realized that we had a lot in common and were both into electronic music like Kraftwerk, Depeche Mode and Art of Noise. This interest eventually led us into club music. The fact is that we were pretty early into this kind of music. In Tromsö people were generally into other styles, Torbjørn Brundtland says.
So, how was your own music born?
– We developed a scene in Tromsö along with other musicians that generally were a bit older and had travelled abroad and brought home new influences from the UK and other parts of Europe. This is how we ran into breakbeat and drum'n'bass; music with the right energy for teenagers. Simultaneously we were also drawn towards music that is not dance orientated at all, like ambient. These two elements I believe are the backbones of Röyksopp's music - still today. We make dance music that has a bit of a deeper dimension underneath the surface.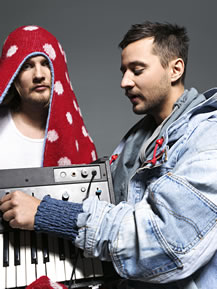 How is the music created, technically?
– We try to change the location where we write and record the music as often as possible. We generally only create about two tracks with the same setup and in the same room. We also toy around a lot with the instruments and the other equipment, sometimes mounting a synth in some odd position or angle gives a nice spark of creativity.
Do you write the songs with the electronic equipment or do you do it the old fashioned way with acoustic instruments?
– We do use the piano occasionally, Torbjørn says.
Tweed electronica
The album "Junior" was released earlier this year and we are now all eagerly awaiting the follower "Senior" which is supposed to be pretty different from the precursor.
– "Junior" was a straight forward dance album and "Senior" is more... senior-like. You know; music in the mood of pipe smoking while wearing a tweed jacket.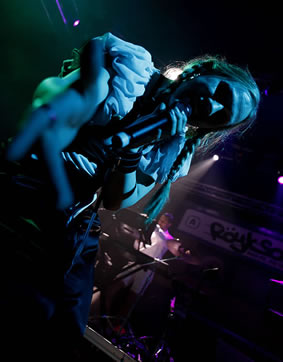 Anneli Drecker live with Röyksopp in Arvika 2009.
Photo by: Fredrik "Schlatta" Svensson
Röyksopp's live shows are a bit more entertaining than simply two chaps tweaking their laptops.
– The live approach has not been easier for us than for any other electronic band but I believe that we in many aspects have managed to connect with the audiences that maybe in general are rather sceptical towards electronic music. Our basic philosophy is that as long as we're enjoying ourselves on stage, the audience will too.
You're music is, obviously, sequenced so how much are you able to improvise live?
– About 50% of the music is played from backing tracks and some parts are locked. We do however bring physical synths onstage so in case of e.g. a laptop failure we are able to play around manually while rebooting. We also try to develop our songs in between gigs and reinterpret them so that they'll stay interesting even for us within the group. A fine example of this is the song "What Else Is There?" which lately has changed into something quite different, compared to the recorded version.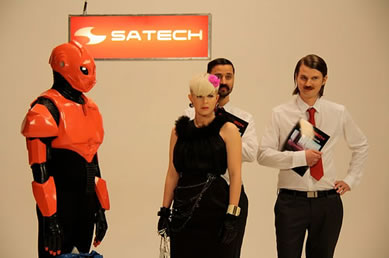 The robot, the girl (Robyn) and Röyksopp.
You've been working a lot with different vocalists, many of them Swedish. How much input do they have? Do you simply hand them pre-written vocal melodies for them to sing or are they allowed to contribute with their creative ideas?
– They have a great input! The artists we co-operate with all have their own musical universes that we are very glad to mix with ours.
Torbjörn now has to leave the conversation in order to get ready for tonight's show.
Röyksopp are just back from a short US tour. Their latest release is the new single "This Must Be It" featuring Karin Dreijer Andersson and remixes by Rex the Dog, Apparat, Thin White Duke and many more. The next album "Senior" was first scheduled for late 2009 but has no official release date yet.

Read more
"Junior" review.
Peter Marchione is ex-editor-in-chief of Swedish music technology magazine Musikermagasinet (MM) and plays music in Thermostatic, Love Is Not My Only Crime and Helm.

Photo by: Michael Strandtoft