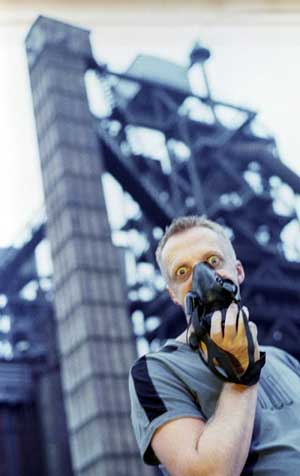 SUICIDE COMMANDO
breathe life into EBM
By: Peter Marks
Suicide Commando. A name known far and wide in the world of Electronic Body Music. For a long time, 37-year old Belgian Johan van Roy has brought his own brand of electronic misanthropy to the ears of countless fans.
The latest album "Axis of Evil" was released in October 2003 and a new single for "Cause of Death: Suicide" is on its way. Two "Axis of Evil" tours are complete but several important festivals lie ahead: SAMA, WGT, Zillo, Castle Party, M'era Luna and InFest.
There is no stopping this project's ascension. Suicide Commando has come of age and beckons us into a new age of EBM.
First contact
When I first bought a release by Johan van Roy the year was 1994 and his first CD "Critical Stage" had just been released by a fledgling label called OffBeat. The effect was immediate and resounding. I had heard his work on several compilations but the full impact of an entire disc's worth of such aural cruelty was powerful. Very powerful, indeed.
As time has gone by, this artist has built up a following that is the envy of many. The loyalty he commands is the result of years and years of hard work. It all goes way back to 1986 when van Roy began experimenting at making his own brand of EBM. Drawing influences from such acts as Front 242, A Split Second and, perhaps most enduringly, that "other" band from Belgium: The Klinik.
Using only a bare minimum of equipment, Johan releases his first works strictly on cassette. He begins playing live shows a while later and thus is the groundwork laid for the enduring success that he is now reaping after much time spent toiling in obscurity.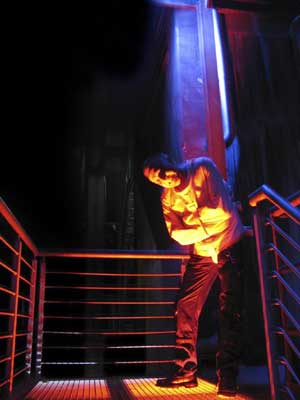 Emerging from the darkness
But if we go back to 2000, there was a very dark cloud on the horizon for the fans: Johan had begun talking of ending his journey under the banner of Suicide Commando. His reasons were varied but it was enough to alarm a lot of people who had only recently begun to enjoy his work.
– I just felt a little empty and tired after finishing the "Mindstrip" album, so all I needed was a break, he remembers.
37-year old van Roy can now look back at that period with some distance.
– I never intended to stop with Suicide Commando, simply because I can't imagine a life without my music and Suicide Commando. Music is way too important for me.
Politically minded
With this question answered in his own mind, he presses on and in 2003, Dependent Records released his new opus: "Axis of Evil". A highly evolved and compelling album. It is perhaps the most politically minded work he has yet done.
Having seen other bands embroiled in the morass that is the world of political statement, I ask him if he worries about a backlash from some of his fan base because of what he's saying this time around.
– No, not really. I just thought the whole concept behind "axis of evil" and the US policy against terrorism was way too important to ignore. Not that my music or lyrics will change anything.
I (a US citizen) press him a bit further as it is the duplicity of the Bush administration he seems to be hinting at.
– The arrogance from the US towards the rest of the world. The Iraq war, answering violence with violence, answering war with war, killing thousands of innocent people in Iraq, putting his own soldiers at risk, even claiming lies to justify his actions… In the end, what makes US president G. Bush a better person than those terrorists; or people like Hussein? I think he's as evil and violent as them!
With all the intricate production on "Axis of Evil", I wager that it will be a while until we see a new Suicide Commando, as it seems that van Roy is taking more time with his songs these days.
– I always do! After each album I try to take a break, do some other stuff instead like remixes. I think it's very important to have a bit of a distance to your music before you start working on new material, van Roy, who also works for a logistics company, says.
– For me it's like starting to write a new book, I don't want to copy myself over and over again and just make an "Axis of Evil" part two or something. The "Axis of Evil" chapter is now closed, on to the next one…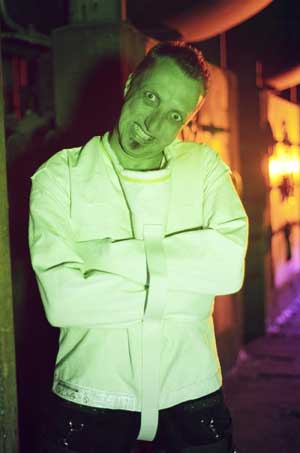 Johan: please smile for the Release readers.
No compromises and modern vibes
Indeed, "Axis of Evil" contains some techno-influences to the song structures and it seems that this influence has been slowly seeping into the project's sound. Whether or not it is a conscious choice is something, which I've always wondered about.
Many critics out there accuse Suicide Commando of merely re-treading the same tired EBM path. They say that EBM is dead and buried. I've had my doubts recently about the genre…
– Yes; up to a certain point, it is… With "Axis of Evil" I wanted to make a pure EBM album, without any compromises, proving that EBM is not dead. But I wanted more, I wanted to make an up-to-date version including today's modern sounds and styles like techno, making it all sound a bit more modern and danceable. This was an obvious choice as I didn't want to repeat myself over and over again, I didn't want to make a copy of the good old EBM stuff, that would have been too easy and cheap. I wanted to insert new elements and new sounds, van Roy says.
Taking EBM in a new direction is what Suicide Commando set out to do in 2003 and I'm pleased to report that this is exactly what has happened.
Whether or not other bands will follow his lead remains to be seen. Long may the banner fly.

Read more
Read our review of Suicide Commando's "Axis of Evil" here.
More reviews in the On Record archives.