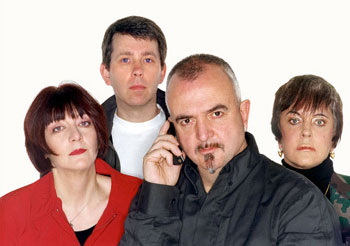 A LAST SERVING OF
THROBBING GRISTLE
By: Mattias Huss
A quarter century after the formation of the legendary industrial band, the music of Throbbing Gristle is finally being collected, remastered, remixed and rereleased. With a one-off live reunion of the band on the way, Cosey Fanni Tutti and Chris Carter reflects on the past and present for Release.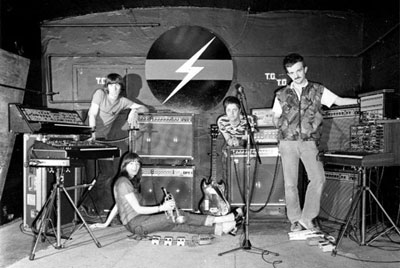 Hard at work 1980.
The sound guerilla gathers
The definitive sound guerilla gathering of the year takes place in Camber Sands, Sussex, UK in May 2004. An event organised by legendary noise/industrial pioneers Throbbing Gristle, "Re-TG" features a one-off appearance by the group in their original line-up as well as live sets by the group members' individual projects Coil, Thee Majesty and Carter Tutti. Additionally an impressive cast of sound renegades will be appearing, some of the major names being Scanner, Merzbow and Richard H Kirk (of Cabaret Voltaire fame).
– We decided from the start that we did not want this event to be about celebrating TG or looking back to the past, Cosey Fanni Tutti says. We wanted to do something special, and to have the positive attitude that we've always employed in Throbbing Gristle and our other projects. The artists chosen to appear are people whose approach to culture resembles ours. It's not an industrial music event or something.

Pre-industrial industrial
Throbbing Gristle was formed by Tutti, Genesis P-Orridge, Chris Carter and Peter Christopherson out of the performance art troupe COUM Transmissions in 1975. The group explored new avenues of electronic noise, and sprinkled it with pop and disturbing imagery, pioneering independent record releasing and promotion in the process, before ceasing operations in 1981.
– In the seventies there was still a lot of creative freedom left from the sixties empowerment, says Tutti. But it was being stifled by commercial interests. Eventually things are picked up by the industry and sold to people and it gets more and more empty. And today it is even worse. But people start getting restless, they are realising that they're being sold nothing, and they don't want to pay for it. It's the same now as it was then, it's cyclic.
Releasing best of and remix albums decades after the active period of a band, as Throbbing Gristle is about to do now, might seem to sit neatly in the cynical marketing scheme, except for the part about money.
– If we were getting rich doing this I'd say we were part of the problem, but we're not exactly talking about millions of pounds here, Tutti laughs.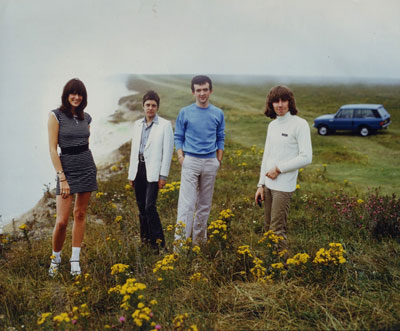 Old industrial fashion?
Hunting bad quality bootlegs
Rather, the sudden burst of TG activity was provoked two years ago by the vast number of sub standard bootlegs of live shows appearing on the market.
– I was spending a lot of time hunting down these bootlegs, says Tutti, and fans were somehow blaming us for their bad quality, as if it was us releasing them. We decided that the only way to sort it out was to give the material a proper official release.
To that end, Chris Carter spent two months listening, choosing and remastering numerous recordings, often from different sources during the same concert and of varying quality. The result was "TG24", a box set of 24 CD:s. The floodgates were open, and Chris went on to do remixes for the "Mutant TG" album and remaster tracks for "The Taste of TG: A Beginner's Guide to the Music of Throbbing Gristle", an introductory album for the uninitiated.
– It was a strange experience being confronted with your past like that, Chris Carter remembers. After hearing Throbbing Gristle constantly for months I got to the point where it felt like I never wanted to hear another Throbbing Gristle track in my life. At the same time I have fond memories of some of those shows. The remix project started with me and Cosey splicing together the tracks "United" and "Hot on the Heels of Love" and using it in a DJ-set. Some people at Mute Records heard it and proposed the idea of a remix album to us. It turned out pretty dancy I think, which is kind of the point of remixes.
And no wonder, with TG fans in the dance scene such as Andrew Weatherall and Carl Craig contributing work to the album. Now all that remains to be seen is whether the event in Sussex will turn out to be about hipgrinding and strobolights or powerdrilling and endless night...