---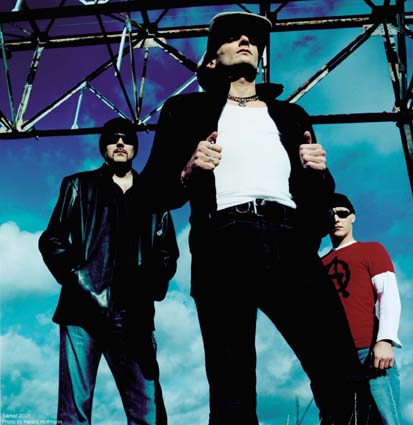 Photo by: Harald Hoffman

Two days in Copenhagen with TIAMAT
By: Kalle Malmstedt
They have headlined the Dynamo Festival with Marilyn Manson and Korn. Played with Black Sabbath and Paradise Lost. Written some of the darkest gothic, melodic metal coming out from Sweden. Sold far over half a million records worldwide.
This does not stop Tiamat from being nervous about playing their music to other people. Especially journalists.
Release was invited to meet the band in Copehagen during two days. There, the forthcoming album "Judas Christ" premiered for outside people for the first time.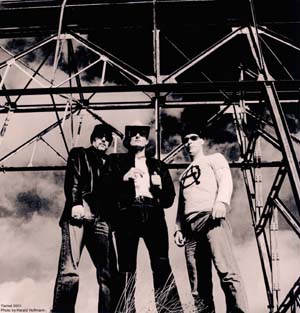 Photo by: Harald Hoffman
"I can't believe we're doing this"
Scene one. The Tex Rock Bar, Copenhagen. It's dark both inside and outside. Beer from large pitchers is poured into frosted pints. Tiamat are dressed in cowboy hats in the Lucyfire fashion, nervous as hell and almost as drunk. A few journalists from different magazines all over Europe are going to listen to seven songs from the forthcoming "Judas Christ" album. It's scheduled for a February 18 release, after the "Vote for Love" single is delivered on January 28.
- I can't believe we are doing this, says Lars Sköld, drummer and the only one not wearing the wild west headdress.
- We're so nervous we've been drinking since one o'clock this afternoon. This is the first time we get reactions from the outside on the work we've been doing the last two months, says Anders Iwers, bass player.
Johan Edlund, guitarist, singer, keyboard player and mastermind behind Tiamat since the band was called Treblinka in 1987, doesn't say much at all. He smiles at the German reporters at the far end of the table and concentrates on his Pernod.
Soon, there will be music.
Fade, flashback. Opening for Type O Negative in 1994, disappointment at the Swedish Grammy awards. Nomination for "Wildhoney", no prize. Everyone but Johan leaves the band, he splits with his girlfriend and later "A Deeper Kind of Slumber" is recorded in his home-studio in Dortmund, Germany.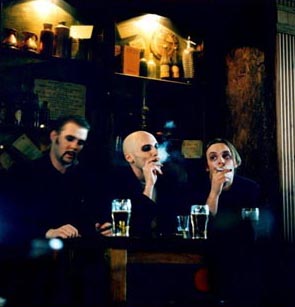 Another bar a while ago, the same band. Anders Iwers, Johan Edlund, Lars Sköld.

The first look at a new album
Cut. Scene two. Another bar in Copenhagen, the next day. Daylight is bright, but inside the light is more merciful. The band members are paying for their partying last night, but continue drinking. It is Lars Sköld's 28th birthday and that calls for a celebration.
- We have so much fun when we meet, it doesn't matter that we live far apart, Johan Edlund states.
Tiamat is very much a band, despite the break-up a few years earlier. Thomas Pettersson, guitarist from Stockholm, has been with the band on and off since the very beginning. Lars Sköld, also Stockholm, was with the band already on "Wildhoney" and Anders Iwers, Gothenburg, has been part of the band for two periods during many years.
- If Tiamat wasn't a real band, I would sit here talking to you alone. Maybe I would have in the past, says Johan Edlund.
- But "Judas Christ" is very much a band effort. In the past, I have had a lot of material with me as we entered the studio, now we have jammed a lot and written many of the songs together, he continues.
- Yeah, we do this kind of music great as a team, Anders Iwers concludes.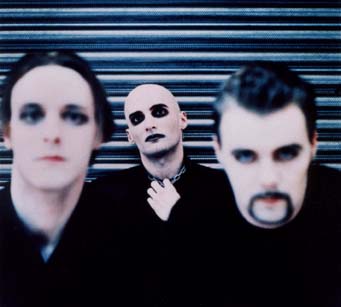 Fade, cut back to scene one and the Tex Rock bar, let the music begin. "The Return of the Son of Nothing" fills the bar. Everyone is silent. The band stares off in the distant, or down in the table, as a kick ass song of a kind not heard since "Wildhoney" makes the glasses and hearts vibrate.
"So Much for Suicide" follows and then "Vote for Love", a floorfiller with echoes from The Sisters of Mercy that promises great sales, at least on the German market. If a bar could become a church, then Tex is a cathedral by now. "Angel Holograms", "Love Is as Good as Soma", "I'm in Love with Myself" and "Fire Flower/Sumer by Night", another "Wildhoney" echo, fulfils every promise. Tiamat has never been better.
- I'm very pleased with the lyrics, a broad smiling Johan Edlund states after several cheers.
And it's time he is.



"Judas Christ" - the second coming of Tiamat
Cut to scene two, again. New round of beers. Mr Edlund, who in the past has covered both drugs, death and cynicism in his lyrics, elaborates:
- For one, I'm proud of the fact that the lyrics address different subjects. This record is our most positive one to date. The lyrics have always contained love, but maybe more so this time. For example: "Fire Flower", the first song ever that Lars has written for the band - I heard it and then wrote the lyrics on four minutes straight, and I think that it's the best lyric about love I've written ever.
- And he sings in Swedish too!, Anders explaims.
- Yeah, that's true. In "Vote for Love", I sing "Vi har aldrig gett oss utan strid" (We have never given up without a fight).
- Hmmm. And I thought you sang: "Vi har aldrig gett oss utan sprit" (We have never given up without booze), Lars Sköld says, sipping his beer.
Laughter.
Cut to Tex Bar: Everyone is drunk. The band tells me they still haven't decided on the cover art for the new record.
- But I'm sure Johan will come through. He always does the covers, says Lars Sköld.
Meanwhile, Johan examines a beer-stained napkin - maybe a cover idea, he says.
Later that night, Swedish Close-Up Magazine is interviewing the band. Johan falls asleep and walks back to the hotel in the middle of the interview. So much for drunkenness.

Note: A Tiamat feature can also be found in the printed Release edition 4/95.