---


By: Mattias Huss

The lights go out. The curtain is lifted. Same old story. Josh Silver is sitting in a hotel room in Stockholm. He hasn't eaten for 18 hours. Touring sucks.
Art hurts
- I haven't got any Swedish money, so I guess I'm not going to eat anything today, he mutters. Man, you gotta be rich to live here. McDonald's is like nine dollars and McDonald's sucks! I couldn't afford to live here, says keyboardist and producer Josh Silver.
There isn't a lot of sunshine going on in the lives of the members of Type O Negative. With an album called "World Coming Down" telling dark stories about substance abuse and loved ones dying on you out on the shelves, things look more gloomy than ever.
- Our records reflect what we've been through, and it may not be very cheery. I guess you wouldn't play "World Coming Down" when your family is coming over for Christmas. But it's what we were feeling at the time, and I believe art should reflect feelings. If it doesn't, it isn't art.
This, according to Josh, excludes quite a number of musicians from the art arena.
- Most bands write bullshit records and bullshit you in interviews. Rock is a very bullshit sort of music, you know. People don't wanna know that you are having a bad time; they want to hear that you party every night and have lots of girls. I don't do shit like that, I like being in the studio making music. I don't pick up girls; I'm a married man.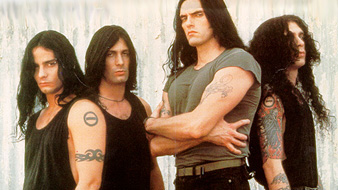 A night out gone bad
"World Coming Down" is an upfront and honest record, and Josh has produced it accordingly. The sound is raw and hard compared to the more trippy "October Rust". Three tracks - "Sinus", "Liver" and "Lung" - interspersed through the record - are made up entirely of atmospheric (and quite frightening) soundscapes created by Josh. Sounds of drinking, snorting and ambulance sirens hint at a night out gone bad, very bad.
- Those are kind of worst-case scenarios for the members of the band. We've all been heavily into chemical abuse and the tracks illustrate what might happen if things don't change.
What might happen is also the overall theme of the album, namely death. On "Everything Dies", Peter Steele ponders over his dead relatives and how eventually the rest of them, as well as his girl and everybody else must die.
- We don't know anything about what's gonna happen, but we've chosen to embrace the fact that sooner or later, we're all gone die. That's what we've been thinking about in the making of this album.
Peter Steele having recently lost members of his family marked the theme of "World Coming Down", but the whole band generally shares Peter's feelings.
- We all live together, remember? So, it's like a family. If your brother is depressed, you'll be depressed too. And the mood we share is what comes out on the album. On "Bloody Kisses", there was a lot of hate going on in the band, and during the making of "October Rust" Peter was involved in a lot of sex.
Mmm, right. Sex, werewolves, Celtic mythology, things that I used to associate with a band called Type O Negative.
Grim hopelessnewss rules
The new compilation "The Least Worst of Type O Negative" covers the whole spectra with everything from classics like "Black no. 1" (a song about the gothic pursuit of hair dying) to the desperate nihilism of the recent "Everything Dies", along with a couple of previously unreleased tracks.
On "World Coming Down", though, the usual quirky sex songs and horror flick imagery is missing. Grim hopelessness rules here, and there doesn't seem to be much hope left for the human race.
- Thanks to touring I've gotten to see a lot of different places and learned about all kinds of different cultures, and I've come to one conclusion, says Josh.
Drumroll. We hold our breaths, anxiously waiting for the punch line.
- Everybody sucks. Curtain.
Type O Negative official site