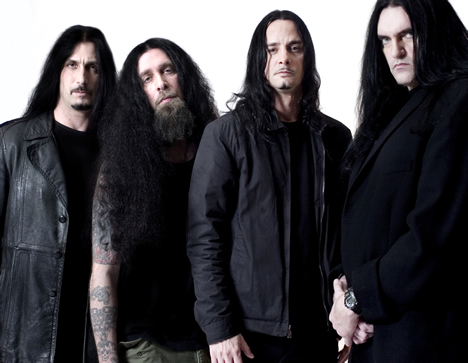 17 years of Type O Negative
By: Mattias Huss
Published: February 21, 2007

Seventeen years after starting the band, and ten year after the first Release interview, Type O Negative are still stubbornly going at it. These morbid missionaries with The Beatles as their musical foundation took time to chat with Release during a promotion tour.
Looking back
When Release first met Type O Negative they had just released their fourth album "October Rust", and had firmly established themselves as the foremost gothic metal group, with videos spinning on MTV and droves of fans worldwide. Since then the band have opted for roads less travelled, and their most beloved tracks still hail from that album and especially its predecessor, the phenomenally successful "Bloody Kisses" from all the way back in 1993. Peter Steele does not like to stick to a formula, which may account for a couple of ambitious and ever-changing 14 minute songs on the brand new "Dead Again" album, their seventh.
– You tend to get locked in a pattern when writing songs, you know, verse, chorus and so on, Peter Steele says. Here I have tried to write songs in several different parts to get away from that. I'm very aware of tempos, keys and instrumentation.
Another struggle is with the lyrics.
– I'm wondering how someone like Stephen King comes up with all his ideas. He's so prolific, while I have a hard time finding subject matter just for writing these lyrics.
Peter seems to have managed his writers block on "Dead Again", with lyrics covering his stance on abortion, doomsday prophets, and a band of resurrected rock stars amongst other things. One song even manages to combine an anti-abortion stance ("it's against my catholic faith") with criticism against the state of Israel.
But whatever you think of the lyrics, Type O Negative have given this album free rein, letting it sprawl in every direction, lyrically as well as musically. Perhaps this reflects them finally being free of their long overdue record deal with Roadrunner.
– Of course no one likes to compromise art for the sake of finance, says drummer Johnny Kelly, also present for the interview. I mean, there were good things about the Roadrunner deal, too. But now we are a priority band for SPV, so they're really working for us, which is good.

Half Sabbath, half hardcore
"Dead Again" is a melting pot of styles, dirges and guitar solos, slow and fast, and Peter Steele's voice joined by Kenny Hickey's and Josh Silver's a lot more frequently than before. Even Tara van Flower of Lycia fame appears on one track.
– We didn't really have a plan for the album, Johnny Kelly admits. But it seems we're approaching "Bloody Kisses" sound, and the album incorporates the styles from all our previous ones.
This writer was told by Peter in 1997 that he hoped to create an album reminiscent of Black Sabbath's "Master of Reality", and parts of "Dead Again" are truly harkening back to a bygone heavy metal age.
– I think we managed halfways, says Peter. Half is Sabbath and half is hardcore.
– You know, after "October Rust" Peter said that he really wanted to make hardcore record, Johnny Kelly points out. And what we came up with was "World Coming Down", which was about as far from hardcore as you can get. But we're getting there.
– The Beatles is still the bottom line. It is the influence that we all agree on, says Peter. Of course I have all these other weird influences, so if you hear some Cocteau Twins somewhere it's probably me not having taken my medication.

A Russian comrade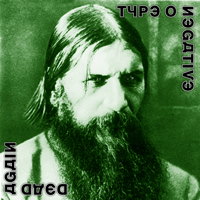 This unusual soup of influences makes for lots of little surprises throughout the album, my favourite being the Russian style choir passages with snare drums, inserted due to Peter's love of military music. Another Russian presence on the album is Rasputin, the infamous Russian mystic and advisor to the Tsaritsa Alexandra, who graces the cover.
– We seem to have a lot in common, with lots of people trying to kill him unsuccessfully all the time. He was also a ladies man and a street fighter… Besides he looks like a Type O Negative member, Peter says and points at the grim bearded fellow with thin slitted eyes staring menacingly at us from the cover. He's like a Type O Negative member, but a good looking one.
So who's been trying to kill you?
– Well, no one really. I guess I've mostly been trying to kill myself.
Personal tragedy and near brushes with death inevitably pop up at some stage of any interview with Type O Negative. The title song "Dead Again" deals with the cocaine addiction that Peter is still struggling to lose completely.
– I hope to be free from it completely one day. Occasionally I slip back into it but the intervals are getting longer. When it happens and I wake up the next day it's like "Oh god, I'm fuckin' dead again".
With Peter pushing 45, the band seem to be winding down a bit, almost amazed at having made it this far.
– It's unbelievable that we have been going for seventeen years, Johnny Kelley says. At some point you have to start thinking about what comes after.
Right now, what comes after is touring, touring and more touring in the US, followed by plenty of festival gigs in Europe in the summer.
– I have actually been thinking about using all this time on tour for doing some writing, for a book or something, Peter reveals. There has to be life after Type O Negative.