Univaque is a British band based in Sweden that makes happy synthpop with an almost sixties touch to the vocals, but with strong early Depeche Mode influences musicwise.
They have recently released their debut album "Lost in a Maze" on SubSpace Communications, produced by two thirds of Elegant Machinery, so we wanted to know what the fuss is all about.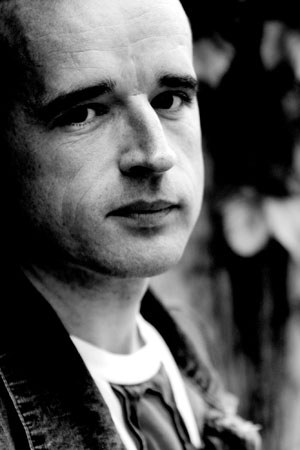 Mark Welbourn - interviewed.
"We could do this"
Mark Welbourn and Steve Ellam had known each other for a long time when they decided that they would start making music together. Said and done, they started out and shortly after they found Chris Cross who helped out.
– It started as a sort of joke between Steve and me, Mark Welbourn says. We were listening to a lot of Elegant Machinery, like "Shattered Grounds", and we just said to one another: "we could do this". So we started to make out some material, even though we didn't know how to play keyboards. I actually think "Converted" was our first song ever (now released as a downloadable single). Then we met Chris, who sort of started to work out stuff on the keyboard. We made some demos, and we basically just started with singing the vocals on to a tape, and then putting music to it.
From the beginning they were based in London, but when Mark met a Swedish girl, he decided to move here. This was in 1998, but he had a lot of contact with Swedes before that.
– Yeah, I was very pleased with the Swedish electronic scene. You don't get laughed at just because you listen to synthpop here. However, people mostly stay within the scene, and never look into other stuff like trance and techno, which is what I'm mostly into these days. It's all electronic, you know. However, it seems to be a very happy scene, where people are interested, active and hopeful about new stuff. I don't keep up much with the current scene though, my interest lie in the old stuff.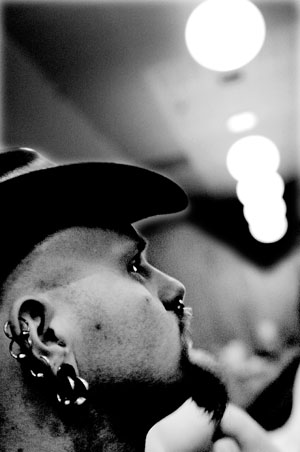 Steve Ellam - aka Zammo.
Always The Beatles
Johan Malmgren and Robert Enforsen from classic Swedish synthpop trio Elegant Machinery (Johan is also in S.P.O.C.K and Aaron Sutcliffe and Robert in Hype) have produced the debut album "Lost in a Maze", together with Univaque themselves. Mark and Johan have known each other since the early nineties.
– I met him through a friend of a friend. Actually it was his girlfriend at the time. It was mostly our mutual interest in The Beatles that brought us together, and synthpop of course. We talked about doing something together, but it never worked out.
He continues:
– When I moved here, I had our demos with me and played them to Johan. We decided to go through with it. It's actually been ten years now, since we started working on them, Marks remembers.
The songs are mainly the same, Mark tells me.
– But Johan did a lot of things with them; he's very skilled with harmonies and such. He's a really good musician, Mark says admiringly.
Univaque are mostly using virtual synthesizers.
– You can do almost anything with them these days. Johan has a lot of old analogue stuff, but he's working with virtual synthesizers as well nowadays. We wanted a retro kind of sound on the material, but done with today's technology.
The guys see the band as fun thing, and they don't work with music full time.
– Nah, it's just a hobby. It's not going to be big enough; the scene is really too small for the album to be big. For example, I really thought S.P.O.C.K's last album was going to make it for them, but it never happened. It's a shame. It's well produced, and it's got great songs.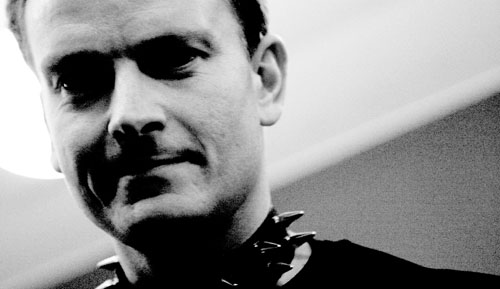 Chris Cross - not the hip hop variety.
Do it "Univaque style"
The name Univaque has a nice futuristic sound to it, but I had no clue what it meant. It almost makes me think of vacuum cleaners… What does it mean?
– Good question, Marks laughs. It comes from Johan, who read in an Elvis book about an American DJ who called himself that in the fifties. He played lots of different styles of music, and it started what he called the "univaque" style.
After a well-received album, most bands go out and play on stage. Univaque is no exception.
– We're working on a couple of dates this autumn, towards Christmas. And Germany in the spring, as well as Mexico, actually. I've heard there's a quite healthy electronic scene there nowadays. We also want to come back home to play in London. S.P.O.C.K played in London last year, but not many people turned up unfortunately. Let's hope we can wake the pessimistic bastards up a bit!
Another single will be pulled from the album, but it's so far a secret which one it will be.
– Yeah, there will be one more, but I'm not sure if I can tell you yet. It's quite an obvious choice anyway, even though I think almost all eleven tracks can do well on their own.
I don't entirely agree on that, but many of the songs sure could stand the single treatment. We'll soon find out, I'm sure. Meanwhile, you can always get your retro craving satisfied while listening to the album, and gasp at the perfect "Speak and Spell" kick-drums and Yazoo-esque synth leads, the way it was in the early eighties.