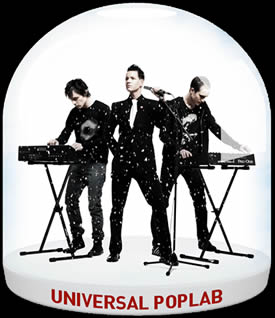 A rewarding struggle
By: Niklas Forsberg
Studio photos by: Pierre Bremell
Published: February 6, 2007

Universal Poplab is the duo that became a trio, switched to a new record label and nearly broke into the mainstream. They did have top-ten songs on the biggest radio hit list in Sweden, Tracks, but those were backed by nationally hyped guest artists Håkan Hellström and Nina Natri. God knows they had enough killer numbers on their self-titled debut album to make it on their own. The new album "Uprising", released right on the turn between November and December last year, sees the band partly discovering new territory. I managed to get in touch with song writer and vocalist Christer Lundberg to discuss matters more thoroughly just before he was set to embark on a trip to India.
Brought up on EBM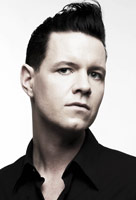 The Morrissey-styled Lundberg began his musical endeavors in a duo accompanied by Martin Brändström, who went on to become keyboarder for Swedish death metal act Dark Tranquility. Brought up on mostly hard electronic music like DAF, Klinik and Nitzer Ebb, he still had a special place for Erasure even though some of his friends expressed their feelings about how geeky the English duo was. The encounter with Marc Almond and Soft Cell became an epiphany for the young Lundberg.
– Everything fell into place! Fantastic melodies, great lyrics and a liberating tongue-in-cheek performance, enthuses Christer. Recently I have listened quite a bit to dub and Patrick Wolf, who is very interesting. But basically I like everything that has an outspoken idea behind it, he continues.
Time had come to focus on a new musical project and the haphazard meeting with Paul Lachenardihre would prove to be a true blessing. Universal Poplab was born.
– After Martin and I split up, I found myself pretty lost for a few years musically, but continued to write songs on the guitar. When I met Paul, I sensed an opportunity to give the songs a repackaging more along the lines of my own musical tastes. It turned out beautifully, since Paul proved to be a masterful producer and arranger, Christer muses.
A couple of songs written during the band's childhood (then recording under the name Galore), namely "Lovers Lane" and "I Believe", ended up on the first Universal Poplab album while others were scrapped.
– We also recorded an extremely strange cover version of Dead or Alive's "You Spin Me Round (Like a Record)" on our demo, but it must have showed some talent as it lead us to our contract with SubSpace Communications, he explains.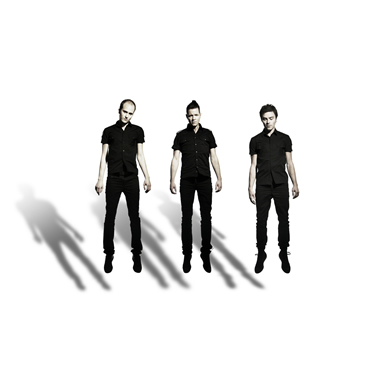 From left to right: Hans, Christer and Paul.
Establishing talent
In the Spring of 2003 Universal Poplab's first single was released; the upbeat and melody driven "Casanova Fall", to great acclaim. It took them roughly eight months to follow that up with even more powerful Nina Natri duet "New Baby Boom" and finally the self titled debut album followed in February of 2004.
All in all, four singles were released from the album, aside from the two mentioned above also the ballad "Dice Roller" and the Morrissey cover "We Hate it When Our Friends Become Successful" with Swedish darling Håkan Hellström on backing vocals. All of them received generous air play on national radio (especially the Morrissey cover) and the band played live quite a lot.
Was the decision to incorporate Håkan and Nina on the album a way to kick start your career?
– Håkan is a very nice guy who I used to socialise with quite frequently in my late teens. Seeing his journey to become Sweden's biggest pop star was gratifying but also somewhat strange as I noticed the jealousy sparked among some of our mutual musician friends. Taking him on for "We Hate it When Our Friends Become Successful" felt more like musical cleansing than a conscious career choice, Lundberg says matter-of-factly.
Peaking in the top ten layer of chart show Tracks helped Universal Poplab establish themselves within the Swedish music community. The success was a fact, but the direct aftermath of it was somewhat harder to assess.
– I haven't received any exact sales figures, but we did sell well enough to make SubSpace Communications push pretty hard for a second album contract.
Well on the way to fame, the band looked ready to take another leap with forthcoming releases, but they would prove unexpectedly difficult to achieve.
Trouble-infested recordings
That is when the problems started. A plaguing experience with their record label was followed later on by all sorts of obstacles, most of them enough in themselves to put a halt to the ongoing recordings for what was to become "Uprising".
– Towards the end of our studio sessions for the new album we found ourselves caught up in a fight with SSC about how to interpret the previous contract. We felt they had ripped us for quite an amount of money, Christer begins. After a lot of fuss some sort of agreement was reached, but as soon as we had signed the final offer from them they dumped us. That was a hard blow, considering the situation with a half finished album, but without a contract and the promised advance.
Christer says they negotiated with major record labels.
– But in the end we fell for Wonderland (a small, independent label), mainly because of its energetic and competent boss Sebastian Hess. I don't hold a grudge against the SubSpace people though, as they were the ones who discovered and gave us a chance, the vocalist says in conclusion.
There were never any doubts about continuing on, even though the creation of "Uprising", as recently mentioned, was surrounded by grief. Christer reveals that no less than seven or eight deaths, all in close proximity to the band, occurred during the completion of the "Uprising" sessions! As if this was not enough, they had to build a new studio from scratch as the contract for their old one had expired. In light of these dark circumstances it is all the more impressive that they managed to come up with such a crisp sounding album.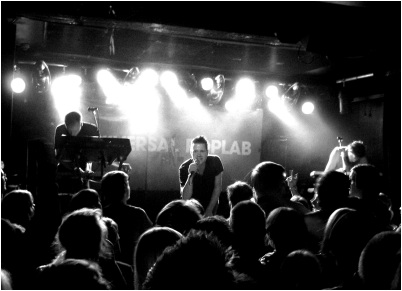 Live at Sticky Fingers in Gothenburg.
Starting afresh
What did you want to accomplish or change on the new album? Was it a painful process?
– We talked fairly early on about making a more "pure" sounding album. Less, but more elaborate, sounds. Mainly songs we would like to hear on the radio ourselves, starts Lundberg. Considering the energy it takes to make an album from beginning to end you can never be sure there will be any more Universal Poplab albums, though. Theoretically, this could be the last record I will be a part of and there is no room for carelessness with that kind of attitude, he explains enthusiastically.
More work has also been given the lyrics, which is something of a core concern of Lundberg's. He tells me, and I quite agree, that he often feels cheated when he listens to a catchy pop song and finds the lyrics to be copy-and-paste mixes of cool phrases or tired cliches. He elaborates:
– I want Universal Poplab's music to be real. Hits, but with content! On "Uprising" I have focused on factual things or issues that are truly dear to me. It is not hard writing complicated lyrics. The challenge lies in trying to explain difficult themes or events in an understandable way, says Christer.
The art of constructing hits
"Uprising" is an album full of possible radio hits, ranging from soothing ballads to club tinted dance staples. A personal favourite at the time of writing this is the last track on the disc, "New Beginnings", an uplifting slow paced number with a typically sing-along-themed chorus. Christer mentions the track that kicks off the album, but his "Uprising" darlings vary.
– I'm very much into "Soma Generation" at the moment, he says. It brings up very important issues. The "Style and Music Police" who lies latent within most of us really deserves a good ass kicking! It is fucking easy to have opinions and complain instead of creating something yourself, Christer tells me.
How do you build your songs? What ingredient is the most important one?
– The birth of a track usually involves me arranging on guitar with a sketch on what I want the lyrics to be about. 90 percent of the time this happens outside, as I enjoy feeling the air around me. If the others like what I have come up with, Paul starts arranging the track. I'd say a Universal Poplab track takes about a month to complete. The premier aspects of a song are, without a doubt, chorus and lyrical content, Lundberg explains.
Pornographic activity
The 2006 line-up sees the official joining of third member Hans Olsson, but he has been an important figure since the start. The story surrounding the move from duo to trio is, in itself, quite remarkable. Christer tells me:
– After one of our very first gigs, Hans came up to us and said he thought we sounded good but incomplete. That was pretty cocky, but there was something about him that made an impression on us. We gave him the assignment to test-master a few tracks and it became quite clear after that that he was exceptionally talented. He is a sound genius and as important in Universal Poplab as Paul or myself, Christer says.
We go on to discuss more technical aspects and start talking about their new studio environment. Persistent rumours have said that the band's first studio was an old adult theatre and Lundberg confirms this and surprisingly has more to say on the subject.
– Strangely enough there are rumours about some form of pornographic activity taking place in the new studio as well, but I have yet to prove that. We have managed to get our hands on one of the rooms in the legendary Nacksving studio in Gothenburg. It is located within a mountain right in the city core. Dark Tranquility is in the next room and folk singer Dan Viktor works in the big studio. There is always some new recording session going on, so on our way to our Poplab we will get our ears pierced by either harsh death metal or more calm folk tunes, Christer laughs.
It has to be said that Universal Poplab has succeeded in bringing back some of the synthpop glamour that was so blatantly discarded throughout the nineties and the early stages of the new millennium. So, let us all hope for a third album from a band lucky enough to possess all necessary qualities to make it big; great songs, great vocals and, not to be under-estimated, thoughtful lyrical content. If they choose to record a follow-up to "Uprising", I am certain the finished product will be anything but a "Downfall".
Ad: Click to order Universal Poplab from
Music Non Stop