The new Vacuum album "Your Whole Life Is Leading up to This" marks the start of a new era for the band. The line-up, sound and image have all changed. And frontman Mattias Lindblom hopes he has left his turbulent and dark years behind him.
Vacuum's first single was a massive hit and they claim to have sold over five million albums so far only in Russia. Quite rare for a synthpop band, wouldn't you say?
I visited Mattias Lindblom in his flat in Stockholm and met an open, warm-hearted man that seems to be in love with music.
Hit from day one
Vacuum started as a trio consisting of Alexander Bard, Marina Schiptjenko and Mattias, although Anders Wollbeck was present in the background writing the songs with Alexander. The debut album "The Plutonium Cathedral" came out in 1997 and spawned the massive hit "I Breathe", which opened up many doors for the band.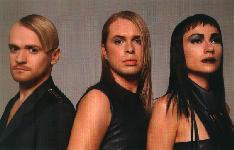 The old Vacuum.
Since then, they have released the album "Culture of Night" and seen song writer Alexander leave the band, as well as Marina.
According to Mattias, Alexander Bard left the band due to creative differences. They wanted different things, and after a while Marina left the band as well. As it happens, Alexander and Marina have their new band Bodies without Organs, who are coincidentally also pretty big in Russia.
- I think we took Vacuum as far as we could, she and I. We had some fantastic tours and journeys together and will share the memories for the rest of our lives. But maybe it was more of a business relationship, while I strived for creativity and art. But absolutely no hard feelings! I haven't met Alexander for four years, but Marina and I keep in touch sporadically. We will never be strangers to one another.
Turbulent years
Mattias and Anders have continued to work together and are now establishing themselves as producers and songwriters for other artists, such as Alcazar and Rachel Stevens. But about one year ago, they decided to focus on a new Vacuum album.
- We said, fuck it! From now on, let's do nothing else than Vacuum. It doesn't matter who calls, we're not interested. Although, of course, if Martin Gore gave us a call, we might have reconsidered, Mattias laughs.
- Anyway, we went into that process with all of our energy. We started out by just talking about what the album should be about, and came to the conclusion that it would be about our lives up until now. Trials, love, things both negative and positive - everything really - although with a bit more focus on the negative since that inspires me a lot more. It's also about ageing and disappointment over things that didn't turn out the way you wanted them to; every promise you're told as a kid that isn't true. I was told that the best part of my life would be between 20 and 30, but those were the most turbulent years of my life so far. It started with my mother dying!
Mattias thinks it was hard making the new album.
- Because we dug deep into ourselves, and touched upon subjects that are very sensitive. Our friendship and musical partnership was taken to its limit. Fortunately, we didn't end up as enemies.
Before Mattias and Anders started writing songs together, Mattias had never written anything.
- At least not for Vacuum. So at first we said, "let's try it and see how it goes". And then we wrote ten tracks in a week! After that it was a pretty easy process for us to become professional songwriters, for other artists. And it really works well when we write for Vacuum. This album actually turned out exactly the way I wanted it to. We wanted to do a record that we ourselves would buy, and be the best album since Frankie Goes to Hollywood made "Welcome to the Pleasuredome", which it is, for us.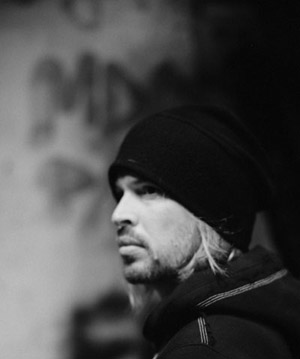 Photo by: Ronnit Hasson
90% bullshit
When looking back on his career, Mattias remembers it with joy, but also reflects on the fact that he was thrown into a highly commercial world that wasn't entirely to his liking.
- I do like commercial stuff though - the artistry and such, but there was an extreme amount of pressure. One of my first gigs ever with Vacuum was in Italy in front of 300 000 people, and there is no way to prepare for that. I also went through many personal problems at the time, with my mother dying, like I said. That was a huge process for me, which took me well over ten years. To be honest, I only remember fragments from that time.
He is very proud of "The Plutonium Cathedral".
- Because it broke all the conventions. We made a record that the label didn't have much to do with, since the industry had a lot of money then and could invest in more risky ventures. And of course I remember all the success with "I Breathe". I'm not that fond of the second album "Culture of Night" though. For me things really got going with "Starting (Where the Story Ended)". That song actually happened when Anders and I went to a Slipknot concert. I think they are pretty interesting, but we were a bit afraid of going there for some reason. Anyway, we wrote that song in the car, and thought it was something new.
"Starting (Where the Story Ended)" was released by the independent label Subspace Communications in 2002.
- The commercial merry-go-round is about 90% bullshit. All about looking cool on a photo, stuff like that. I like the image thing, I played with the androgynous look on the first album for example, but I think it must be based on who you are. Our new image is a lot rougher, because that's who we are. The picture of me with the hat on the cover is a character that's gone underground. It's about finding strength in you, which sounds like a cliché, but it's a very human thing. Also, I'm not a happy-go-lucky kind of guy. I think more about the dark passages of my life. When I'm happy in a relationship, the music suffers. You lose some creativity, but that's OK. Naturally, I want to reach ultimate happiness. But there's more to life than that. If you have been down in the darkness, the moment you reach happiness is more meaningful.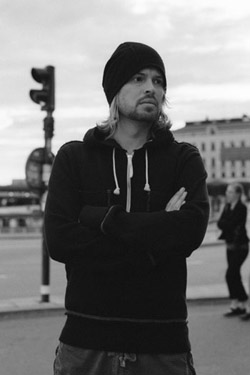 Photo by: Ronnit Hasson
Fan or fanatic?
Since the line-up has changed this time around, as well as the sound and the squeaky-clean image, it's going to be interesting how the fans receive this album. Apparently early reports are promising. Mattias has a special relationship with his fans, and has contact with some of them almost on a daily basis. There is also a web page where people can ask questions to the band, and he answers them as often as he can. He also seems very passionate talking about them.
- They are like small bright lights all over the world, and they analyse a lot of what we do. I seldom get responses like "that was a good album", it's more like "this album helped me get through a very difficult period of my life". It's easy to focus on Russia since we are so big there, but they are global. I get mail from Pakistan! Vacuum is big in war zones, he says with a big grin on his face.
- I must tell a beautiful story, by the way. We have an Italian fanclub manager called Angela, who nowadays runs the club from Belgium because she's married our Belgian fanclub manager DoDo!
Some more fanatic fans have even travelled to his apartment, standing outside crying. Young girls that have run away from their family. Mattias takes them in and orders them to call their moms immediately.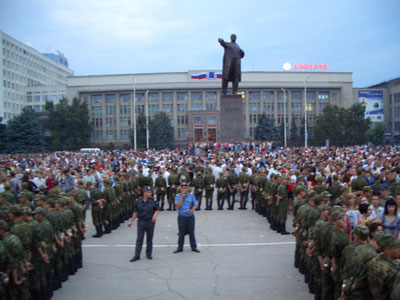 Who needs stage fences? The big square where Vacuum played.
Photo by: Patrik Bergman
Big in Russia
Mattias claims Vaccum have sold five to seven million albums in Russia. Even though almost all record sales are pirated material, it's been tracked somehow. A couple of weeks ago, the town Saratov of around 100 000 people let their citizens vote on which band they wanted to see. Vacuum came out on top. Consequently, they went there to play in front of 25 000 happy Russians, guarded by the military.
- It all started when "I Breathe" leaked into Italy in 1998, from where it later spread to Russia. When Alexander left, Marina and I toured there, and Vacuum really exploded then. I love it there, and though the new album will be released "everywhere", I really look forward to going back to Russia.
Mattias notes the difference in size between his home country Sweden - and Russia.
- In Sweden when you go to a church you might hear "Well, this church was built by king Karl XII when he returned from Poltava". In Russia, it's more "250 000 people died here" or "this is where the Tsar was killed".
Mattias is also surprised with the level of education.
- Music journalists have studied for seven years, at the conservatory. If you walk up to a beautiful girl at a bar, she really is a nuclear physician! You feel stupid.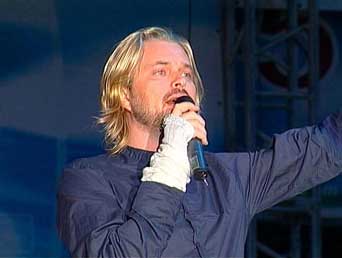 Mattias, live in Saratov.
Photo by: Patrik Bergman
Current events
At the time of writing, the new album is released (or about to be released), this time on major labels around the world including Poland, Russia, Italy and Greece, even though SubSpace Communications is the one taking care of it here in Sweden. Small Sweden is not SSC's focus for Vacuum though.
Mattias claims he's very happy with the label, because he's always been a fan of electronic music.
- They even say "we don't care if the album doesn't sell", which is great. They are the winners in this industry, in the middle of the crisis. Because now, most labels have shown their real, greedy faces, and it's great to be on a label that cares. I also like the other bands on the label. I want to produce the next S.P.O.C.K single, he announces with emphasis.
The single "They Do It" is doing the rounds right now, and the video by Mikael Abbhagen is showing somewhat regularly mainly on Swedish ZTV but also on MTV for whilendy . A new single will be decided upon shortly and a tour should be happening later on: first in Sweden, then Germany, Russia and other countries.