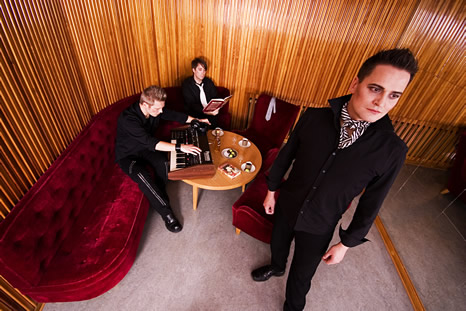 ELEGANT MACHINERY
return in style
By: Tobias Eliasson
Published: June 2, 2009

Swedish masters of classic synthpop Elegant Machinery returned to the scene last year after ten years. Their celebrated comeback album "A Soft Exchange" landed in November 2008 and live shows in Sweden and Germany followed, as well as reissues of old albums. Elegant Machinery appear to be here to stay - already planning their next product, which might be "a bit harder and darker", Richard Jomshof and Robert Enforsen tell Release.

Golden years
During the 90:s a big part of the independent synthpop scene in the world, and especially in Europe, was dominated by bands from Sweden. Groups like S.P.O.C.K, Page, Mobile Homes – and Elegant Machinery –- all toured extensively and numerous albums were released over a short period of time. With the three now legendary albums "Degraded Faces", "Shattered Grounds" and "Yesterday Man" everything seemed to be going well for this band from the south of Sweden. But suddenly after a show at the Virtual X-Mas Festival in the winter of 1998, the band announced that they were going to quit.
Some reunion live shows followed in different parts of the world, including the US, Mexico and Russia. After the singles "Feel the Silence" and "Move", the new album "A Soft Exchange" was finally out in November 2008. This was celebrated comeback album and once again Elegant Machinery's analogue synthpop found old and new listeners. One example is that Elegant Machinery won the price for best synthesizer act at the Manifest Awards, an independent alternative to the Grammy awards.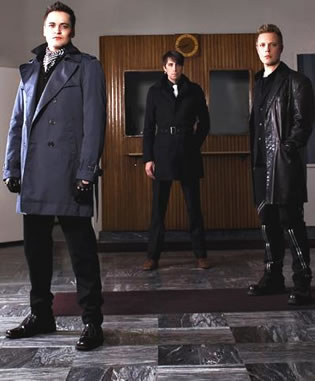 From left to right: Robert, Richard and Johan.
Your new album, "A Soft Exchange", has been out now for a while. How has the reaction been?
– We knew from the start that it was going to be a good album, at least from our point of view. But to be honest; we didn't know what to expect, and we are really happy that the album has been so well received, also among the younger audience, Richard Jomshof tells me.
– We get contacted every day by people from different parts of the world who tells us that they enjoy listening to our music. It is words like that that makes it all worthwhile, vocalist Robert Enforsen thinks.
You have always had a large number of fans all over the world and have played live every now and then since the split. When did you start to write songs again?
– To be honest, when we decided to split Elegant Machinery early 1999, we really thought it was permanent, Richard reveals. We were basically fed up with everything and quite disappointed about many things, and we needed some time apart. Frequent questions from fans and organizers made us do some shows in 2001 and 2002 however, even though the band was officially dead. But after a successful show at the famous club Romo Night in Gothenburg, Sweden, in October 2004, we started to discuss the possibilities to release new music with Elegant Machinery. Somehow we couldn't get the music out of our systems, and at the time it felt really fun to be back together again. So, in early 2005 we began putting some songs together, and after three years of work we could finally release a new album.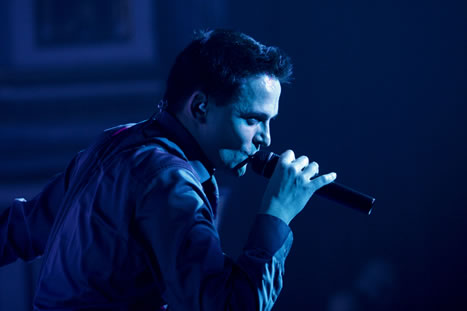 Robert live at Storan, Gothenburg.
Photo by: Fredrik "Schlatta" Svensson
Absent key member
When Elegant Machinery started, the band consisted of Robert Enforsen, Richard Jomshof (then Johansson) - and songwriter and musician Leslie Bayne. Since Leslie didn't enjoy playing live he was replaced by Johan Malmgren - after some time permanently. But when they reunited, Leslie became a part of the band again.
How has it been for Leslie to start working with the band again? What has he been doing since he left the band, has he continued to write songs?
– For both Richard and Leslie it has been a fresh start. But I have been working with my other band Hype and at the same time Johan has been working with S.P.O.C.K and his rock band Belly Buster, Robert tells me.
Leslie has only been a part of a few of your shows since the comeback, how is that so?
– He came to the conclusion that he doesn't have the time, will or energy to play live or act as a member towards the public. While this is sad, we of course have to respect that, Richard explains.
Push and tweak
Has the way you work in the studio now changed compared to how you worked back in the 90:s?
– One big difference is that Robert is more active in the music production than before. During the 90:s, Robert concentrated on singing and nothing more. But through the years the band has been apart, he has become a good producer, which gives a new fresh input to the band.
Robert fills in:
– When we decided to make a new album we also decided that we shouldn't do what comeback bands usually do, to return with a sound that no one recognises. Our plan was to stick to our sound, but to make it a bit more modern and fresh - add more space. On some tracks, including the singles, we have tried to push it even further and tweak everything a bit extra. Our fans deserved an album that was true to our sound, meaning songs with quality and analogue tunes.
Have software synthesizers become a part of the new Elegant Machinery?
– We have been working with software synthesizers on the album, but they are only a complement to our music. The main source will always be analogue equipment.
Re-issues
You have also released parts of your old material in new, remastered, editions. This has been talked about for years.
– Why it took so long is really a question for our old record label, but the old albums have been out of stock for many years so it was really about time. A lot of people have asked for them through the years. When we played in Germany the new editions sold really well.
– So far we have released "Degraded Faces" and "Shattered Grounds", but "Yesterday Man" and a collection with our B-sides is on its way, Richard promises.
The new album is of very high quality I think, with a lot of strong tracks. Was it hard to pick out singles?
– We did some shows in Germany in 2006. During these shows we played two new songs: "Feel the Silence" and "Firm". We realized that "Feel the Silence" was very popular, even though people heard it for the first time. "Feel the Silence" was also well received by our German label Out Of Line. Actually we all felt that it was a good choice for our first single.
– For the second single we were discussing other songs as well, but somehow the song "Move" felt like the right choice. When it comes to both singles, we wanted them to be both catchy and danceable.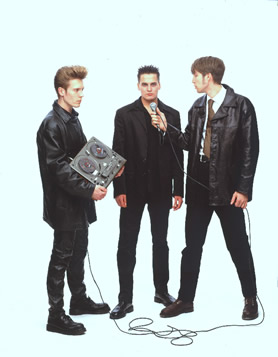 Elegant Machinery was the cover band of the last issue of the printed Release, issue 2/98. The magazine was completed in our computers, including the Elegant Machinery interview and front cover based upon a picture taken exclusively for Release at Ikea's photo studio in Älmhult, Sweden. But the issue was never printed and our paper edition was terminated.
Many label offers
Back in the 90:s Elegant Machinery was signed to Energy. This time they are on German label Out of Line.
– We have been contacted by many labels through the years, but it didn't feel right until we got in contact with Out of Line after sending some demo songs to them. What's most important with Out of Line is that they are a professional label with good distribution in many countries, which is crucial if you want to reach a wider audience.
"A Soft Exchange" has also been released in Russia by Gravitator Records, do you have plans to go over there and play live?
– We are discussing with various promoters about travelling to Russia this fall, which we really are looking forward to. We played in Moscow four years ago and the feedback from the crowd was amazing.
– The "problem" is that we also have requests from countries like Mexico, Peru, Chile, Turkey and the US about shows in the fall, says Robert. Since we all have work and families we are not quite sure how we can get everything together, but we will for certain try to work out a solution.
Live machinery
You are currently playing live in Sweden again, working together with The Mobile Homes where you take turns being the headliner. How did this cooperation start?
– It was actually Richard who came up with the idea after finding out Mobile Homes was going to release new material. Since they started their band in the 80:s just like us, playing together felt like a fun thing to do.
I got a chance to see the show in Gothenburg and it seems that nothing has changed; the audience went wild, screaming along to all of the lyrics and really seemed to have taken the new material to their hearts.
How has the feedback been on your shows in Sweden and how did it feel to present your new songs?
– It was really fun to introduce our new songs; we have been looking forward to this since we started talking about a new album four years ago. The feedback has been amazing, Richard thinks.
– To be honest I think that our crowd has missed us just as much as we have been missing them, Robert continues.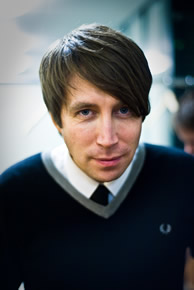 Richard.
Photo by: Jonas Carlson
Politics and pressure
There have been some attention around their personal life, mostly because Richard is an active politician for Sverigedemokraterna, the leading nationalist party in Sweden. Before their show in Stockholm, the Swedish magazine ETC published an article on this, meant to inform the public on his political work. I asked Richard how all this have affected the band, and himself.
– It is important to state that Elegant Machinery is a non-political band, and as a band we don't make any political statements. We are far too different politically from each other to do that. Within the band there are views ranging from left to right. We all believe in democracy and individual freedom, and if someone has a problem with that, then it is their problem not ours.
This summer you play the Arvika Festival again, and also travel to Germany. But what will happen after that?
– We have already started on a new album, but now we feel that we need to take the next step in our music, Robert reveals. The question is in which direction…
Richard develops this further:
– It will of course still be Elegant Machinery, so it will continue to be electronic music, but perhaps a bit darker and harder than before. We have some tracks already that we didn't include on "A Soft Exchange".
Read more
Release "A Soft Exchange" review